Rudy Giuliani Don't Need No Stinkin' Lawyers!
Ukraine
October 16, 2019 09:24 AM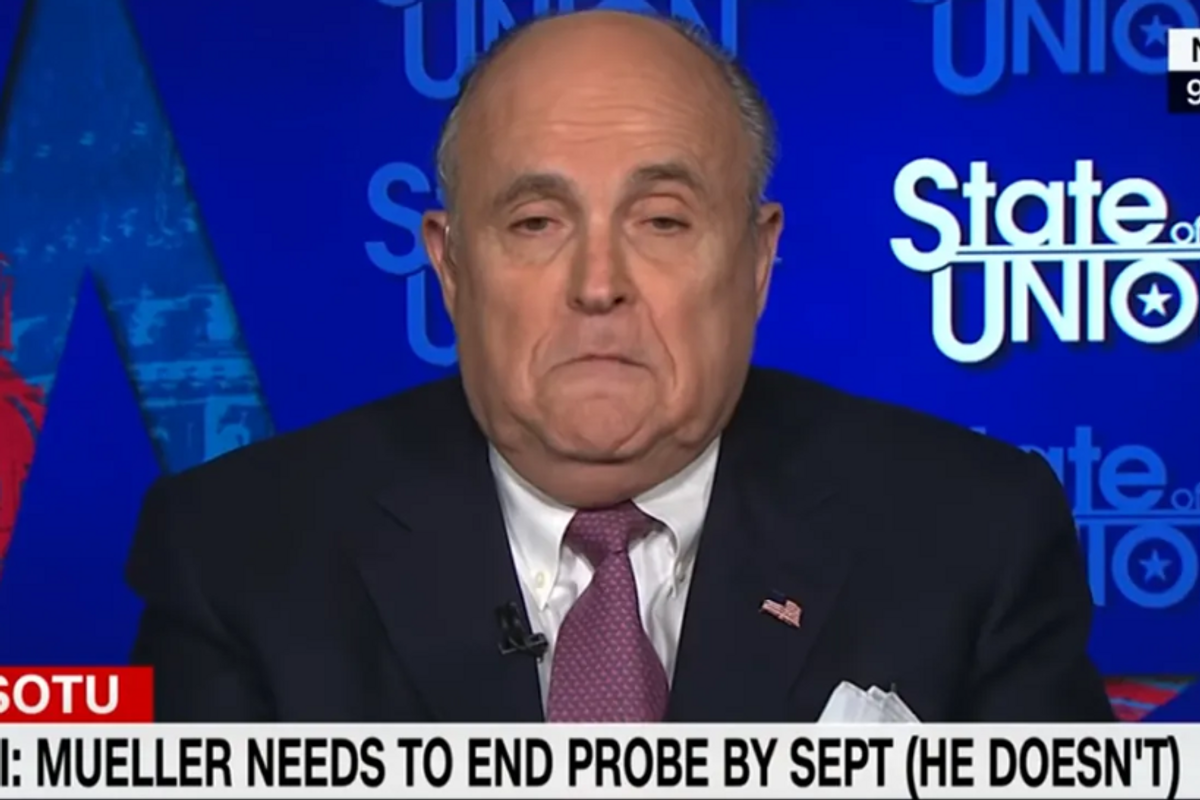 Rudy Giuliani has lost his goddamn mind. We've said it before but this time for serious. Finding himself smack in the middle of a congressional impeachment investigation and a criminal investigation in the Southern District of New York, Rudy has decided that right now is the ideal time to fire his lawyer.
Because he's a MAVERICK! Or perhaps a LUNATIC! Definitely one of those two.
Describing it as "silly to have a lawyer when I don't need one," Giuliani told the New York Daily News that he was blowing off the congressional subpoena, and "if they decide to do an enforcement, I'll need someone to go to court with, and we'll figure that out at the time." He already hired his former law school classmate Jon Sale to write a NUH UH YOU CAN'T MAKE ME letter to Congress, so Rudy's pretty sure he's home free now.
---
But seriously, you guys, look at this stupidass letter!
I will not participate in an illegitimate, unconstitutional, and baseless "impeachment inquiry." Jon Sale, who is… https://t.co/djFdHif4SE

— Rudy W. Giuliani (@Rudy W. Giuliani) 1571171275.0
It says: Impeachment is illegal because of whatever reasons White House Counsel Pat Cipollone screamed in his letter. NO SUBPOENA! NO SUBPOENA! UR THE SUBPOENA! Also maybe probably privilege. Love, Jon.
You know, more or less. (We're probably going to Gitmo for treason paraphrasing now.)
Far be it from us to offer Rudy legal advice, since clearly he doesn't need a lawyer. But since he's a very busy guy in the middle of a nasty divorce, maybe we'll do a little roundup of Rudy stories that broke within the last 36 hours. Just doing our part to help America's Looniest Mayor!
Rudy's Old Pals at SDNY Are Looking at His Finances
The Wall Street Journal reports that "Federal prosecutors in Manhattan are examining Rudy Giuliani's business dealings in Ukraine, including his finances, meetings and work for a city mayor there, according to people familiar with the matter." SDNY is looking at Rudy's banking records in relation to his recently arrested clients/co-conspirators Lev Parnas and Igor Fruman, AKA The Chucklefucks.
To which Rudy responded, "They can look at my Ukraine business all they want." Because he has the very best judgment.
Rudy Taking $500,000 From the Chucklefucks' Shadyass Company
What did Rudy do for Lev Parnas's company Fraud Guarantee that was worth $500,000? And where did Parnas get all that cash to pay him? Sadly, Rudy can't say! But he knows for definitely certain that none of that money came from a Ukrainian oligarch!
"I know beyond any doubt the source of the money is not any questionable source," Giuliani told Reuters. "The money did not come from foreigners. I can rule that out 100%."
Well, that settles it then. Call off your dogs, SDNY!
Trump Put Rudy in Charge of US-Ukraine Relations
The Washington Post reports that EU Ambassador Gordon Sondland will testify Thursday that "Trump told him, special US envoy to Ukraine Kurt Volker and Energy Secretary Rick Perry that any face-to-face meeting he would entertain with the new Ukrainian president would have to be cleared by Giuliani, the president's personal attorney."
Former NSC Russia adviser Fiona Hill testified Monday that Giuliani led efforts to force out Ambassador to Ukraine Marie Yovanovitch this summer. She laid out in stark detail that Sondland was getting his marching orders on Ukraine from Giuliani. Which was then confirmed Tuesday by George Kent, the deputy assistant secretary of state for Ukraine, who went on to flesh out details of Rudy's lobbying of the State Department, both for Trump and perhaps also for his allies in Ukraine.
Congress may not want to go to court to force Rudy Giuliani to testify, since (a) he's such a pain in the ass clown show, and (b) he goes on television every single night and spills his guts anyway. But if they did, none of the conversations he had with members of the US or Ukrainian government would be privileged because SHUT UP THAT IS NOT HOW PRIVILEGE WORKS YOU DECREPIT EMBARRASSMENT TO THE PROFESSION.
Existence of Grand Jury Investigating Rudy and His Pals Confirmed By Subpoena of Former Congressman Pete Sessions
Yesterday the former Texas Rep. was subpoenaed for records of all his dealings with Rudy and The Chucklefucks. Sessions, who goes by the pseudonym Congressman-1 when he's featured in indictments of Eastern European operators with a habit of committing alllll the campaign finance violations, received $20,000 from Parnas and Fruman right about the time he wrote a letter to Secretary of State Mike Pompeo asking for Marie Yovanovitch to be fired. Just like they'd asked him to. NO COLLUSION!
Rudy's Not Lobbying for Turkey, It's Just a COINCIDENCE He Keeps Asking Trump to Do Erdogan a Solid
Remember how Michael Flynn was negotiating with the Turkish government to black helicopter that reclusive Muslim cleric out of Pennsylvania and hand him over to Erdogan? Well, funny story! Right after Flynn got fired in 2017 for telling fibs to Mike Pence about the fibs he'd told to the FBI, Rudy stepped in to the breach to lean on Trump to extradite the cleric, Fethullah Gulen, a lawful, permanent US resident, to face criminal trial and probable execution in Turkey.
The Washington Post reports:
The former New York mayor brought up Gulen so frequently with Trump during visits to the White House that one former official described the subject as Giuliani's "hobby horse." He was so focused on the issue — "it was all Gulen," recalled a second former official — that White House aides worried that Giuliani was making the case on behalf of the Turkish government, former officials said.
Wow, what a very weird thing to be worried about! Sure he also lobbied the DOJ and State Department to drop charges against Turkish gold trader Reza Zarrab to avoid embarrassing the Turkish government by laying out their scheme to evade Iranian sanctions in open court. But Rudy would never act as an unregistered agent of a foreign government. HOW VERY DARE YOU, SIR!
Anyway, We're Sure Rudy Knows What He's Doing
To the untrained eye, it may look like Rudy Giuliani needs several experienced criminal lawyers with strong ties to the Justice Department in both DC and New York. Not to mention dedicated paralegals who know their way around document production. But Rudy knows better! Like he told the New York Daily News, "I'm not worried. It's not authorized what they're doing in secret. It's an abomination of due process. I can't imagine a court would tolerate what they've done."
Yeaaaaah. Good luck with that one, buddy!
[NYDN / WSJ / Reuters / WaPo / WaPo, again]
Follow Liz (AKA your FDF) on Twitter!
Please help keep your Wonkette snarky and ad-free!
Liz Dye
Liz Dye lives in Baltimore with her wonderful husband and a houseful of teenagers. When she isn't being mad about a thing on the internet, she's hiding in plain sight in the carpool line. She's the one wearing yoga pants glaring at her phone.