Sad And Lonely Trump Misses His Old Wife-Beaty Friend Rob :(
News
March 27, 2018 09:45 AM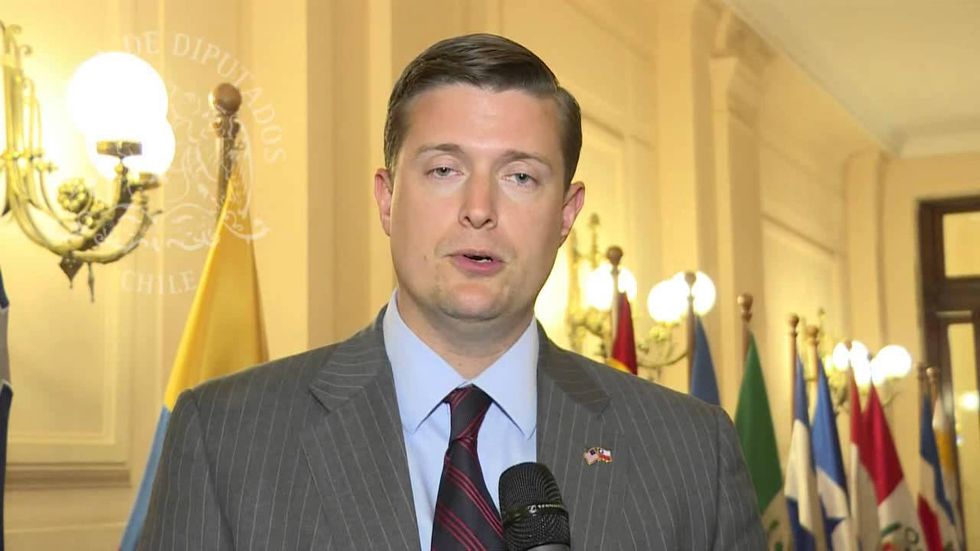 Donald Trump just misses the guy who did this.
---
A few days/years back, the White House unceremoniously fired a guy whose main fault seems to be that he loves Donald Trump for some reason. His name was Johnny Feelgood, Johnny Right On, Johnny Miss You, Johnny Light On, Johnny Makes Me Feel Strangely Good About Myself, AKA Johnny McEntee. He was Donald Trump's body man, and he is very pretty, and UH OH seems to have gotten himself into some fraudy financial trouble of some sort, for which he is being investigated by the Secret Service.
We only bring up Johnny McEntee to point out that that he would be a completely reasonable person for Donald Trump to be pining for, wandering the halls of the West Wing with a Big Mac stuffed down the front of his pants and a lost look in his eyes. Instead, Donald Trump is reportedly broken-hearted and lost without Rob Porter, the guy who got fired from the White House because he couldn't stop beating his wives all the time, which meant he couldn't get a permanent security clearance. Yeah, THAT guy.
Maggie Haberman reports, because of course it is Maggie Haberman:
President Trump has stayed in touch with Rob Porter, the former White House staff secretary who stepped down after allegations that he had abused his two former wives came to light, according to three people familiar with the conversations, and has told some advisers he hopes Mr. Porter returns to work in the West Wing.
Oh for Christ's sake. Without a security clearance? Because remember how Rob Porter can't get a security clearance because he's a rage douche who couldn't stop beating his wives all the time?
Haberman reports that Trump 'n' Rob are always on the phone talking about clothes and boys and tariffs because, big sadface, Trump has fired everybody else, or else they have quit. Hope-y Hicks is gone, McMaster has cleared out his office to make room for John Bolton's mustache grooming table, and of course Johnny Feelgood is off being hot in greener pastures, and though many of the people who have left the White House were fired in petulant fits of rage by the historically stupid man known as President Poop Waffle, that doesn't mean the president doesn't hate to see them go. This is because the president of the United States is a pathetic and lonely person who doesn't have real friends.
Now look, don't assume Trump is going to let his head get ahead of his heart and sneak Rob into the White House or anything:
The president has told the advisers he has talked with that he knows he probably cannot bring Mr. Porter back.
Because of the whole wife-beater thing. :(
Trump reportedly thinks maybe Rob Porter wouldn't have had to leave if chief of staff John Kelly hadn't fucked up the whole White House response to the revelations about Porter's constant wife-beating and lack of a security clearance, and Trump's not wrong to think Kelly really banged the goose on that one. But to be clear, Trump thinks this because HE MISSES THE WIFE-BEATER AND WANTS THE WIFE-BEATER TO COME HOME.
Oh wait, last line of Maggie Haberman's article tells us Trump guesses he misses Johnny McEntee, also too?
Mr. Trump has told advisers that Mr. McEntee is a "good kid" who was dealt with unfairly and that he would like to bring him back.
But Trump misses Rob The Wife-Beater the hardest. Sorry, Hot Johnny, you are second place in the president's heart, like a common Eric Trump, because the president is a piece of shit who doesn't mind when his pals beat their wives until they look like that picture above.
Follow Evan Hurst on Twitter RIGHT HERE.
Wonkette salaries and servers are fully paid for by YOU! Please pay our salaries.
Evan Hurst
Evan Hurst is the managing editor of Wonkette, which means he is the boss of you, unless you are Rebecca, who is boss of him. His dog Lula is judging you right now.
Follow him on Twitter RIGHT HERE.