Sally Yates Is Your New Superhero! Wonkagenda For Tues., Jan. 31, 2017
Post-Racial America
January 31, 2017 09:04 AM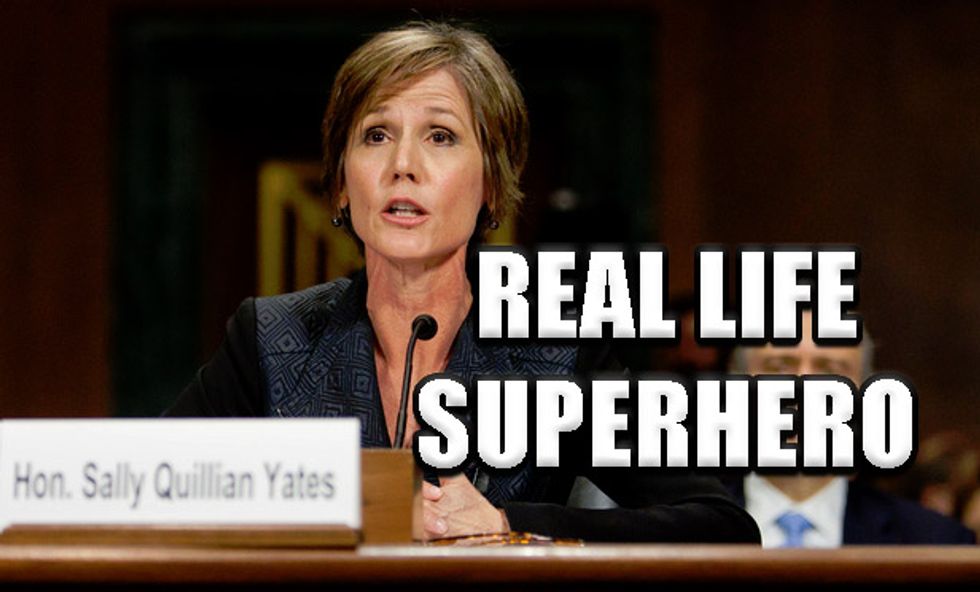 Morning, Wonkers! I hope you guys got enough sleep last night because we've got another busy day of total fuckery! Here's some of the stories we may be talking about today!
---
Last night Trump "You're Fired" Acting Attorney General Sally Yates for insubordination after she wrote a memo saying she wasn't cool with being mean to the war-ravaged brown people from Not America.
B. Barry Bamz is speaking out against Trump's Muslim ban, the growing #Resistance movement, and all the discrimi-haters occupying his old house. PREZNIT 4 LYFE!
Senior brown-nosing staffers in the House Judiciary have their heads so far up their asses they can taste last night's cocktail; they gave Trump's people a hand in drafting his Muslim ban, (without, apparently, the knowledge of their bosses). Is that bad?
People in the DHS are losing their minds, and freshly minted DHS Secretary John Kelly will meet with legislators in the House to talk about the Muslim ban later today.
Senior Democrats stood in front of the Supreme Court last night singing, crying and holding candles like weak aging hippies who hate pure blooded blonde Americans and their love of Jesus, lite beer, and breast implants.
Sean Spicer wants you to stop nit-picking the Muslim ban, OK? The U.S. is still letting in spooky brown five year-old terrorists, so go dry your bleeding hearts.
Sen. Susan Collins is not happy with Trump and she's said some nice words about it too!
The GOP is going to bombard the airwaves with ads that will remind you how much you actually hate Obamacare and love your preexisting conditions.
The CIA has been added to the National Security Council because Trump and President Bannon need to have spies they can trust not to tell them bad news.
Glen Greenwald took a minute to write a really obvious expose of the FBI, warrantless spying, and white nationalist cops in small town America. This isn't the pee hooker tape I was looking for...
The Supreme Court will take up gerrymandering cases this year and the result could shape redistricting efforts ahead of the 2020 census. PAY ATTENTION, this will be on the test!
People in a small North Carolina town are getting lovely little bags full of white rice and flyers from the KKK.
Fighting has broken out (again) in Eastern Ukraine between state forces and Russian invadersglorious rebel freedom fighters.
The Boy Scouts of America will allow trans kids to join. Get ready for a boycott!
Trump's White House will keep LGBT protections for federal workers because they'll probably be fired and replaced by scabs by the end of the week anyway.
The former director of the National Park Service went on the BookSpace to update his status with a Nice Time 'splainery post about why the NPS has an obligation to talk about and defend social and civil rights issues in public.
Here's some Seth Myers splainery time about the Muslim ban.

Here's your regularly schedule morning Nice Time: BABY SLOTH snack attack!!
Dominic Gwinn
Dominic is a broke journalist in Chicago. You can find him in a dirty bar talking to weirdos, or in a gutter taking photos.