Scientists Aroused By 99-Million-Year-Old Spider Boner: Your Saturday Nerdout
News
February 06, 2016 04:20 PM
Will this fossil find be retconned into the Spider-Man mythos?
---
Hope you kids are ready for some full-on nerding today, because it is Saturday and we have news that brings together two of the best topics possible: Science and sexxytimes. Oh, sure, the sexxytimes involve arachnids, but that was never a problem for Toby McGuire, now was it? And would you believe we have more than one story about the Science of Throbbing Turgid Love Muscles this week?
Spider-Peen, Spider-Peen, Goes Wherever The Spider's Been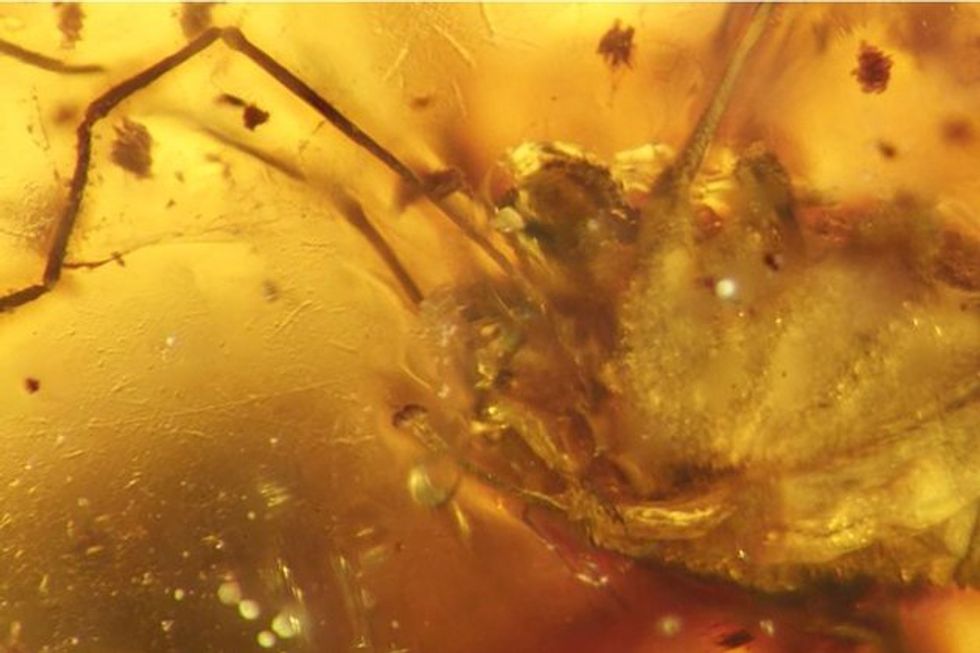 'But it's not a spider's gefloygle!' shouts Professor Frink
OK, first off, let's get Real Scientific here: we have lied to you in both our headline and the above subhead, and for that matter the image file name and the Spider-Man meme above. This is not a story about an ancient fossilized spider boner, because spiders don't have dongs at all. The specimen trapped in amber above is actually a Halitherses grimaldii, an ancestor of today's daddy longlegs critters, which are arachnids but are not actually spiders. And one thing that distinguishes that order from spiders and scorpions is that daddy longlegses (or harvestmen, if you wanna get fancy) is that they have penises, while your spiders and scorpions don't. Amaze your friends with this knowledge at Bar Trivia night! Anyhow, the 99-million-year-old H. grimaldii above was found near a tree in Burma, with a YOOGE arachnid stiffy that, according to National Geographic, "grew to nearly half of his body length when erect." Sadly, humans won't get anywhere near those kind of results even with the finest of modern peener pumps. What's that? You say you do not see any erection in that photo? Enhance!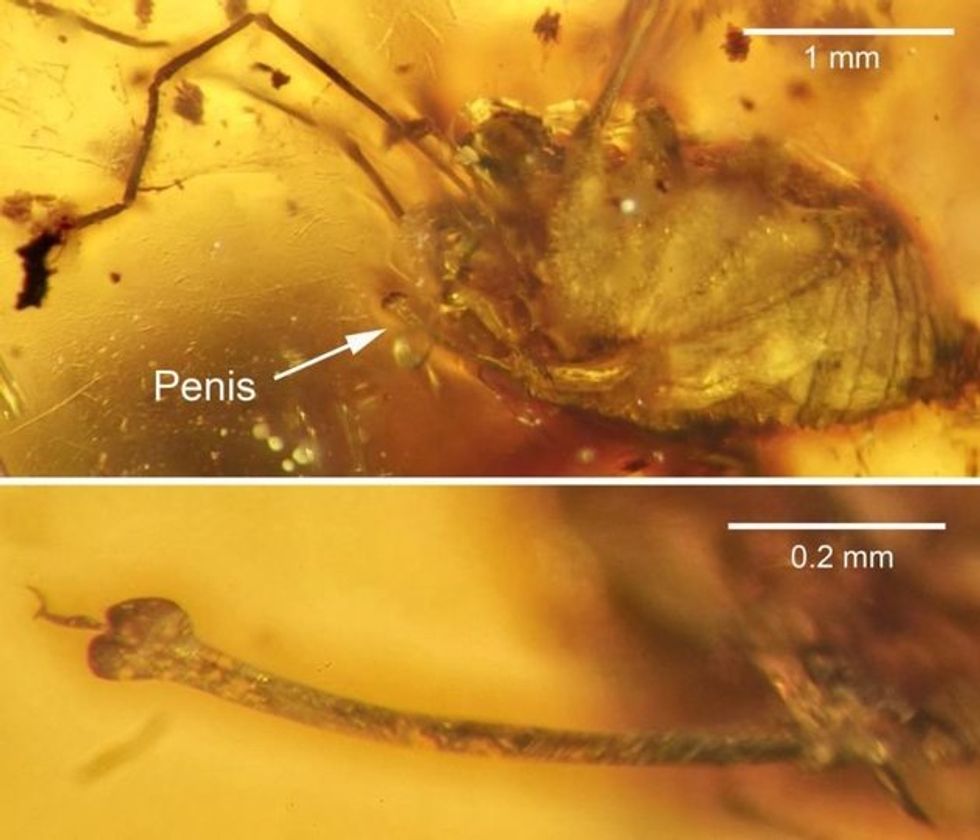 Researchers who detailed the find in The Science of Nature, say this particular specimen was having the worst (and final) date of his life when the process of becoming a fossil started, poor lad, as summarized by the National Geographic piece:
he died fully aroused, his tree-side tryst interrupted by oozing resin that entombed his body in what's now a lump of amber.

"It must have been in an amorous state to have it out like this," says Ron Clouse of the American Museum of Natural History, who wasn't involved with the study. "This poor animal."
Well, yeah. But what about his girlfriend? Guy suddenly disappears in oozing resin and never calls? If YOUR erection lasts more than 90 million years, you should definitely call a paleontologist. Still, what a way to go.
Marvel Comics has not yet said whether the discovery would be adapted into the "does whatever a spider can" part of their superhero's abilities; it seems unlikely since, as we note, this is not actually a spider. On the other hand, Peter Parker can quell his disappointment, since they also won't make him have sex like a real spider, a process in which spiders "use modified legs to transfer sperm to females in tidy packets." Ew.
Also, because we are twelve years old, we feel compelled to note that Huffington Post's story on the prehistoric tent pole was written by Ron Dicker, who no doubt grimaced when this story got assigned to him. Sorry, Ron, junior high school never ends.
The Science of Morning Wood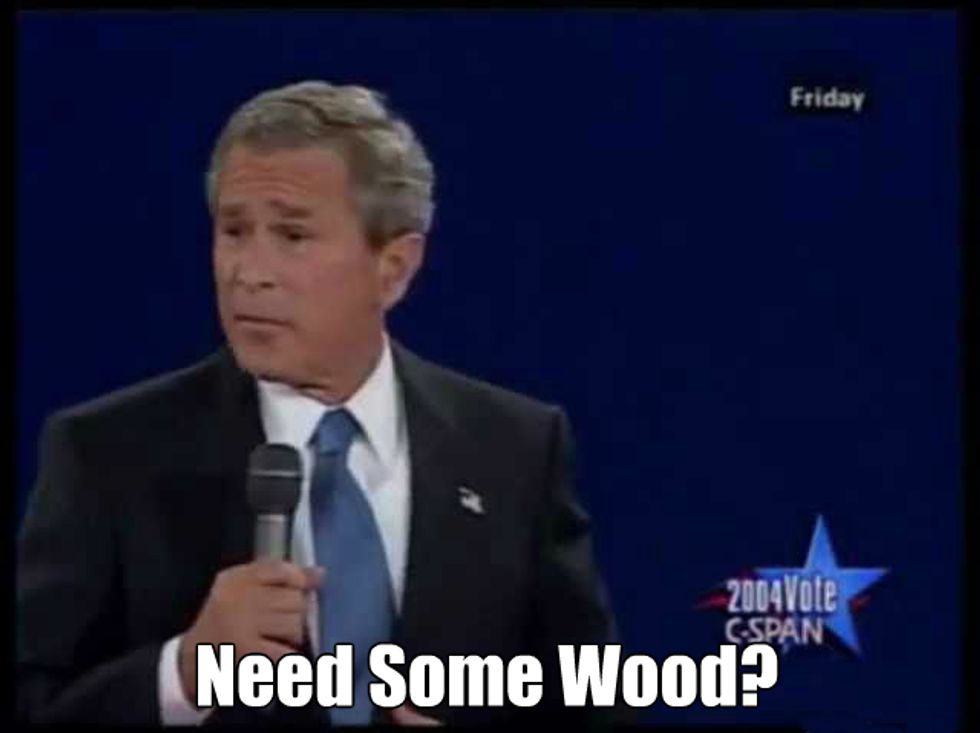 More Peen Science, from the respected scientific journal Esquire, which brings us a story called "The 4 Reasons You Wake Up with Morning Wood," written by Frank Kobola, whose name doesn't inspire even a single dick joke, darn it. Still, it is quite the educational article, if only because we now know the technical term for the daily wood harvest, which is "nocturnal penile tumescence (NPT)." More Bar Trivia, and now you will have to giggle at every mention of the international nuclear Non-Proliferation Treaty. According to Joseph Alukal, MD, a genuine tallywacker expert and assistant prof of Urology and Obstetrics and Gynecology at NYU Langone Medical Center, the phenomenon has nothing to do with needing to whiz, but it is, he says, something of a mystery: "The penis is a very strange organ in terms of its job and the way it traps blood inside it," Alukal says, not to mention why it drives men to buy sports cars, memorize sports statistics, and get into ill-advised relationships.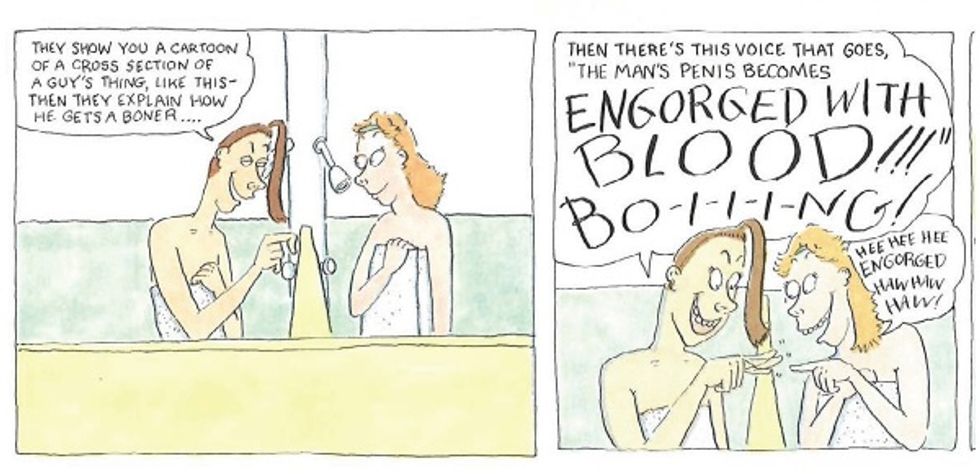 In any case, here's what might be up with that, as it were:
1. Your penis is going rogue because your brain isn't paying attention. According to a study by the Society for Endocrinology, it could actually be that as certain parts of the brain shut down during REM sleep, your brain is no longer keeping your penis in check. Whereas normally the brain is regulating the penis and making sure erections only occur when needed, during REM the penis is free to do whatever it wants. And what it wants to do is get hard.

2. It's your hormones fluctuating. "In the morning, it's going to be the highest testosterone level he'll have all day," according to Dr. Alukal, noting that morning boners tend to stop when men reach their 40s and 50s and their testosterone levels dip. So it could just be that you're at your manliest (and hardest) in the morning.
Or maybe it's how the penis "exercises" when the rest of the body isn't using all that blood for walking around and writing blog posts. Or perhaps a gentleman simply rubbed up against the mattress funny. Or maybe he had that one dream again about Kate Mulgrew, Frances McDormand, sixteen gallons of Rocky Road cream, and Maud Pie. But perhaps we've said too much.
Wingnuts Freaking Out About Comical Books Again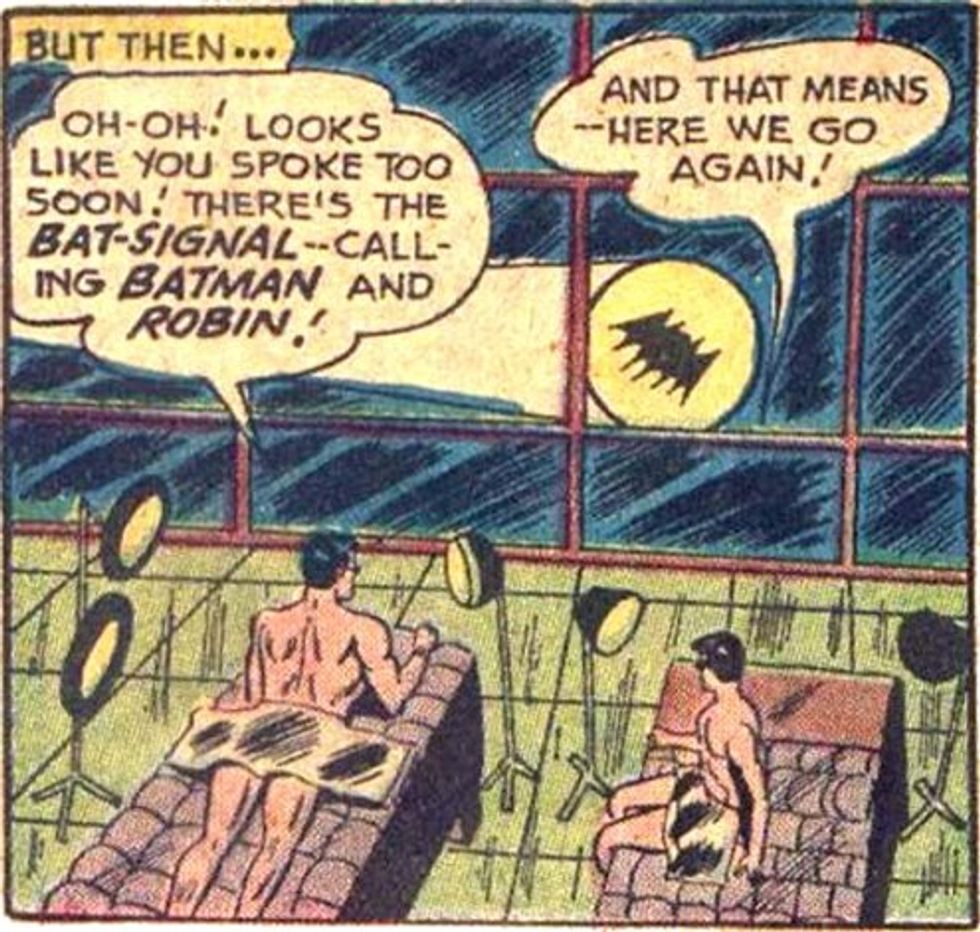 So... many... choices... to illustrate this bit...
[contextly_sidebar id="tpVTmwZgg9yL60DeYAbHKfeIus9e4aoc"]Seems like it was just t'other day we were telling you all about the alleged pro-illegal-alien bias in Captain America. Now we learn, from the Federalist, that the entire comics industry is being targeted by implacable supervillains, namely the Gay Agenda and its Political Correctness Patrols, maybe by means of slipping something gay into the drinking water of Gotham City (too late!). Columnist John Trent works himself up into a right lather over a New York Times trend piece on gay characters in comics, as if it were anything more than an attempt to cash in on potential new audiences. No, there's definitely something more sinister at work here, he says:
In the last paragraph, George Gene Gustines quotes Comics Alliance Editor in Chief Andrew Wheeler: "We need to get from some to enough. And really, we'll know we've achieved success when Captain America can have a boyfriend, and Wonder Woman can have a girlfriend. For queer representation in superhero comics, that's what success looks like."

You read that right. Queer representation in comics will only be a success when the mainstream DC and Marvel characters are gay. It's not enough that Wonder Woman is officiating lesbian weddings; she needs to be a lesbian, bisexual, or transgender herself.

This gets to the heart of their movement. They aren't interested in good storytelling, interesting characters, or fun plot lines. They are more interested in identity politics and whether the big Marvel or DC characters identify with their cause and vision of what comics should be. They are willing to sacrifice quality in favor of this vision.
Yeah, yeah, remember how Star Trek sucked because the Enterprise had a multiracial bridge crew (pursuing a solidly Kennedyesque, Cold War interplanetary policy, mind you). As everyone knows, good stories can only be told when the heroes are white heterosexual gents and ladies, all drawn in anatomically impossible poses. We also like how Trent turns Wheeler's comment from "Inclusiveness would be good" to "Everyone Must Be Gay," which of course is not what he said at all. And since when can't inclusion of gay characters merely be one more plot element that nobody particularly gives a damn about? In the outstanding Netflix adaptation of Marvel's Jessica Jones, lawyer Jeri Hogarth is evil because she's a lying, scheming creep who cheats on her wife, (and will surely betray the younger woman she's going to dump her for), not because she's a lesbian. Put your moral panic in a thumb drive and bury it, Mr. Trent.
[contextly_sidebar id="JwUk3nYsmon8x7bsPP2q31mSHZfw7KXF"]What's really hilarious about Trent's piece is his suggestion that "a social movement pushed by a number of different comic book opinion websites" is pushing the industry to Go Gay. Hahahaha, yes that's really rich. Everyone knows that producers of pop culture do whatever a bunch of reviewers tell 'em to, which is why mindless action flicks have gone out of production in favor of Coen Brothers imitators. Beware the influence of the mighty comics bloggers, for surely they will make your children start using weird pronouns next!
1861-Model Mousetrap Catches Penis 2016-Model Mouse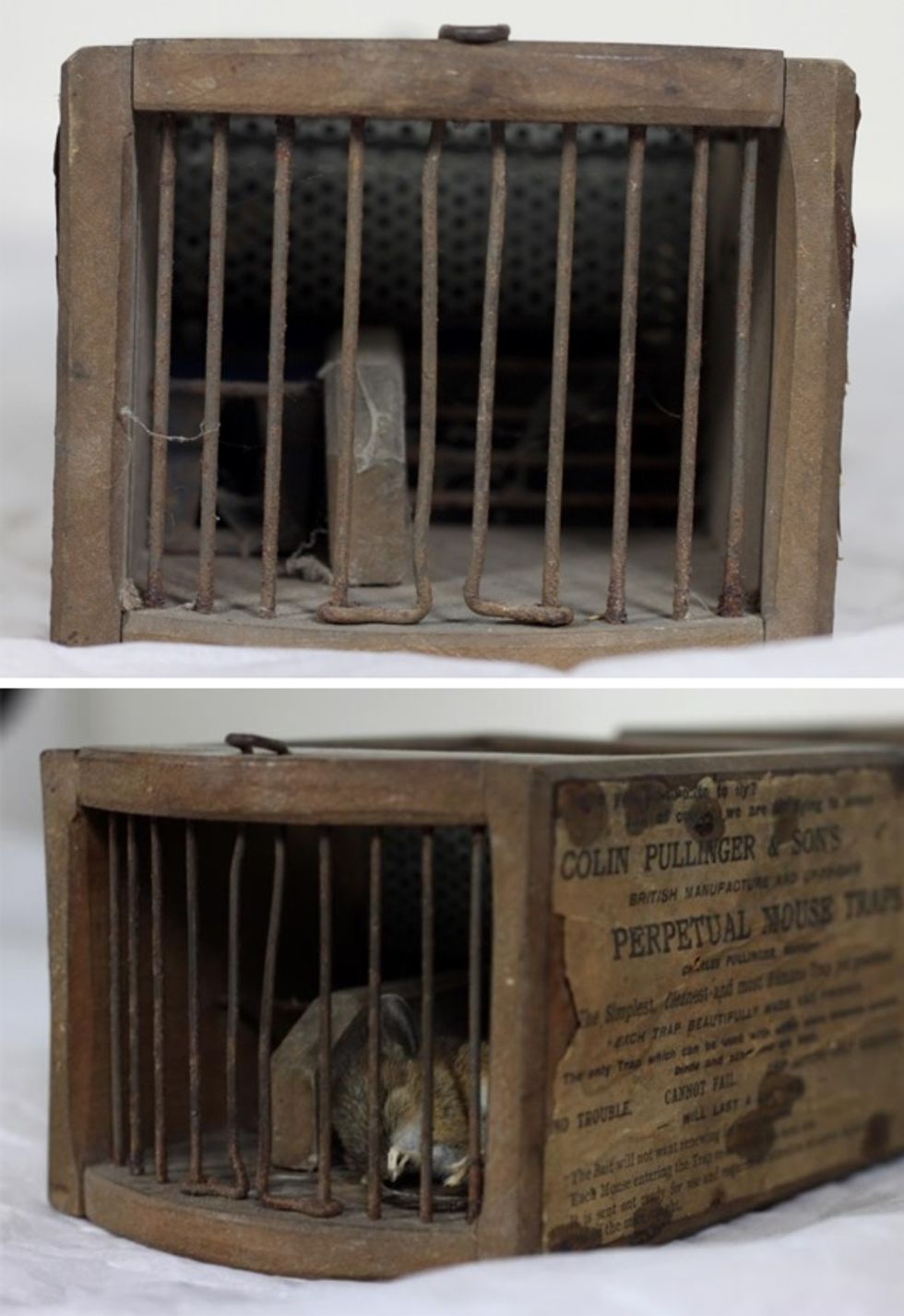 Finally, a story with no sex at all in it! In Merrie Olde Englande, where everythinge has an e on the ende for touristes, the University of Reading's Museum of English Rural Life found a surprise in one of their displays. A "Perpetual Mouse Trap" patented in 1861 was found with a very-recently-dead mouse in it, although it doesn't appear that the device, sold as a "multi-catch live mouse trap with a see-saw mechanism," actually used its see-saw mechanism to kill the rodent. Instead, museum staff speculate that it may have gotten into the trap somehow during construction and then was unable to find a way out. Still: mouse, trapped.
But here's the best part of the story for all you geeks out there: the assistant curator who found the deceased critter sent an email to staff to advise them of the situation:
There appears to be a dead mouse in this mousetrap which is not described as being there on the database.
Welcome to the Office Memo Hall of Fame, unidentified curator! The museum hasn't decided yet what to do with the mouse corpse: dispose of it, or perhaps "desiccation for permanent display," which would of course be infinitely cooler.
[contextly_sidebar id="R8pPsGLGpprVKMJTu8G5RJpaFFrsMqHT"]We considered following CNET's model and posting the picture of the dead mousie at the bottom of this story so sensitive types could choose not to scroll down, but then we remembered we're Wonkette.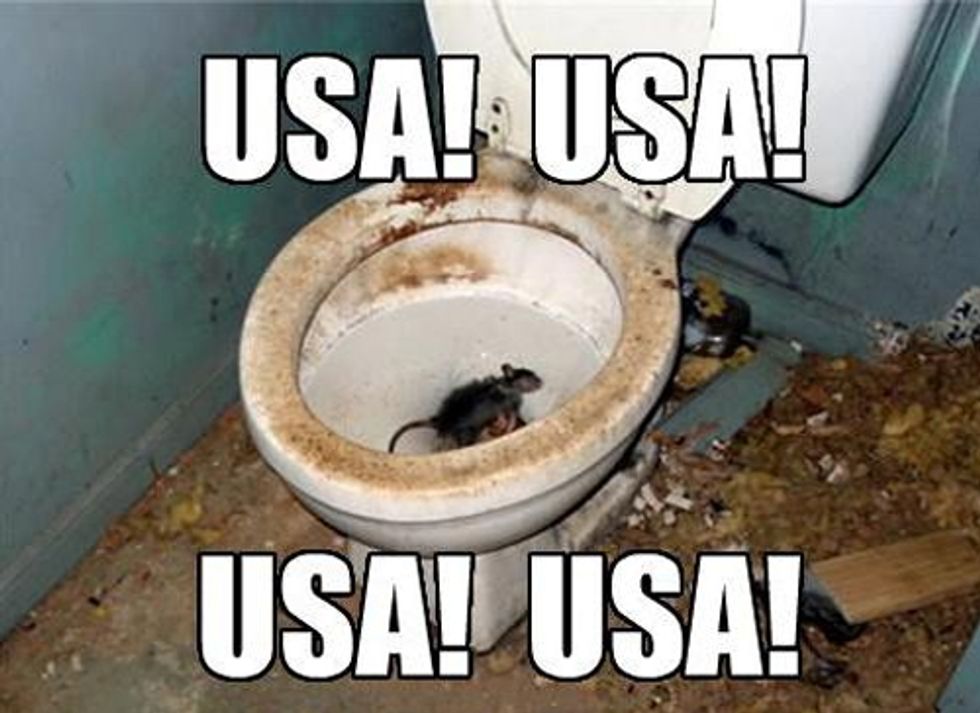 That image is very disturbing. I wish you'd have chosen something else. I realize that it's a shameful part of American history that we should never forget, but it's too much.
[HuffPo / National Geographic / Esquire / The Federalist / Hark! A Vagrant! / CNet]