SCOTUS
They found the dastardly, dirty Dobbs leaker and it is ... nobody. Ah, well, guess we can all go home now. LOL.
January 20, 2023 12:01 PM
It is more than a little rich to watch the Supreme Court's histrionics regarding the leak to Politico of the draft opinion of Dobbs v. Jackson Women's Health Organization that overturned the constitutional right to an abortion in Roe v. Wade — as if the tragedy here was that American women found out they'd be losing civil rights on May 2, 2022, and not seven weeks later on June 24. It really takes some balls to howl about the "grave assault on the judicial process" while blithely forcing victims of sexual assault to carry their rapists' babies to term.
And not for nothing, but shredding stare decisis and tossing out 50 years of judicial precedent to relegate women to second class citizens and then hyperventilating that "the integrity of judicial proceedings depends on the inviolability of internal deliberations" is a bit much.
With that preamble, let's turn to this clown cop leak investigation the Supreme Court conducted, in which it interrogated 97 members of the Court's staff, even demanding "call and text detail records and billing statements for their personal devices" from some of them.
Investigators carefully evaluated the statements and conduct of personnel who displayed attributes associated with insider-threat behavior – violation of confidentiality rules, disgruntled attitude, claimed stressed, anger at the Court's decision, etc. – and also weighed behavior and evidence that would tend to mitigate any adverse inferences. Investigators also carefully evaluated whether personnel may have had reason to disclose the Court's draft decision for strategic reasons.
The investigators, led by the Supreme Court Marshal, did a forensic search of its creaky IT system, which seems to have involved dozens of printers kicking out multiple, untraceable hard copies.

First, for some networked printers there was very little logging capability at the time, so it is likely that many print jobs were simply not captured. Second, the investigators learned that many printers in the building, including some assigned to Chambers, were locally connected printers and not resident and tracked on the Court's networks. This means that the print logs for these printers were stored only locally in the printers' internal memory.
They reviewed employees' search histories, to see if they Googled "how to get away with leaking Supreme Court opinions gutting women's rights."
For the initial interviews with employees, investigators reviewed any available legal research history while bulk requests were pending with the service providers. The purpose was to determine whether an employee might have researched the legality of disclosing confidential case-related information – possibly indicating the person's intention to do so or concern about having done so after the fact. Investigators later obtained, analyzed and confirmed legal research history for all employees directly from the service providers. The investigators did not find anything suspicious or relevant in these records.
They checked to see if reporters Josh Gerstein and Alexander Ward were as dumb as Glenn Greenwald.

The investigators obtained a forensic examination of the digital image of the draft opinion that was posted on Politico's website to compare against exemplars obtained from Court printers and copiers. There was nothing of evidentiary value that could be gleaned from the electronic copy of the draft opinion when compared against the exemplars.
They even hauled in former Homeland Security Secretary Michael Chertoff to check their work. He said it was A-okay!
What they didn't do was interview the Supreme Court justices, despite the fact that Justice Alito has a record of leaking his own opinions. Indeed, there's a whole network of activists dedicated to finessing the conservative justices to influence their opinions. If those people were interviewed, the report does not mention it.
Instead they harassed the law clerks for six months, threatening them with jail for making false statements to a federal official, before issuing this dumb report saying that there are some things in life which will remain mysteries for all eternity.
Luckily, some jackass on a golf cart in Florida knows how to crack this case wide open.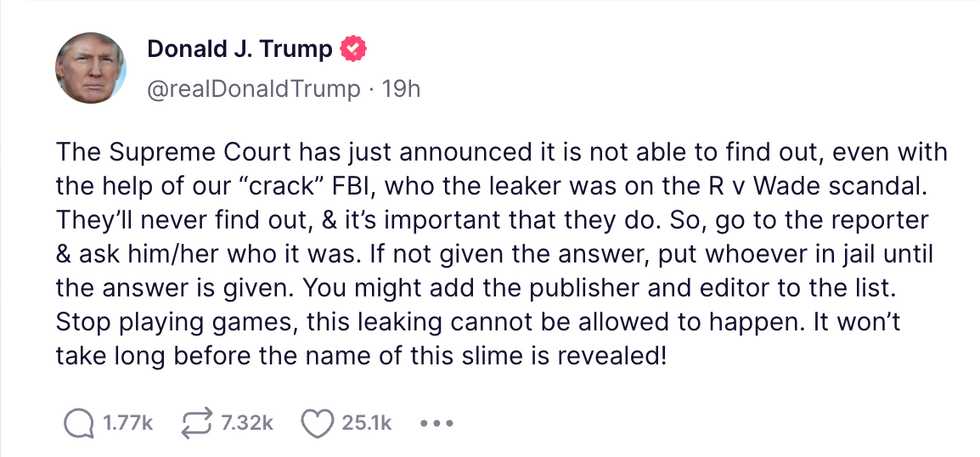 Ah, yes, we'll just "go to the reporter & ask him/her who it was. If not given the answer, put whoever in jail until the answer is given. You might add the publisher and editor to the list." The guy who encouraged Vladimir Putin to hack Hillary Clinton's emails is suddenly very worried about leaks. Time for some arbitrary detentions of reporters for protected First Amendment activity ... you know, to protect America's institutions and the rule of law.

Tune in next week when Politico reporters go to jail to protect Ginny Thomas. ALLEGEDLY.
[Marshal's Report of Findings & Recommendations]

Smash that donate button to keep your Wonkette ad-free and feisty. And if you're ordering from Amazon, use this link, because reasons.
©2018 by Commie Girl Industries, Inc
This Is Not An Ad
Privacy