Sean Hannity Just KNOWS Obama Did Gay Hooker Cocaine Weed With Hawaii Travel Ban Judge
Culture
March 17, 2017 12:28 PM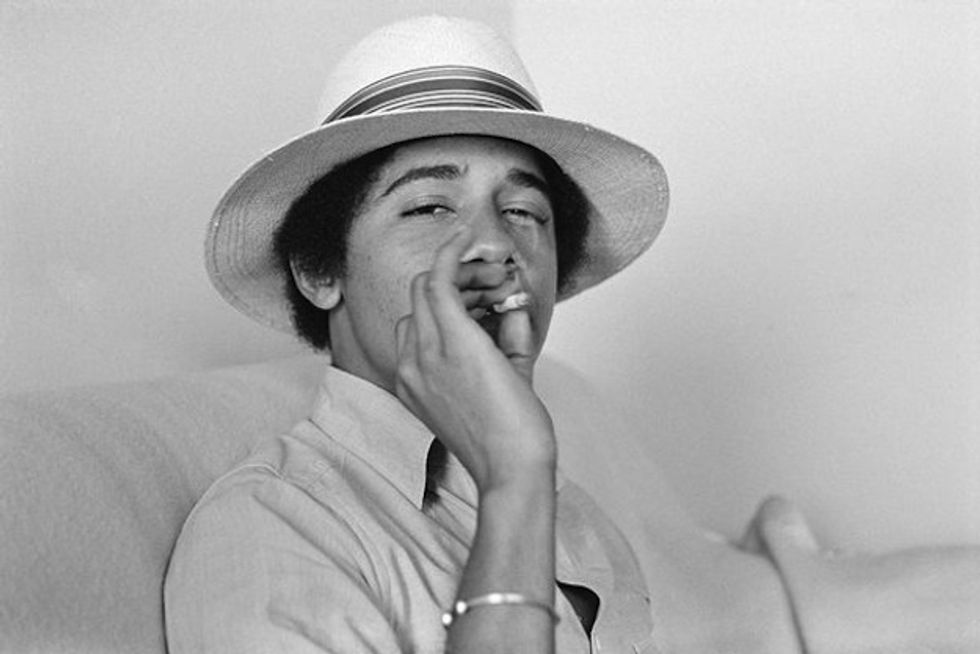 Obama in Hawaii this past week
---
Thursday, we told you about the new hilarious conspiracy theory on the right-wing internet, which says the only reason that district court judge in Hawaii, Derrick Watson, ruled against Trump's Muslim Ban 2.0 is Watson and Barry Bamz Barack went to law school together, and when Obama was visiting Hawaii this week, he ate dinner practically walking distance from the judge's house, OMG CONSPIRACY SOLVED, OBAMA WROTE THE JUDGE'S DECISION! We found the story rolling around in the ass swamps of Outer Wingnuttia, being bandied about by the likes of Jim Hoft, Stupidest Man On The Internet, and Alex Jones's Infowars. Of course, to Donald Trump and his acolytes, those are "legitimate news sources."
So it should come as no surprise that the conspiracy theory made it, in record time, to the Stupidest Person On Fox News, Sean Hannity, who loves Trump like a fan girl who writes "SH + DT 4 EVER!" on all his three-subject school notebooks. And Hannity added his own flair to the story, asserting on his radio program Thursday that, Obama and Judge Watson probably ... well YOU KNOW. They probably did D-R-U-G-S together:
By the way, this judge who issued the travel ban ruling is an Obama law school classmate. Maybe he should have recused himself from the case. Just a maybe. Were they best friends in Hawaii, were they part of the Choom Gang, smoking pot and hanging out, and doing a little bit of weed, and maybe even a little blow?
The Huffington Post notes that the "Choom Gang" was Obama's name for his little group of marijuana-puffers when he lived in Hawaii. They are probably the ones who forged his fake long form birth certificate, also.
Now, it's possible that Sean Hannity is (yet again) being a giant moron in suggesting Watson should have recused himself, since he's probably just a really good judge who agrees with all other good judges, that Trump's various Muslim bans are unconstitutional and un-American. MAYBE IT'S THAT.
Or maybe Sean Hannity is on to something here. HANG ON, HEAR US OUT! Because how do we really know that Obama and Watson didn't do the "Choom Gang" and get drunk on reefer together? Could they have also done other stuff, rebellious stuff, which would totally explain why this U.S. district court judge might have done former President Kenyan McForeign a favor and ruled against Trump's Muslim ban?
Well, we have made up the following rumors, which are every bit as valid as Sean Hannity's theory, because when you're dealing in the realm of conspiracy theory, it's perfectly acceptable to just make shit up:
MAYBE, in addition to the potting and the coking, Obama and Watson went to raves together and got high on LSD stickers what made them hallucinate and touch each other a lot.
MAYBE they lied to their moms all the time and said they were going to "Bible study," when really they were at Hot Topic becoming goth lesbians together.
MAYBE they used to skip third period together and hang out under the bleachers in the gym, because Kellyanne says Sean overheard Betsy and Mike talking about how Obama got to second base with Watson, god, WHAT SLUTS.
MAYBE they secretly left their houses after their parents went to bed like every night, because their other best friend in "Choom Gang" got sucked into this weird alternate dimension, but they knew he was still alive, they just knew it! Also, the oddest little girl showed up and joined their friend group and she lives in the basement now, but shhhh don't tell anybody.
MAYBE their real dads are William Ayers and Jeremiah Wright, and they're just doing this "Deep State" thing to Trump because they're supposed to, according to the Bible their dads gave them, Saul Alinsky's Rules For Radicals.
MAYBE Derrick Watson is a gay-sexual communist-o-Kenyan from Indonesia, just like Barack Obama is, and Obama threatened to expose the real truth if Watson didn't rule against Trump's Muslim ban.
MAYBE Obama and Watson shape-shifted and teleported to Orlando so they could try to murder Roger Stone with their car, EVER THINK OF THAT?
Sean Hannity has a responsibility to maintain his journalistic integrity by investigating each one of Wonkette's theories. Until then, we will assume they are all as true as anything Hannity has ever said.
Wonkette is reader-funded with no ads, so if you liked this post, reader-fund us, by clicking the banners below!
Evan Hurst
Evan Hurst is the managing editor of Wonkette, which means he is the boss of you, unless you are Rebecca, who is boss of him. His dog Lula is judging you right now.
Follow him on Twitter RIGHT HERE.