'SEE YOU IN COURT!' Wonkagenda For Fri., Feb. 10, 2017
Guns
February 10, 2017 09:25 AM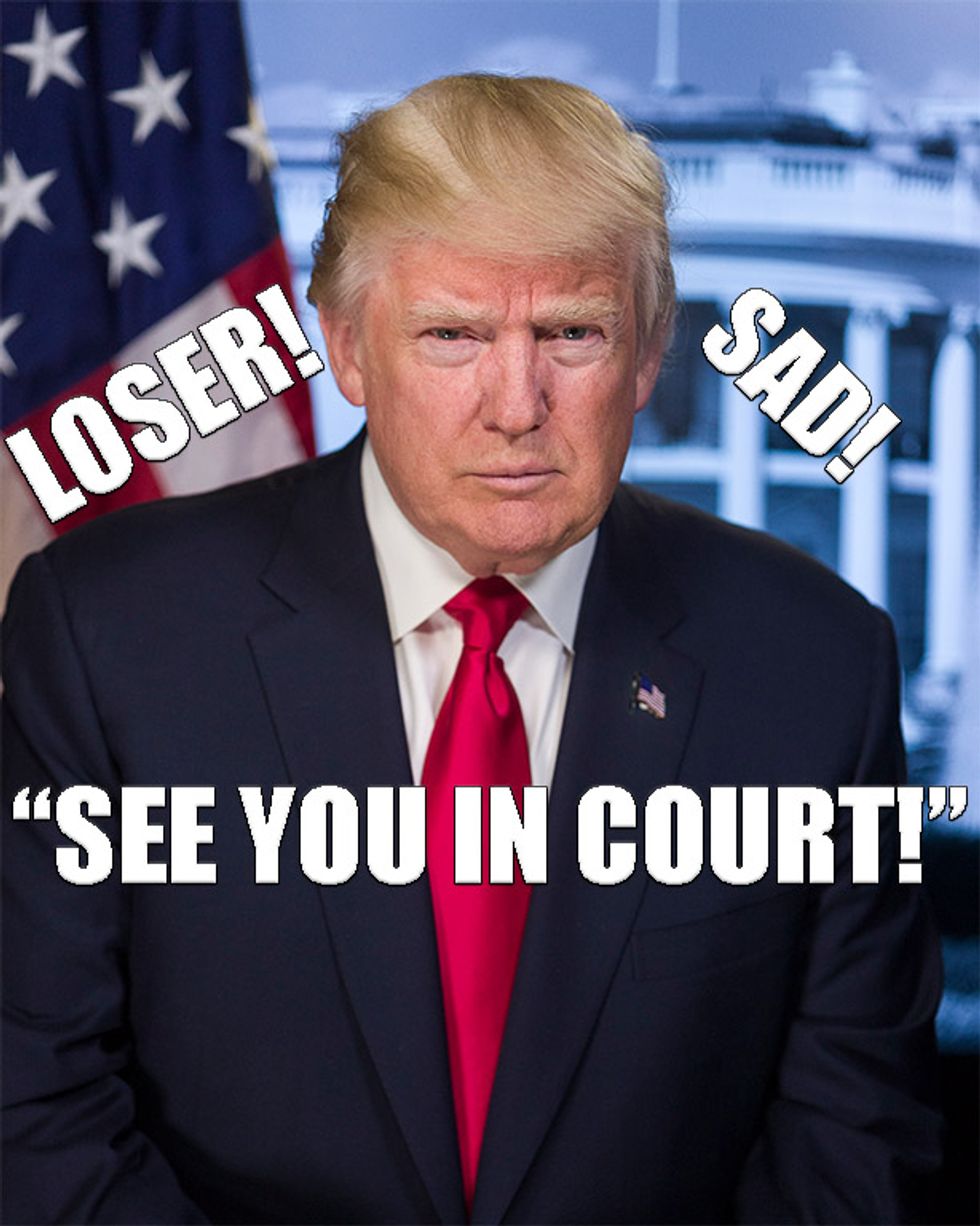 ---

Trump's Muslim bantravel restrictions on religious and ethnic minorities was stayed on appeal in a 3-0 decision, prompting waves of hilarious butthurt and middle fingers from politicos and reporters across the spectrum.
Mike Flynn kind of, sort, maybe, LIED to America when he said he absolutely, 100% never had an ILLEGAL conversation with Russian Ambassador Sergey Kislyak in December, but he can't really remember. Maybe the Feds really are looking into super secret Roosian pee hooker spy hacking?
Tom Price will be your new Health and Human Services secretary, and now would be a good time to start placing your bets on which cabinet member will step down or be imprisoned first!
Trump's White House is checking under the seat cushions and behind bookcases to uncover the source leaking his phone conversations. SPOILER ALERT: It's the ghost of Richard Nixon!
The massive scale of federal bureaucracy and rules are deeply confusing for Donald Trump, and he doesn't understand why he can't can just get away with doing shady, illegal bullshit like he used to. Poor snowflake, does someone need a self-help book?
People in Utah are SUPER PISSED at Jason Chaffetz, and blood thirsty crowds are showing up to town halls screaming things like "Do your job" and investigate the Trump conspiracy cahoots, with similar scenes happening to Republicans across the country.
Jeff Sessions's good ol' boy, Chuck Cooper, has withdrawn from consideration for solicitor general, and now Kellyanne's husband, George Conway, is sidling his way up to the spotlight, more proof that Trump is just filling the swamp with bigger, nastier lumps of shit.
Coincidentally, Trump's nominees were never put to the "Sex, Drugs and Rock & Roll," test which is (not as cool as it sounds) the reason why cabinet picks are so surprised people keep finding out about their cons, criminal records and ethical conflicts.
The Mississippi House passed a bill to allow firing squads, because nothing makes America great like a good, old fashioned execution.
Jared Kushner is secretly eating taco bowls with Mexican diplomats in an effort to clean up his father-in-law's big, fat mess.
Trump relented and will now recognize the one-China policy because he's a loser, and can't win. SAD!
HEY GUYS! Check out Rosie O'Donnell's new Twitter picture. I swear, it's worth it.
Here's your late night wrap up! Seth Meyers did a round-up of Trump's abuses of power (so far), Colbert got an unexpected phone call during his monologue, and Trevor Noah shows us how to debate South African style.
And here's some morning Nice Time! Anthropomorphic KITTENS VS PUPPIES sportsball! It's a battle to the...something! OMG!
Dominic Gwinn
Dominic is a broke journalist in Chicago. You can find him in a dirty bar talking to weirdos, or in a gutter taking photos.