GOP Sen. Bill Cassidy: Fixing Roads Helps Women Do Woman Chores, Like Childcare And Shopping
Feminininism
June 28, 2021 01:30 PM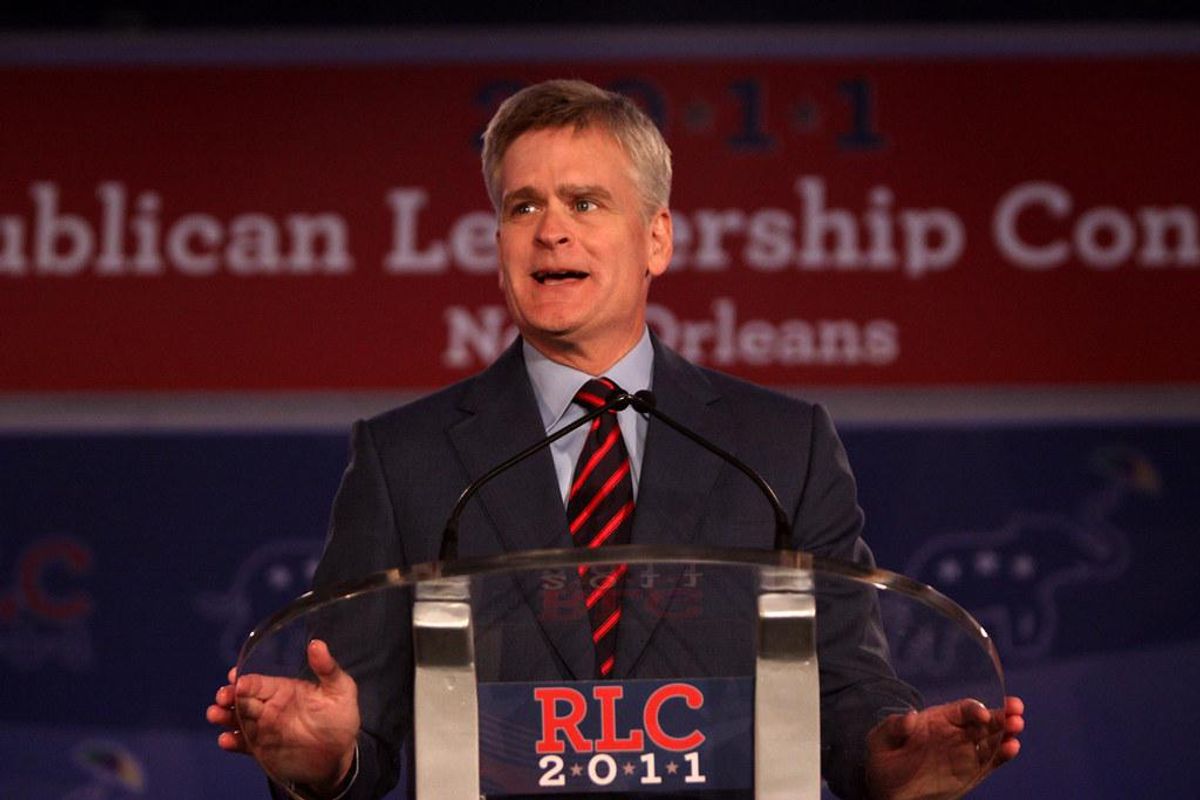 Louisiana GOP Senator Bill Cassidy appeared on "Meet The Press" this weekend to discuss the new "bipartisan" infrastructure plan being proposed by himself, Joe Manchin, Mitt Romney, Kyrsten Sinema, Susan Collins, Lisa Murkowski and other senators of that same general type.
---
When asked by host Chuck Todd how he would get Republicans to vote for this plan, given that they might prefer to vote against it regardless of what is in it, to avoid giving Biden a "win," and to avoid pissing off their base, Cassidy explained that one reason would be that their base would probably also like to have shorter commutes, and that this plan would help with that.
He should have stuck with that answer. It was a perfectly fine answer. But he did not. He proceeded to explain that the bill would also really help women, who need roads to be in shape so that, aside from commuting to work, she can "do the shopping" or chauffeur the children around.
CASSIDY: My wife says that roads and bridges are a 'woman's problem,' if you will, because oftentimes, it is the woman, aside from commuting to work, who is also taking children to schools or doing the shopping, and the more time she spends on that road, the less time she spends doing things of higher value. So if you speak to her, she's going to say, 'This is a good bill.'
Women need roads because "the second shift?" That is certainly a take. Now, far be it from me to suggest we don't need roads and road repair and all kinds of other physical infrastructure improvements in this country, but is the old timey sexism necessary? It's one thing to acknowledge that women are traditionally the ones doing this unpaid labor in heterosexual partnerships, it's another to talk about it like it's the way things are supposed to be, as if those things are, in fact, "women's work."
I am half surprised that he did not suggest that traveling on a bumpy road could shake our uteruses loose, causing them to wander all over our bodies and make us hysterical. Oh, or that it is particularly necessary for us that roads be smooth, because of how we are bad drivers.
It would be easy to blow this off as just an old Republican dude being an old Republican dude were it not for the fact that a major point of contention with this bill is that many Democrats only want to pass this physical infrastructure plan if they can get a guarantee they'll also be allowed to pass a "human infrastructure" plan with a simple majority vote. This would include childcare, education and other things some might say would help not just women, but families in general.
Rep. Alexandria Ocasio-Cortez brought some of this up later in the program.
OCASIO-CORTEZ: I believe that in the House and House Democrats are very committed to making sure that, in Senator Cassidy's words, that infrastructure is very centered on women, and in addition to a bridge, you need a babysitter. And it's very important that we pass a reconciliation bill and a families plan that expands childcare, that lowers the cost of Medicare, that supports families in the economy.
It sure is!
Late last week, President Biden made it clear that he was planning on signing both bills together and didn't want to sign one bill without the other, which led to Lindsey Graham crying "Extortion!" and Biden clarifying on Sunday that he didn't mean he was going to veto the bill he had just approved entirely, just that he was planning to sign them both at the same time.
It's certainly worth it to push for the second bill and to make a huge thing of the fact that Republicans don't want to sign it because "new roads" takes care of everyone's problems. Somehow.
Do your Amazon shopping through this link, because reasons.
Wonkette is independent and fully funded by readers like you. Click below to tip us!
Robyn Pennacchia
Robyn Pennacchia is a brilliant, fabulously talented and visually stunning angel of a human being, who shrugged off what she is pretty sure would have been a Tony Award-winning career in musical theater in order to write about stuff on the internet. Follow her on Twitter at @RobynElyse