Senate Banking Committee Treats JP Morgan Chief Jamie Dimon to Luxury Tongue Bath
News
June 14, 2012 06:30 PM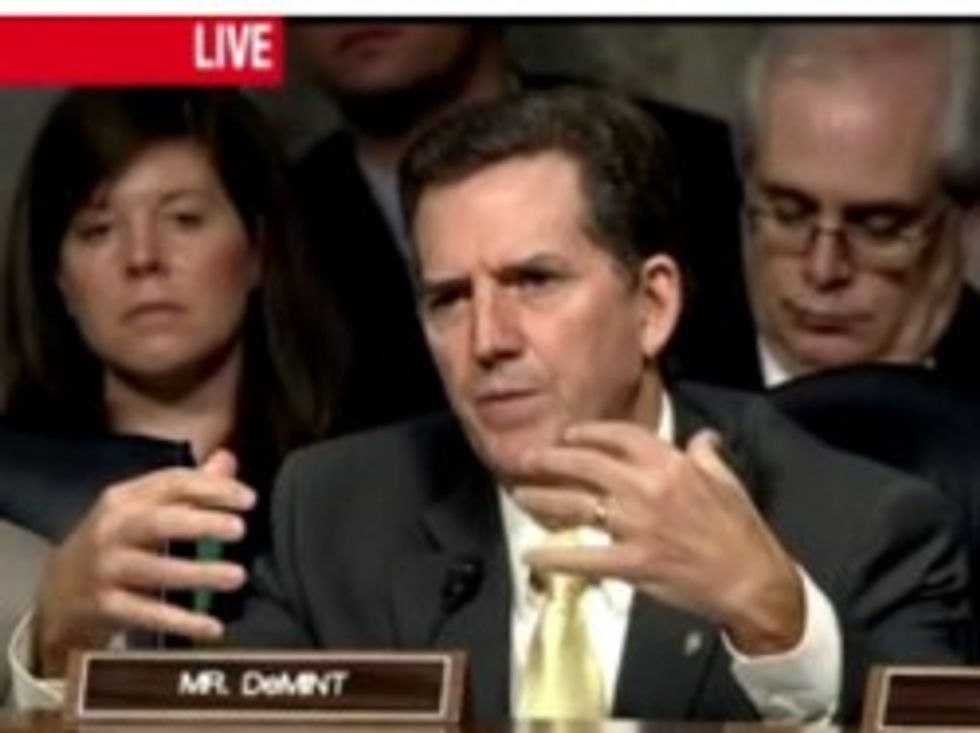 The Senate Banking Committee ordered Wall Street fuck-up and J.P. Morgan Chase CEO Jamie Dimon to testify Wednesday on how his bank managed to turn over $2 billion into poop and whether this latest round of derivative market gambles equivalent to staking money on Peggy Noonan's sobriety should, in fact, necessitate a few moderate regulations to prevent such things in future. Just kidding, please drug test yourself immediately for meth if you thought this would happen. Famous idiot Senator Jim DeMint used Dimon's visit to hold a whiny losers support group meeting. "We can hardly sit in judgement of your losing $2 billion," said DeMint. "We lose twice that every day here in Washington and plan to continue to do that every day." Did we say support group? We meant a slippery, wrinkled white orgy, and that was foreplay. We discourage you from reading the following filth on a work computer.
---
Try not to look at this as you read it:
"As you can tell, there's a temptation here. Every time something goes amiss, we want to add a regulation, and we've surrounded the banking industry with so many regulations and we still seem to have problems here and there," DeMint added. "I think we do need to recognize that you are a very big bank, the biggest in the world. You've got very big profits. Periodically you're going to have big losses and we need to look at that as part of doing business."
Good grief. A little modesty perhaps, Jim DeMint? "The problem with the banking industry is that we're trying to force it to wear condoms. It's big. Very big. The biggest in the world. Condoms ruin the fun of risking preventable diseases." This is apparently just the sort of filth that gets Jamie Dimon going. Look at him all giddy, already promising to move in:
So concerned were the senators that increased regulations might burden Wall Street that in an exchange with Sen. Roger Wicker (R-MS), Dimon even offered to get neighborly with the people charged with policing his firm's actions, to keep them well informed about financial regulatory issues.

"Me and lots of other folks, we'll do whatever you want, we'll even get apartments down here," Dimon offered.
He'll bring friends! That sounds dirty enough for the Senate Banking Committee. Just one more promise, though: Will Jamie Dimon agree to pull out next time? Reputations must be guarded!
Sen. Jerry Moran (R-KS) asked Dimon and his firm to be good corporate citizens, if only to avoid complicating conservative free market messaging. "How you managed JPMorgan is the business of your board of directors, your shareholders, but it does have consequences to those of us who believe in the free-market system, its value, its merit. I have the sense and I hope it's the case that it is a responsibility you understand. [Your] behavior really matters in our ability to be an advocate for a free-market that creates jobs and economic opportunity and allows Americans to pursue the American dream."
Sorry you had to read that. You are invited to take a purging dip in a vat of radioactive toxic waste to cleanse your brain cells of this filth, but ...eh, like that will work. [Raw Story/TPM]