Senate Stays Up All Night To Screw Obamacare! Wonkagenda For Thurs., Jan. 12, 2017
News
January 12, 2017 09:01 AM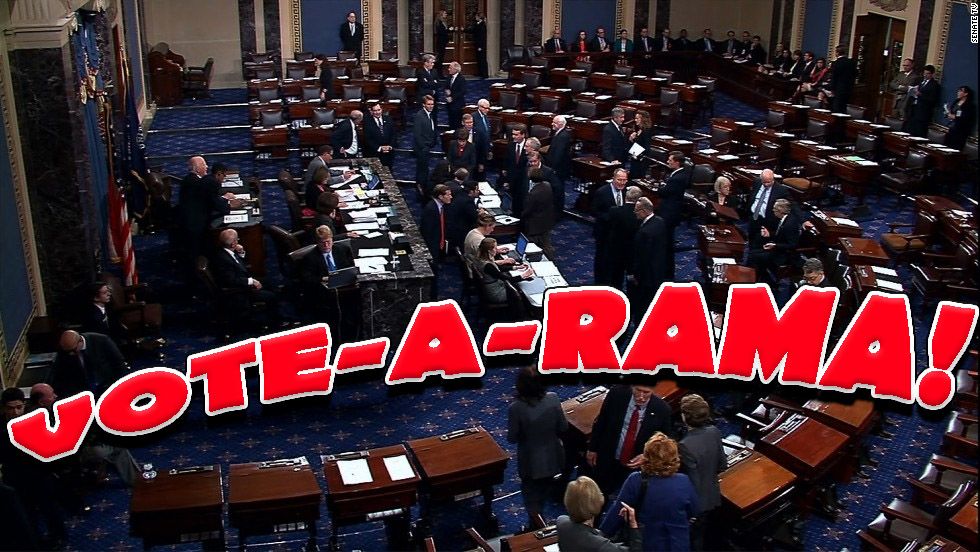 Morning Wonkers! We've got ANOTHER big, stupendous and adjective filled day in front of C-SPAN today, so here's just SOME of the things we might be talking about!
---
The Senate stayed up all night, dancing around the naked skeleton of Obamacare laid out on the plush carpet of Capitol Hill. (It was like The Wicker Man, maybe.) The 51-48 vote to do Senate shenanigans to it ended around 1:30 AM, when no one was paying attention.
Yesterday, during that deranged series of sputtering sentence fragments that Donald Trump called a press conference, Trump also announced how he intended to divest himself from his businesses, and by "divest" we mean "install a puppet covered in cheap booze and hooker pee" named Don Jr. and Eric.
Trump's pick for Treasury Secretary, Steve Mnuchin, will retain his "unpaid position" in Steve Mnuchin Inc., a subsidiary of Goldman Sachs, but don't worry about what the company is, does, owns, or invests in because it's not your businesses (it's Steve's business).
Elaine Chao had her confirmation hearing yesterday, and the only thing for certain was that, if confirmed, she looks forward to working with Mitch McConnell on screwing over public transit projects.
Peter Thiel will not work in Trump's administration and ace reporter lady MoDo has the scoop with some amazing journalism worthy of a Pulitzer Prize. STOP THE PRESSES!
Trump met with executives from Monsanto and Baer yesterday in between the spastic and rambling fits of tweeting and slut shamming reporters to talk about a pending merger that would put all the LOSER farmers out of business.
Chelsea Manning is reportedly on Obama's short list for commutations, although it's probably a lot less likely now that Edward Snowden decided to chime in.
Attorneys for Aaron Schock are asking a judge for permission to spend his campaign money on legal fees, which we all know is just lawyer-speak for "Please let my client decorate his jail cell like a 19th century English dandy."
Facebook announced another initiative to combat fake news by training users to spot fake news, giving news outlets more fancy pants bullshit and Campbell Brown a job she doesn't deserve.
Here's (BEST) FLOTUS on Jimmy Fallon last night writing Thank You notes to our B. Barry Bamz.
That was your Nice Time, don't spend it all in one place.
Dominic Gwinn
Dominic is a broke journalist in Chicago. You can find him in a dirty bar talking to weirdos, or in a gutter taking photos.