SIXTY THREE People Arrested for ONE Bag of Weed In NOT AT ALL RACIST Party Bust
Cops
January 03, 2018 02:20 PM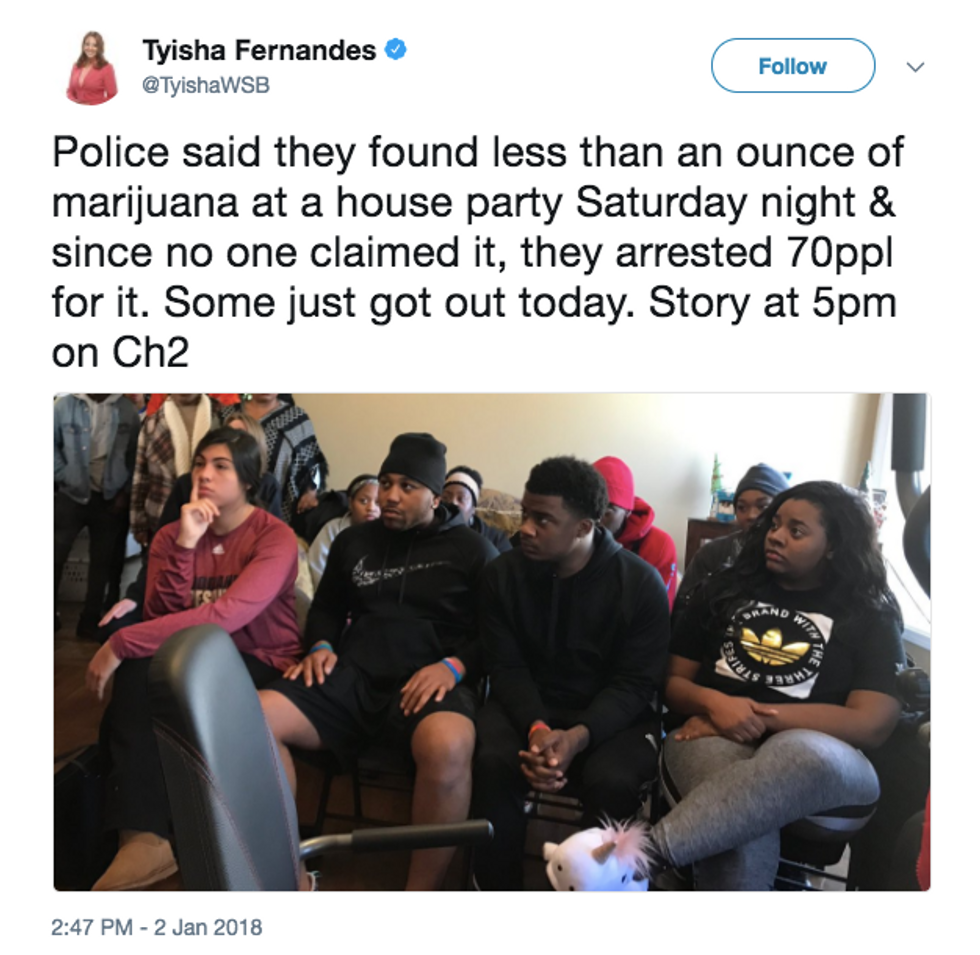 Hey y'all! Did you have a wild time on New Year's Eve? Was it like, shooting off fireworks wild? Was it so wild the cops came and arrested you and every one of your friends just for being at the party? Did you know that that was even a thing that could happen? Do you even party, bro?
---
Seventy people were arrested in Cartersville, Georgia, at what has been alternately called a 21-year-old woman's New Year's Eve, Christmas, Lingerie, Birthday, or House Party, and 63 of them all got popped for less than an ounce of marijuana. Now make sure you understand the particulars of this math equation correctly. Not, 70 people were all holding at what was almost certainly a fairly kick ass, smoked out, crazy sort of "who do we think we are, California?" pot-party in a sleepy little north-of-Atlanta town, no. Not that at all.
Instead, 70 people at a party were arrested, and 63 of those people were all charged for one single bag of weed that weighed less than an ounce - which we thought is supposed to be the amount that gets you in LESS trouble, amirite??? But instead the cops were like, welp, there's all of these people here and this one bag of weed no one will claim, so we are going to go ahead and take all of these people to jail because this one bag of weed is "in reach" of ALL SIXTY THREE people.
More than 60 people were inside the home, including four minors. Bartow-Cartersville Drug Task Force agents obtained a search warrant for the home and two firearms (one reported stolen from Detroit), individually packaged marijuana and several smoking devices were seized throughout most of the first-floor rooms.

Officers also recovered suspected cocaine and cocaine-related paraphernalia following initial contact with several subjects on the scene. Everyone at the house was arrested for possession of the marijuana, "which was in everyone's reach or control," the Drug Task Force states. They were all transported to the Bartow County Jail. The age of those arrested range from 15 to 31 years old.

"The booking process for incoming prisoners takes time for those with valid identification and more time for those who do not, or refuse to reveal their identity, which was the case on many of these," the Drug Task Force added. As of 5 p.m., all of those who have been arrested were issued a bond amount.
First, Suspected Cocaine and The Cocaine-Related Paraphernalia is our new band name. Second, the logistics of this whole thing are fairly impressive. Only 61 people total work for the Cartersville Police Department. That includes, like, the 911 operator who got the "shots fired" (or maybe fireworks? Because New Year's Eve?) call about this party where 70 people were arrested and detained for a couple of days, because 5 p.m. in this case means 5 p.m. on Monday.
So they had to call in the Bartow-Cartersville Drug Task Force, because the Cartersville Police Department does not know what to do with 63 people who are all able to to reach one bag of weed simultaneously. Then the DTF starts using words like "prisoners" for partygoers they have arrested for being at a party, and making sure to emphasize specifically that there was a stolen gun FROM DETROIT. Because we as a nation have no tolerance for guns. Or maybe it's the Detroit part, who knows.
Really, though, what else could they do but arrest every single person there, particularly when, according to the Cartersville Daily Report, "The people arrested were mostly between the ages of 19-25 and the majority of them were male, several of whom were prominent high school athletes in Bartow County." Because if there is one thing that the county of Bartow will not tolerate, it is "prominent male high school athletes." Are we using code names?
Meanwhile, at the exact same time, a bunch of fat ass looters of an entire nation marauded all over some place called Mar-a-Lago to celebrate their continued violation of the emoluments clause and there was not even one arrest.
Just, here, please donate, in case we need bail money one day.