Sondland Opts For The 'I'm An Idiot, And So Are You' Defense
Impeachment
October 14, 2019 09:35 AM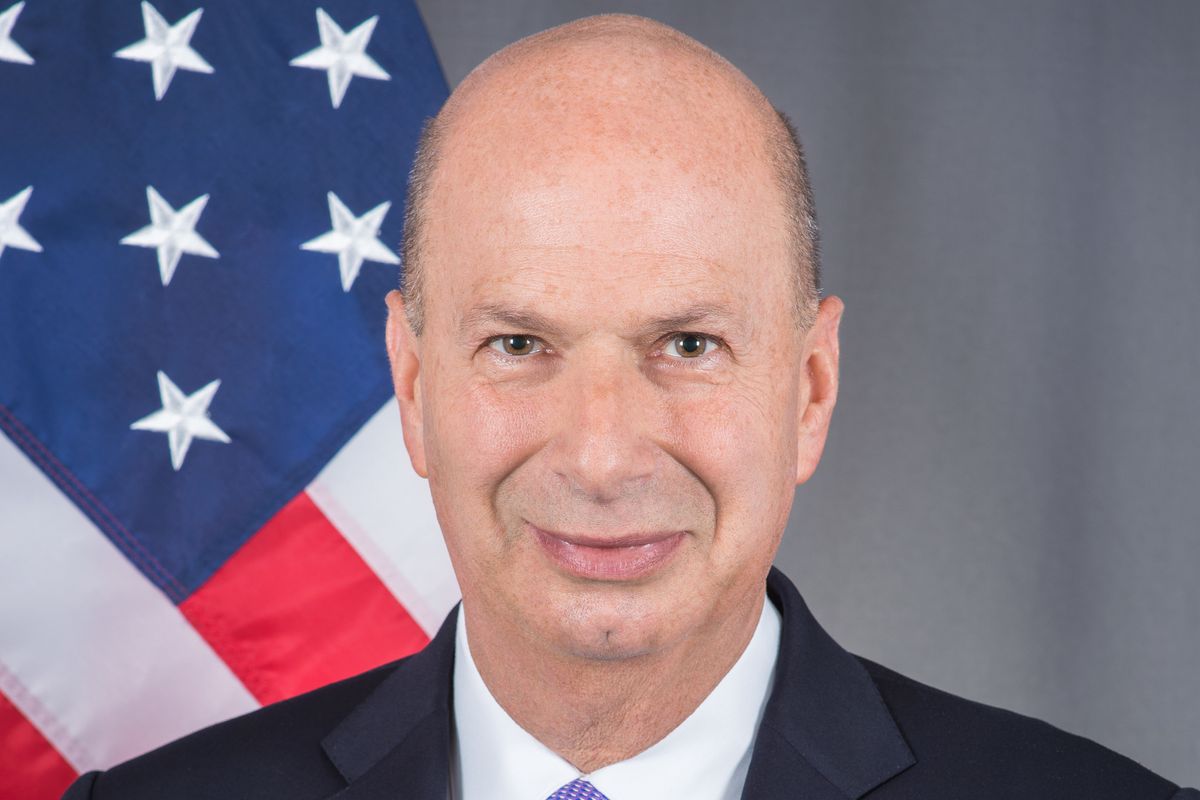 Ambassador to the EU Gordon Sondland has A PLAN. It's not a very good plan. In fact, it's downright idiotic. But nonetheless the guy who spent the summer running point on Ukraine for the White House has worked out what he's going to say to the congressional impeachment committees when he testifies this coming Thursday.
He'll take his oath, look those politicians in the eye, and tell them I NEVER NOHOW REALIZED THAT INVESTIGATING BURISMA MEANT INVESTIGATING JOE BIDEN. AND YEAH I KNEW THAT DONALD TRUMP WAS WITHHOLDING AID AT THE SAME TIME HE WAS INSISTING ON THE INVESTIGATION, BUT I HAD NO IDEA THOSE TWO THINGS MIGHT BE RELATED.
Toldja it was a stupid plan.
---
A source close to Sondland told the The Washington Post that he plans to tell Congress, "It was a quid pro quo, but not a corrupt one." See, although he spent the entire summer shuttling back and forth between the Ukrainian leadership and Rudy Giuliani to get President Zelinskiy to make a speech announcing he would investigate Burisma and, "In exchange for the statement, the president would grant Ukraine's new president a coveted White House audience," it's totally fine because ... NO CORRUPTION.
You may be wondering how there can be a non-corrupt quid pro trading government services for investigation of a political rival. And so are we!
But Gordon Sondland never wondered because had absolutely no idea that Burisma had anything to do with Joe Biden's son Hunter. Sure Rudy Giuliani circulated a memo throughout the White House and State Department alleging exactly that back in March. And the first time Rudy got Ken Vogel at the New York Times to print the smear was on May 2. And Rudy spent the entire summer going on television and screaming his lies that Biden got Ukrainian prosecutor Viktor Shokin fired to help Burisma. And despite the multiple conversations he had with Rudy Giuliani throughout August and the texts he sent to Special Representative Kurt Volker referring to "the deliverable," and Burisma, and "Boresma," poor, naive Gordon Sondland was entirely in the dark as to why the President was hell-bent on getting the Ukrainians to announce an investigation of this particular company. Even when Ukrainian Ambassador Bill Taylor told Sondland on September 9, "As I said on the phone, I think it's crazy to withhold security assistance for help with a political campaign," he never made the connection that the political campaign might be against the guy who was leading in all the polls. Never occurred to him!
Sondland appears poised to say that he and other diplomats did not know that the request to mention Burisma was really an effort to impugn the reputations of Biden and his son Hunter, who had served as a Burisma board member. Sondland contends that he didn't know about the Biden connection until a whistleblower complaint and transcript surfaced in late September.
Wow, the guy who had control of the Ukraine portfolio and was in constant contact with both Donald Trump and Giuliani had zero idea that they were gunning for Joe Biden? Whodathunkit!
But wait, there's more! Remember that text where Sondland issued the firm denial of a quid pro quo -- not even the non-corrupt, totally cool kind! -- before saying "I suggest we stop the back and forth by text?" Well, when he said "The President has been crystal clear no quid pro quo's of any kind," what he meant to say was that Donald Trump told him to say that, and he, Gordon Sondland, had no idea if it was true.
"It's only true that the president said it, not that it was the truth," the source told the Post.
UH HUH.
Well, one of two things is happening here. Either this source is flat out wrong, or Gordon Sondland and his lawyer have both lost their goddamn minds. Because Sondland's lawyer Robert Luskin is an extremely competent and experienced practitioner, and we're having a very hard time believing that he would advise his client to go before Congress and tell what appears to be an obvious and likely provable lie.
Even if Congress was inclined to believe that Sondland was the stupidest sumbitch in DC, whatever's in that guy's emails, texts, and WhatsApp messages that the State Department is withholding will get out eventually. Bill Taylor will be summoned to tell Congress exactly what he said on the phone about conditioning congressionally appropriated aid for Ukraine on "help for a political campaign." Volker can be recalled to testify about conversations he had regarding Joe Biden with Sondland. And Rudy Giuliani is probably scheduled to go on Laura Ingraham's Howler Monkey Power Hour tonight to kibbitz about coordinating the smear with the ambassador.
Moreover, Sondland has other options. He could refuse to show up without a court order. He could show up, but then stonewall by claiming executive privilege. He could plead the Fifth. Or he could show up and tell the truth. All of which would be less reckless and stupid than hoping the statute of limitations for lying to Congress runs out before someone with a modicum of integrity returns to the helm of the Justice Department.
Just ask Roger Stone for advice. But not online, since that guy is under a gag order because he's on trial for LYING TO CONGRESS because his testimony was easily disproven once Robert Mueller got hold of his text messages.
Don't do it, Gordon! They're going to stab you in the back anyway, so you better save yourself.
[WaPo]
Follow Liz (AKA your FDF) on Twitter!
Please click here to help your Wonkette keep keepin' an eye on these grifty sumbitches!
Liz Dye
Liz Dye lives in Baltimore with her wonderful husband and a houseful of teenagers. When she isn't being mad about a thing on the internet, she's hiding in plain sight in the carpool line. She's the one wearing yoga pants glaring at her phone.