Sorry, Mitch, It's Not GOP 'Candidate Quality.' You Guys Just Suck.
Elections
December 15, 2022 09:20 AM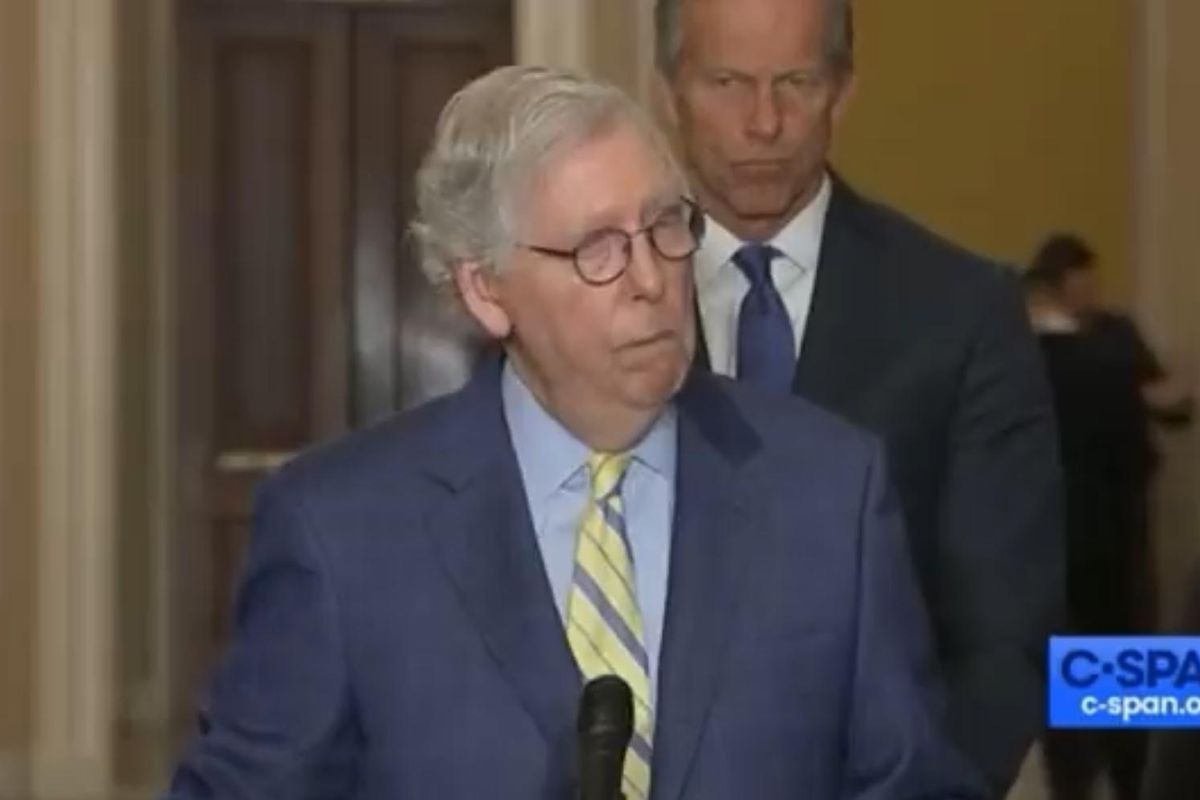 Senate Still-Minority Leader Mitch McConnell tried to tell those fools not to expect a Red Wave, but now Republicans are nonetheless real mad that Democrats didn't just hold the Senate but expanded their majority (depending on whatever Kyrsten Sinema feels like doing at the moment).
McConnell, who's clearly miserable which is wonderful, repeated his point on Tuesday, but this time he directly blamed the twice-impeached one-term loser, Donald Trump, for sticking Republicans with unelectable trash fire candidates.
Let's watch because he looks so sad.
\u201cMcConnell on Candidate Quality issues: Anybody remember who mentioned that back in August? Look at Arizona, New Hampshire, and Georgia\u2026 Our ability to control the primary outcome was quite limited in 2022 because of the support of the former President\u2026\u201d

— Acyn (@Acyn) 1670958787
McConnell said, "Looking back at '22, some of you may recall I never said there was a Red Wave. I said we had a bunch of close races and looking at each race separately, I wasn't making that up. We had a bunch of close races. We ended up having a candidate quality challenge. Anybody remember who mentioned that back in August? Look at Arizona. Look at New Hampshire. And the challenging situation in Georgia, as well."
Yeah, Blake Masters, Don Bolduc, and Herschel Walker all sucked. God, they were terrible. McConnell forgot to mention Pennsylvania, where Trump's pet snake oil pitchman Dr. Mehmet Oz also lost big.
PREVIOUSLY:
Creepy Ghoul Blake Masters Not Winning Over Voters In Arizona Senate Race

New Hampshire Republicans Rally Behind Trumpy, Forced-Birth Creep Don Bolduc

Herschel Walker: A Word, A Salad, And A 9/11 Quote

PA Senate Debate: Dr. Oz Supports State Legislatures' Right To Choose Terrible Abortion Bans

---
McConnell pointed out that Republican Senate leadership successfully intervened in the Alabama and Missouri primaries, which is slight praise at best because those states are so solidly red no Democrat had a chance.
He continued, "Our ability to control the primary outcome was quite limited in '22 because the support of the former president proved to be very decisive in these primaries."
We fully support electing Trump the scapegoat in chief, especially if it helps limit his chances of winning the Republican presidential nomination. However, the blunt reality is that Trump was often opportunistic with his primary picks, swooping in and choosing the sure winner. That's what happened in Pennsylvania with Big Lie QAnon cultist Doug Mastriano, who'd already built up a 10-point lead well before Trump's 11th-hour endorsement. Maybe Trump helped drag JD Vance across the finish line, but that creep actually won.
Herschel Walker won the Republican Senate primary with almost 70 percent of the vote, but the college football star had no serious competition. Trump didn't bring him up from the minors, or whatever allusion makes more sense for football. Arizona gubernatorial candidate for life Kari Lake was crazy but more charismatic than her dishwater establishment opponent.
The most MAGA candidate didn't necessarily win their primaries because Trump endorsed them. They won because they were the most MAGA candidate. This is what the Republican Party base of bigoted conspiracy theorists wants. Trump isn't much of a leader. Yes, he bungled the country's COVID-19 response, but he didn't single-handedly turn his own supporters against masks and other basic mitigation measures. He just followed the crowd and claimed he was ahead of them the whole time.
Trump might've appointed rightwing hacks to the Supreme Court, but it was Bush family picks Samuel Alito and Clarence Thomas who led the Christofascist crusade that overturned Roe v. Wade. Trump didn't force Masters and Dr. Mehmet Oz to take repulsive positions on abortion. He didn't pull the trigger on those extremist abortion bans that powered Democratic voter turnout.
McConnell ended his press conference on a hopeful note, if you're hoping the Empire successfully strikes back next time: "So my view was do the best you can with the cards you're dealt. Now, hopefully, in the next cycle we'll have quality candidates everywhere and a better outcome."
Republicans have a much more favorable map in 2024. For a start, Democrats must defend seats in Ohio, West Virginia, and Montana. Not even Trump could screw that up for them, but we also haven't heard Trump's "big announcement" yet. McConnell might just retire in the minority.

Yay!
[NBC News]

Follow Stephen Robinson on Twitter if it still exists.
Subscribe to the Wonkette YouTube Channel for nifty video content!
Look at our pretty photos on Instagram!
Yr Wonkette is 100 percent ad-free! Please subscribe, donate, and otherwise help keep us alive and kicking!
Stephen Robinson
Stephen Robinson is a writer and social kibbitzer based in Portland, Oregon. He writes make believe for Cafe Nordo, an immersive theatre space in Seattle. Once, he wrote a novel called "Mahogany Slade," which you should read or at least buy. He's also on the board of the Portland Playhouse theatre. His son describes him as a "play typer guy."