Southern Baptist Leader Calls Donald Trump Filthy Slutty Gambling Glutton Whore
News
January 19, 2016 01:00 PM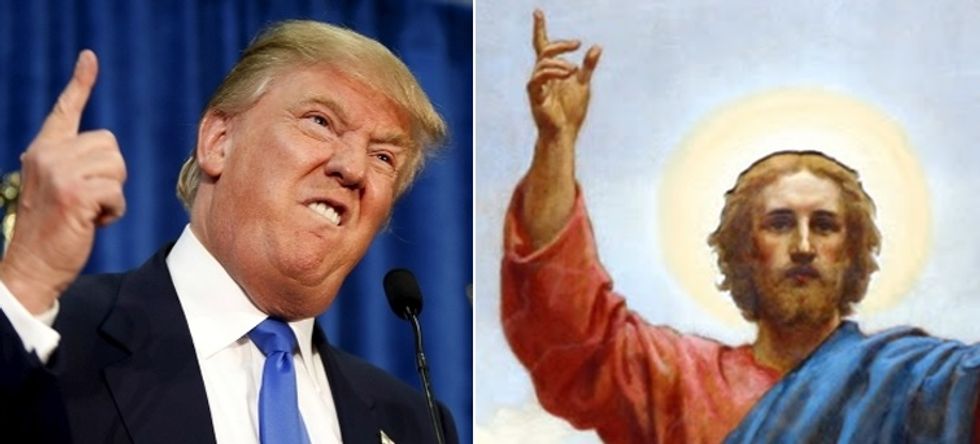 Best friends.
---
[contextly_sidebar id="35c0doWNA3mKDvKNKkeYbkwrV9dSorv8"]Oh bother! The evangelicals are getting itchy in their Underoos again, what with the cognitive dissonance of Donald Trump -- who does all the seven deadly sins before breakfast, including the one about wanting to fuck his daughter -- being the frontrunner for the "pro-life," "pro-family" Republican nomination. Russell Moore, head of the Southern Baptist Ethics & Religious Liberty Commission (he swings a big dick in religious right circles), would like to share some thoughts about that dirty trash strumpet Donald J. Trump:
This is somehow who, as recently as yesterday, has said that he has nothing to seek forgiveness for, despite the fact that you have someone who has broken up two households, by his own admission ... someone who has been involved in the casino gambling industry for all of his life, preying upon poor people and breaking up families with that. Someone who has been using racially charged rhetoric all through this campaign, against people who are my brothers and sisters in Christ.
[contextly_sidebar id="8FEr7n5R7bnZlSeOc2sIoqTb9TjIE6kf"]Haha, we kind of agree with Southern Baptist dude! This time! Because Moore has a habit of saying gross bigot things about gays gaying up the Boy Scouts, and he really likes it when his church fires janitors who do sex things to same-gender rear ends. So he's kind of a dick.
[contextly_sidebar id="a2cG1C90EYXTYnggeTzMkORUWOnjDnBz"]But let's see, is Trump a divorcing and remarrying sex fiend? Affirmative! Has he shown a kindly liking to those dice games and slot machines in the casinos he owns, which do prey on poor people? Ayup! Does he always say he never asks forgiveness from Jesus when he's eating those little Jesus crackers, because he's never done anything wrong? Pffffft, Jesus should probably be asking HIM forgiveness, for getting crucified like a common Jeb. Donald Trump prefers saviors who didn't die, that's all he is saying.
[contextly_sidebar id="K46WuIe0U1zgzKK8h5yaNqubrRl3541k"]This came in response to the evangelical Christian gigglefart heard around the world on Monday, when Trump told the gathered wingnut babies at Liberty University about this one badass Bible verse from "TWO CORINTHIANS," which is not how Jesus says Bible, and which proves (again, for the 50th time) that Trump's "faith" is probably fake as fuck.
[contextly_sidebar id="i9JQUaAkEUKjHz6hhFmBcqLiWTJP3fqX"]As we mentioned Monday, this is NOT the first time a Christian gatekeeper type has expressed reservations about lustful, prideful, leaking pus boner Donald Trump. Tony Perkins of the Family Research Council is SUPER hiss-scratch-meow-meow! on the subject, and Phyllis Schlafly's organization has shunned him from Jesus potlucks for Republican candidates. We don't know if she's actually SO MAD BRO at Trump, but if she is, we bet dust bunnies start flying out from under her skirts when she thinks about him.
And just the other day, shrieking American Family Association radio troll Bryan Fischer penned a long screed wingnut-'splaining why Donald Trump is a liberal, Jesus-hating, gay-loving commiesexual, whereas Ted Cruz is a beautiful, family values Cuban-Canadian-American, whose heart and bacon-wrapped dick pump 100 percent pure Angus-certified Blood of Christ.
We don't know what we find funnier: Trump getting fucked by some of the same Good Christian morons he was counting on, or those morons dealing with the prospect of yet another presidential election where exactly none of the candidates running give two sanctified fucks about them. Oh well, guess we'll just laugh at all of it.
[JoeMyGod]
Evan Hurst
Evan Hurst is the managing editor of Wonkette, which means he is the boss of you, unless you are Rebecca, who is boss of him. His dog Lula is judging you right now.
Follow him on Twitter RIGHT HERE.