Speaking Truth to Hair. Wonkagenda, Tues. Feb. 21, 2017
Culture
February 21, 2017 09:24 AM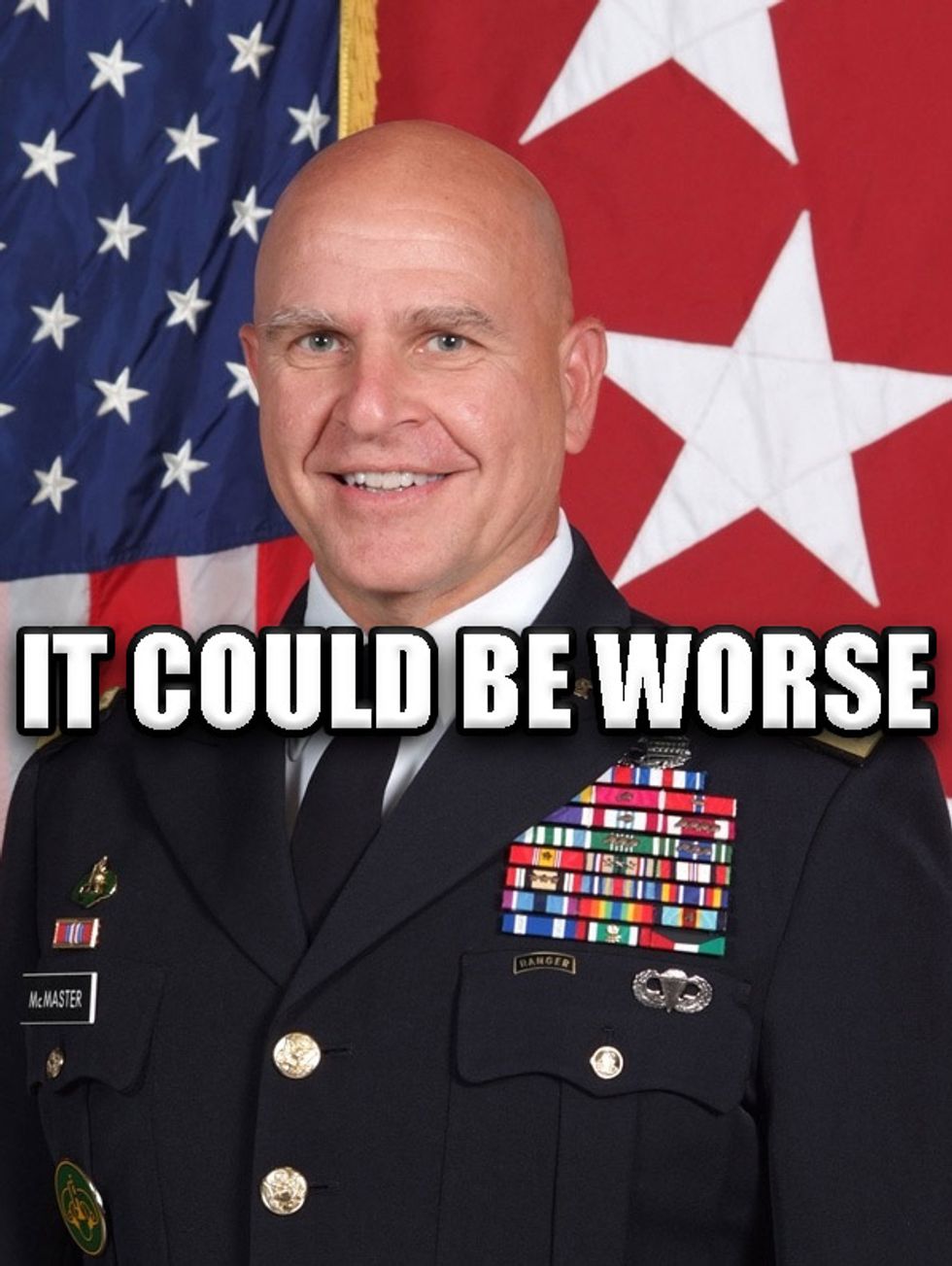 ---

Lt. Gen. H.R. McMaster is Trump's new National Security adviser, but his history of "speaking truth to power" means he probably won't last too long.
Jewish Community Centers across the country received bomb threats yesterday, forcing Trump's White House to begrudgingly send out a low-level staffer to mumble a statement about antisemitism.
Donald Trump is expected to announce new executive orders this week that will burn climate laws designed to protect the environment from ignorant farmers and miners that don't understand mountaintop removal, the water cycle and run-off.
Rex Tillerson can't be bothered with too much detail, because as "CEO" of the State Department, he doesn't have time to read policy briefings longer than two pages. He's a very busy man who's been struggling to whisper in Trump's ear.
Mike Pence was in Europe saying he's real sorry about those mean things Trump said about Not America and NATO, but they just make Trump so angry sometimes! Meanwhile, President Bannon has been busy calling up people in the E.U. and scaring the shit out them with his murder voice and death threats.
Russia may have been laundering money for election hacking through a veterans' pension system, hoping nobody would notice cash transfers between the FSB, pensioners, and hackers. Yup, more spy stuff!
Whenever Trump goes to Mar-a-Lago, he golfs, and his staff is going out of their way to hide it because he thinks Camp David is fuggo and boring.
Neil Gorsuch has quietly roaming around the Senate, dolling out handies and greasing palms with puppy videos in an effort to win over vulnerable Democrats and wishy-washy Republicans.
Breitbart's hypocritical attention whore Milo Yiannopoulos has lost his book deal, and the rumor mill says he'll be shitcanned by the end of the week amid internal protests.
Joe Piscopo might run for Governor of New Jersey as a Trumpkin Republican because it's apparently what D-list celebrities do these days in order to stay relevant.
Here's your Late Night wrap-up! Seth Meyers took A Closer Look at Sweden's reaction to Trump, and Colbert asked us to "#NeverFjorget" what didn't actually happen in Sweden this weekend.
And here's your morning Nice Time: BABY SEALS!
Dominic Gwinn
Dominic is a broke journalist in Chicago. You can find him in a dirty bar talking to weirdos, or in a gutter taking photos.