Spinach Pie Is For Lovers, Probably, Why Not
Recipe Hub
September 30, 2014 11:31 AM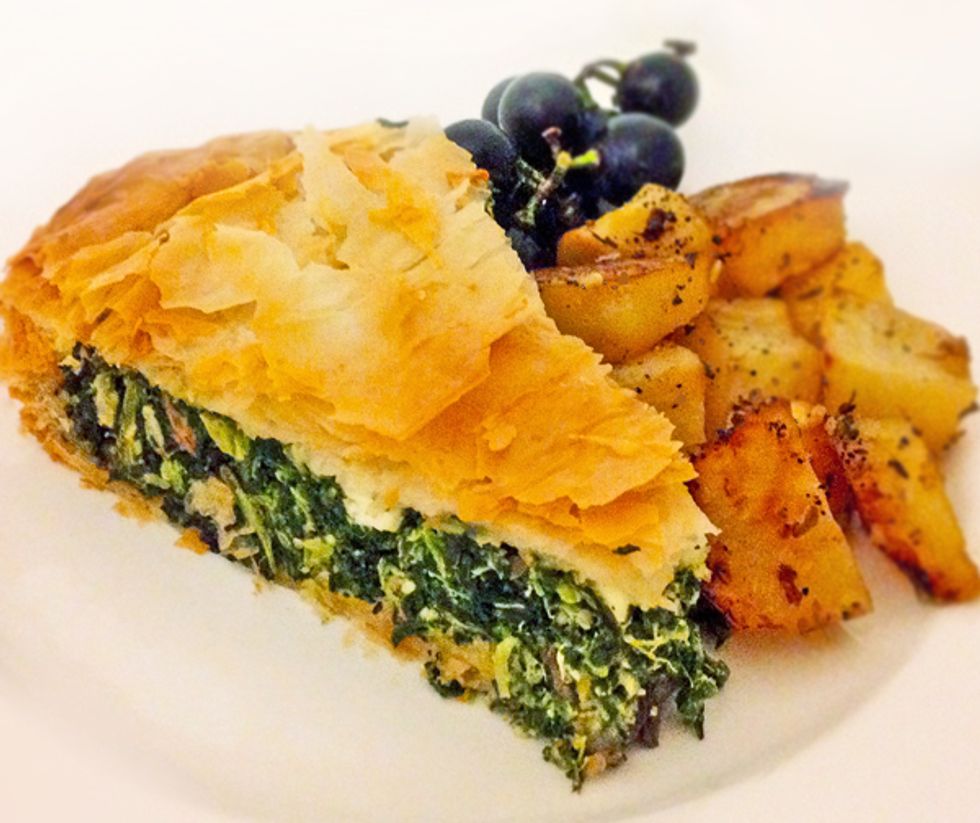 ---
I became a vegetarian when I was 18. My eldest sister had taken up the cause years before, so the conversion wasn't a radical step. It was another way to define myself as I started out on my own, breaking away from the jar of bacon grease in my mother's kitchen. Being a vegetarian in those days was still a quirky thing to be, and I liked that very much. Also, I was poor and meat can be expensive. Saving animals made it possible for me to afford cigarettes and booze, two essential components of survival during my teens and early twenties. Thank you, cows.
So there I was, smoking an Old Gold and hung-over, trying to figure out what to eat that was not another salad. My sister turned me on to the one cookbook that changed my life -- The Vegetarian Feast by Martha Rose Schulman. The first edition of this book, printed in 1986, is a thoughtful, creative expression of love for cooking and for words. Ms. Schulman's level of detail for each recipe extends for pages, can be cross referenced, and was printed in a font sized just above the need for magnification. If Umberto Eco was a chef, this is how he would make it rain.
Updated editions have shortened and simplified directions, and I think it's a shame. Newer versions of The Vegetarian Feast have the information you need, minus the magic. If you can find a loved and stained copy with dried pie dough cemented on the spine, buy it immediately. You don't have to be a vegetarian to appreciate the book, but you will read it with a wet mouth and a brain inspired.
The Vegetarian Feast taught me how to make my favorite Greek food: spanakopita, a savory spinach pie made with layers of buttery phyllo dough, eggs, feta, and mushrooms. I am not a vegetarian anymore, but I am still in love with the cuisine, and I make Ms. Schulman's spanakopita a few times every month. My recipe is a brief homage to hers. It takes about two hours to make spanakopita, probably because I am not a genius, Greek, or Martha Rose Schulman. Spanakopita is a great meal with the addition of roasted potatoes with lemon, and do think that over.
Ingredients
2 bags of frozen chopped spinach, squeezed (I will explain later)
½ c. olive oil, or so!
1 onion, chopped
½ lb. of mushrooms, chopped
4-5 garlic cloves, minced
Sea salt and ground pepper
5 eggs, beaten
½ lb. feta, crumbled
½ c. Parmesan cheese, grated
¼ c. fresh parsley, chopped
1 tsp. fresh oregano, chopped
2 sprigs of fresh rosemary, leaves minced
½ stick of butter, or so!
16-ish sheets of phyllo dough, thawed
Heat some of the olive oil and butter in a pan and sauté the onion for about five minutes, then add the mushrooms. Things really do taste better when you combine olive oil and butter! Cook the mushrooms a few minutes more, until the water begins to release, and then add garlic, salt and pepper. When the mushrooms are tender, about 10 minutes later, remove them from the heat.
While your onions and mushrooms are sautéing, rinse the thawed spinach in a colander and then squeeze it dry. If it's still frozen in spots, it's going to hurt your hands, so make sure it's completely thawed before you start squeezing. Push out the water without turning the spinach into a diamond.
Beat the eggs in a blender with the Parmesan and feta. Pour this into a large mixing bowl and stir in the parsley, oregano, rosemary, and some more pepper (and only a wee bit of salt because both cheeses are salty enough). Add the cooled spinach and mushroom mixture, and blend very well. You need to mix the liquid and solids thoroughly. Dive in with clean hands, is exactly what I am saying. Fully integrate your flavors with your bare hands.
Preheat the oven to 375º. Combine the butter and leftover oil in microwave safe cup and nuke until it melts -- about 35 seconds. Have a soft basting brush handy. For the next part, you have to work very quickly to prevent the phyllo dough from drying out and turning brittle. Brittle phyllo is impossible to work with.
Remove thawed phyllo from the box and roll it out. Brush a large, oblong casserole pan with the oil and butter. Place two sheets in the pan, so that the sheets hang over the edges. Brush them completely with butter and oil, and place two more sheets on top. Keep repeating; brush every other layer of phyllo, until you have used eight or ten sheets. This is the bottom crust.
Spread the egg and spinach mixture over the phyllo and start layering more sheets on top. Go for six to eight sheets. If the dough tears, and it will, that's OK. Layer over the rips with extra pieces and keep brushing it with butter and oil (every other layer). When you are satisfied that this procedure is done, fold the sheets down into the sides of the pan. This is a crumbly mess, and don't worry about how it looks -- just tuck it in. When it bakes, it will be beautiful. Brush the top and sides with some more butter and oil, and make small 1/2" deep perforations in the top to vent steam. Bake this for 40-45 minutes, until puffy and golden.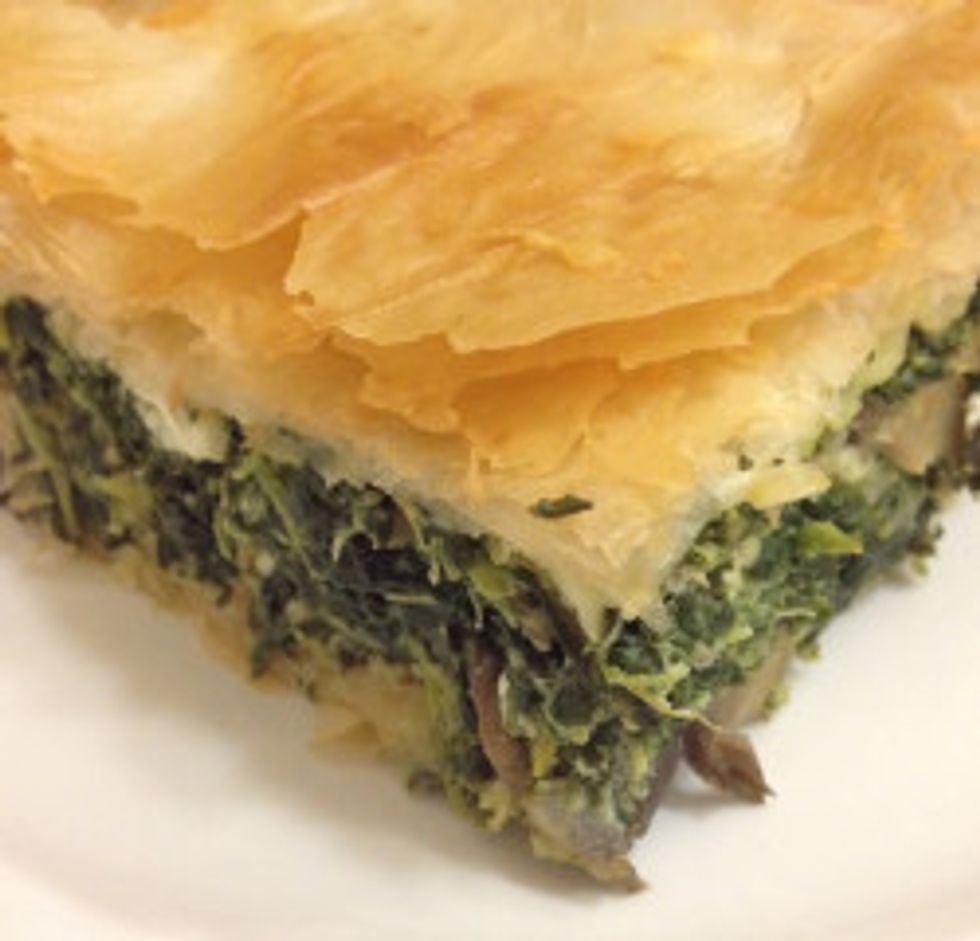 If you are like me, let your spanakopita cool for about five or ten minutes before cutting. My next door neighbor is an elderly vegetarian veteran recovering from hip surgery and weight loss, and if you have one of those too, knock on the door and deliver spanakopita while it's still warm. When these guys feel better, they deliver cheesecakes with thanks, and elderly men pick out the best cheesecakes ever. It's like a super power! After, feed yourself and your people while your home still smells liked roasted butter. It is good to be alive.
Last, if any of you need a good recipe for roasted potatoes with lemon, let me know and I'll post one in the comment section below. I have a tried a true formula, one that is probably more "borrowed from" than truly Greek potatoes, and I never have leftovers. You let me know, and have a great week!