Sportsball Declares General Strike Against Police Violence
Sportsball
August 27, 2020 09:01 AM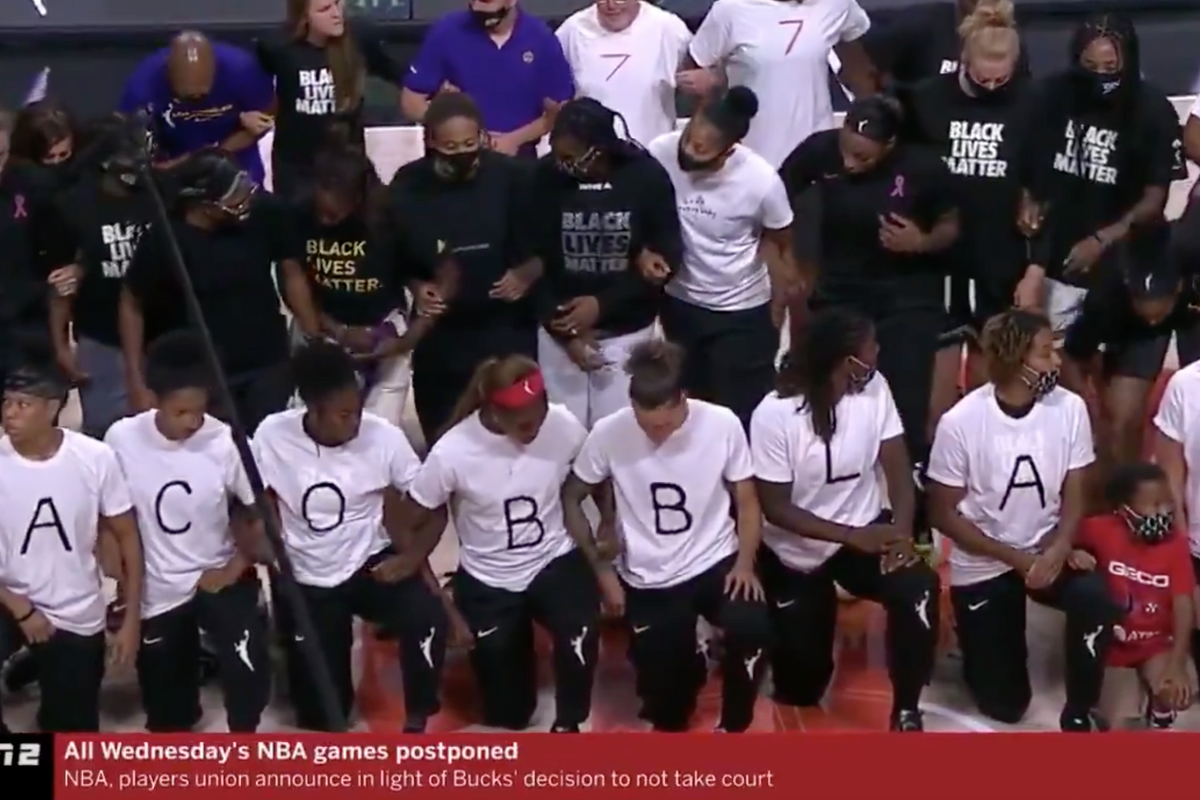 Let's mark down August 26, 2020. It's the day the Milwaukee Bucks sat out their scheduled playoff game with the Orlando Magic. This was a bold move from the players on an unfortunately named team. The Orlando Magic also joined the strike.
This protest against the police shooting of Jacob Blake was non-violent but not peaceful. It disturbs the false peace, rattles the status quo that has become unendurable. Conservatives are gonna hate it. They might accept losing a few car dealerships but don't take their sportsball from them.
Bucks senior vice president Alex Lasry was supportive and tweeted:
Some things are bigger than basketball. The stand taken today by the players and org shows that we're fed up. Enough is enough. Change needs to happen. I'm incredibly proud of our guys and we stand 100% behind our players ready to assist and bring about real change.
The dominoes quickly started to fall: The Houston Rockets and the Oklahoma City Thunder also struck what should have been Wednesday's playoff game. The Los Angeles Lakers and Portland Trail Blazers refused to play, as well. The NBA plans to reschedule the games.
The players of the WNBA Washington Mystics and Atlanta Dream decided that they would not take the court Wednesday either. Here's an excerpt from Dream center Elizabeth Williams's statement:

What we have seen over the last few months, and most recently with the brutal police shooting of Jacob Blake, is overwhelming. And while we hurt for Jacob and his community, we also have an opportunity to keep the focus on the issues and demand change. These moments are why it's important for our fans to stay focused, hear our voices, know our hearts and connect the dots from what we say to what we do.

We encourage everyone to go and register to vote. Now. Today. If you truly believe that Black Lives Matter, then vote. Go and complete the 2020 Census now. Don't wait. If we wait, we don't make change. It matters, your voice matters, your vote matters. Do all you can to demand your leaders stop with the empty words and do something.
The Lakers and the Los Angeles Clippers both voted to strike for the entire season. Lakers star Lebron James, a legend so great I even know who he is, spoke for all who fear the policeman's bullet.
---
Jacob Blake is a 29-year-old father, brother, son, and friend, and now he's paralyzed, after a peace officer shot him with all the consideration you give to swatting a fly. What's infuriating is knowing the system is designed to protect Blake's assailant, professionally and legally. He could walk while Blake might never again.
Meanwhile, the president will send in his shock troops to restore what he considers "law and order." This implies that "law and order" even exist when a state operative can callously shoot a man in the back.
Earlier this week, Los Angeles Clippers coach Doc Rivers called out Donald Trump and his GOP goons for appealing to white people's fear and insecurity during their weeklong clown show.

RIVERS: All you hear is Donald Trump and all of them talking about fear. We're the ones getting killed. We're the ones getting shot. We're the ones that were denied to live in certain communities. We've been hung. We've been shot. And all you do is keep hearing about fear.
He'd removed his mask by this point and you could see the anguish on his face as he expressed his frustration with a country that feels like it's continually rejecting Black Americans.
RIVERS: It's amazing why we keep loving this country, and this country does not love us back. It's really so sad. Like, I should just be a coach. I'm so often reminded of my color. It's just really sad. We got to do better. But we got to demand better.
Rudy Giuliani was presumably leaving a slime trail near a TV and saw Rivers's emotional remarks, which pissed him off because he's a monster. He claimed Rivers was "misleading" Black people, who apparently aren't getting killed. George Floyd and Breonna Taylor are just sleeping.
Conservatives are probably incapable of comprehending why professional basketball players who "have it so good" would feel sympathy for and even identify with someone like Jacob Blake, who's hardly in their tax bracket. The players are currently living in an almost literal bubble because of the pandemic, but even while inside their luxurious, gilded cages, Black players realize they're still Black. If they were foolish enough to believe their wealth and privilege exempt them police brutality, they'd speak at the Republican National Convention. Instead, they are speaking out for Black lives.

Kenny Smith, former NBA star and current TNT sports host, walked off the set of "Inside the NBA" last night in a show of solidarity.
SMITH: As a Black man, as a former player, I think it's best for me to support the players and just not be here tonight.
The general strike for justice isn't limited to basketball. The Milwaukee Brewers, which Google informs me is a professional baseball organization, unanimously agreed to not play Wednesday's game against the Cincinnati Reds. The Seattle Mariners voted not to play their scheduled game against the San Diego Padres, and the San Francisco Giants game against the Los Angeles Dodgers was also postponed.
In the world of soccer, Inter Miami and Atlanta United stood in solidarity and didn't play their match Wednesday.
Tennis star Naomi Osaka announced she wouldn't compete in Thursday's semifinal match at the Western and Southern Open.
From USA Today:
"As a Black woman I feel as though there are much more important matters at hand that need immediate attention, rather than watching me play tennis," Osaka wrote on Wednesday night. "I don't expect anything drastic to happen with me not playing, but if I can get a conversation started in a majority white sport I consider that a step in the right direction. Watching the continued genocide of Black people at the hand of the police is honestly making me sick to my stomach."
Fox News and conservative media will decry these athletes, because there is no form of protest they'll accept. That's fine. A Black person's self-respect is more important than a conservative's approval, and it's almost impossible to have both.

This is no longer a game. It never was for us.
[CNN / ESPN / CBS Sports / USA Today]

Follow Stephen Robinson on Twitter.
Do your Amazon shopping through this link, because reasons.
Yr Wonkette is 100 percent ad-free and entirely supported by reader donations. That's you! Please click the clickie, if you are able!
Stephen Robinson
Stephen Robinson is a writer and social kibbitzer based in Portland, Oregon. He writes make believe for Cafe Nordo, an immersive theatre space in Seattle. Once, he wrote a novel called "Mahogany Slade," which you should read or at least buy. He's also on the board of the Portland Playhouse theatre. His son describes him as a "play typer guy."