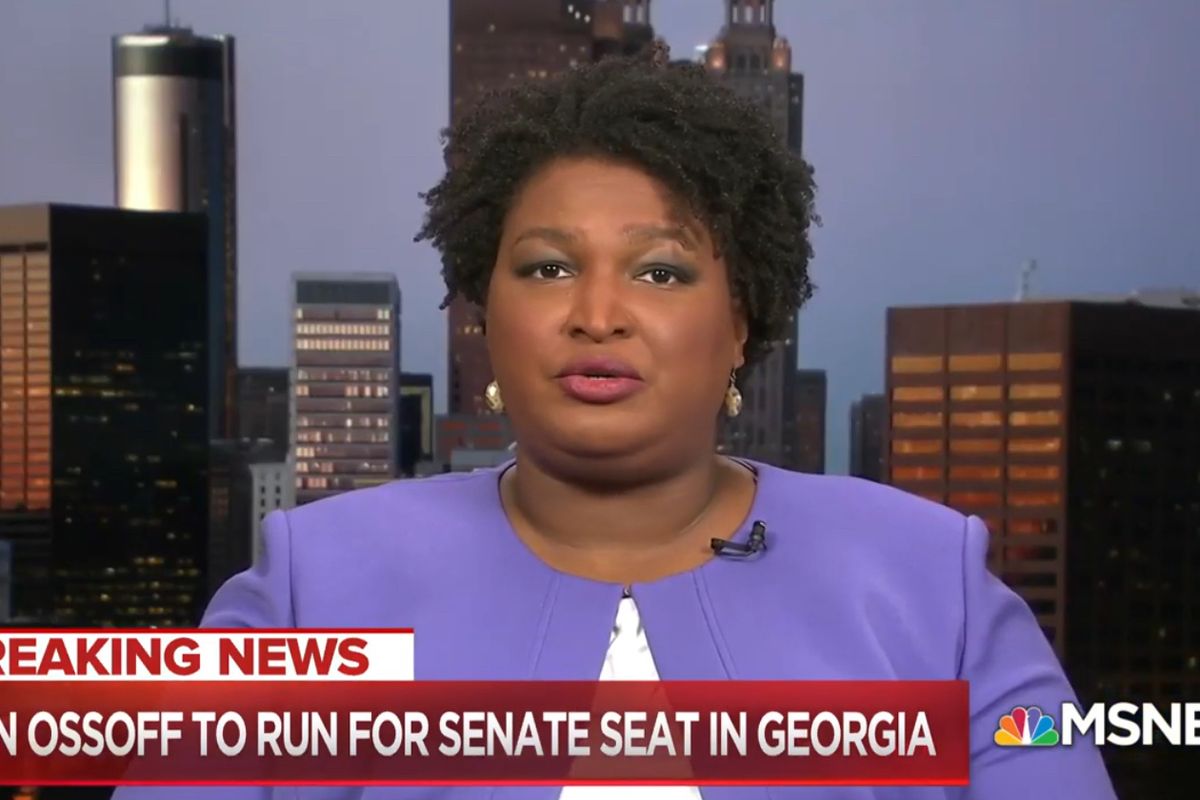 Stacey Abrams believes Democrats should and can compete in the South. Don't laugh. It's not such a crazy idea. We used to do all right in the land that grows Huckabees. Democratic presidents Jimmy Carter and Bill Clinton were both Southerners, and even gangland Chicago's Barack "The Tan Suit" Obama was practically one of us. Remember how he belted out "Amazing Grace" at Charleston's Emanuel African Methodist Episcopal Church?
Abrams specially argues that Georgia is winnable. She lost the governor's race there by just 55,000 votes, and the "winner" had his grubby fingers on the scale. Abrams released a playbook this week that lays out a path to Democratic victory, and her proposed strategy is more comprehensive than "don't let Republicans cheat."
---
Stacey Abrams: 2020 Dems. Should Focus On Voter Suppression | Hardball | MSNBC www.youtube.com
ABRAMS: When analyzing next year's political landscape and electoral opportunities, any less than full investment in Georgia would amount to strategic malpractice. Beyond our organic growth and concomitant efforts to maintain our progress, the volatile national environment, arcane Electoral College system and limited pathways to pick up U.S. Senate seats make Georgia a must-compete and must-win state. Our work reflects this deep-seated belief in our capacity to be a tipping point in the battle for 2020. We have invested in ourselves, from voter engagement and electoral integrity work to training and funding candidates to secure a role in the 2021 redistricting process. However, I take a broad view on 2020, knowing that Georgia is part of a national charge.
People might wonder why Democrats should bother with Georgia and its 16 electoral votes, but that's short-sighted. Donald Trump isn't the only Republican we want to retire in 2020. We'd love to send Mitch McConnell back to the Galápagos Islands, and Georgia offers a great opportunity to remove him as Senate minority leader. Senator David Perdue is up for re-election and fellow Republican Johnny Isakson is stepping down. Gov. Brian Kemp will appoint a Trump-loving stooge replacement who'll have to defend the seat next year.
But close examination of the Georgia governor's race raises some concerns. White voters collectively showed Abrams the back of their hands with middle fingers extended. This surprised our college friends who didn't know anyone who'd vote for Kemp other than their parents and everyone at their church. But Abrams argues that Democrats can build on her tremendous success with black voters while making inroads with suburban white women. She also makes clear she's not the only candidate who can deliver black voters to the polls.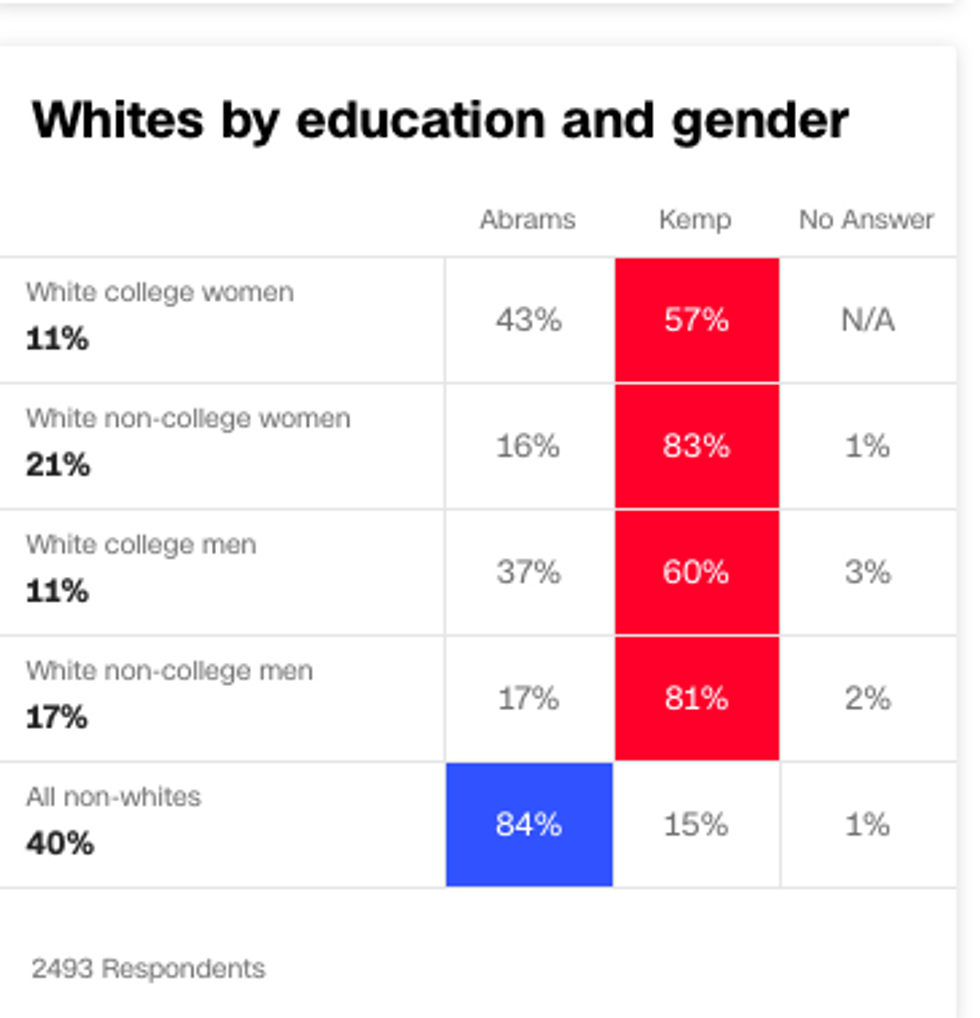 CNN
We wish Abrams would run for Senate herself but she's busy making sure Republicans don't bring back the poll tax. However, former House candidate Jon Ossoff has set his sights on one of the vacant Senate seats. See, it is physically possible for a Democrat to run for Senate.
Ossoff lost the 2017 GA-06 special election to Karen Handel, whom you might remember as the villain from The Help. Lucy McBath managed to say Handel's name three time and remove her office last year. She's already Senator in our hearts, but we still like Ossoff. Lawrence O'Donnell's sources can reliably confirm that Ossoff appeared on his show last night and announced his plans to challenge Perdue next year. Our boy came out swinging.
Exclusive: Jon Ossoff To Run For Senate Seat In Georgia In 2020 | The Last Word | MSNBC youtu.be
OSSOFF: We're in a state where one in three rural children live in poverty, where we have the worst maternal mortality in the entire country, and in a half a decade, [Perdue] hasn't come down from his private island to do a single town hall meeting.
Wait, hold up, Perdue has a private island? We'd blow off town halls if we had our own island. But Perdue is a public official. He could fly his constituents to his island and address their concerns before hunting them for sport. Georgia deserves better.
In an interview with the Atlanta Journal Constitution, Ossoff accused Perdue of just handing out favors to donors and "running errands" for the president. Perdue and Trump have a lot in common. Neither man previously held political office before their current ones, and they both enjoy golf. That's about it. Maybe Perdue is also a racist asshole. We don't know for sure. His tweets only reveal his ongoing struggle with insects.
This is the house I grew up in. I've lived & worked all over the world, but Warner Robins will always be my home. https://t.co/Pl3CiKE4Oy

— David Perdue (@David Perdue) 1565726351.0
Perdue also confessed that Trump calls him all the time like they're high-school besties. The president phones Perdue to "strategize or spitball ideas about policy" at crazy-ass times such as 5:30 a.m., 12:30 a.m., or literally whenever he sees him on television. This is probably why he's hiding out on that island. He couldn't have predicted this creepy fate when he entered Congress in 2015. Obama was in office, and he probably assumed Hillary Clinton would play harder to get. Ossoff needs to win this race so Democrats can reclaim the Senate and Perdue can get his life back.
Follow Stephen Robinson on Twitter.
Donate to Jon Ossoff's Senate campaign here.
Yr Wonkette is supported by reader donations. Please send us money to keep the writers paid and the servers humming. Thank you, we love you.
Stephen Robinson
Stephen Robinson is a writer and social kibbitzer based in Portland, Oregon. He writes make believe for Cafe Nordo, an immersive theatre space in Seattle. Once, he wrote a novel called "Mahogany Slade," which you should read or at least buy. He's also on the board of the Portland Playhouse theatre. His son describes him as a "play typer guy."