Steve Bannon Too Busy Sucking Own Cock To Answer Trey Gowdy's Questions
Russia
January 17, 2018 09:37 AM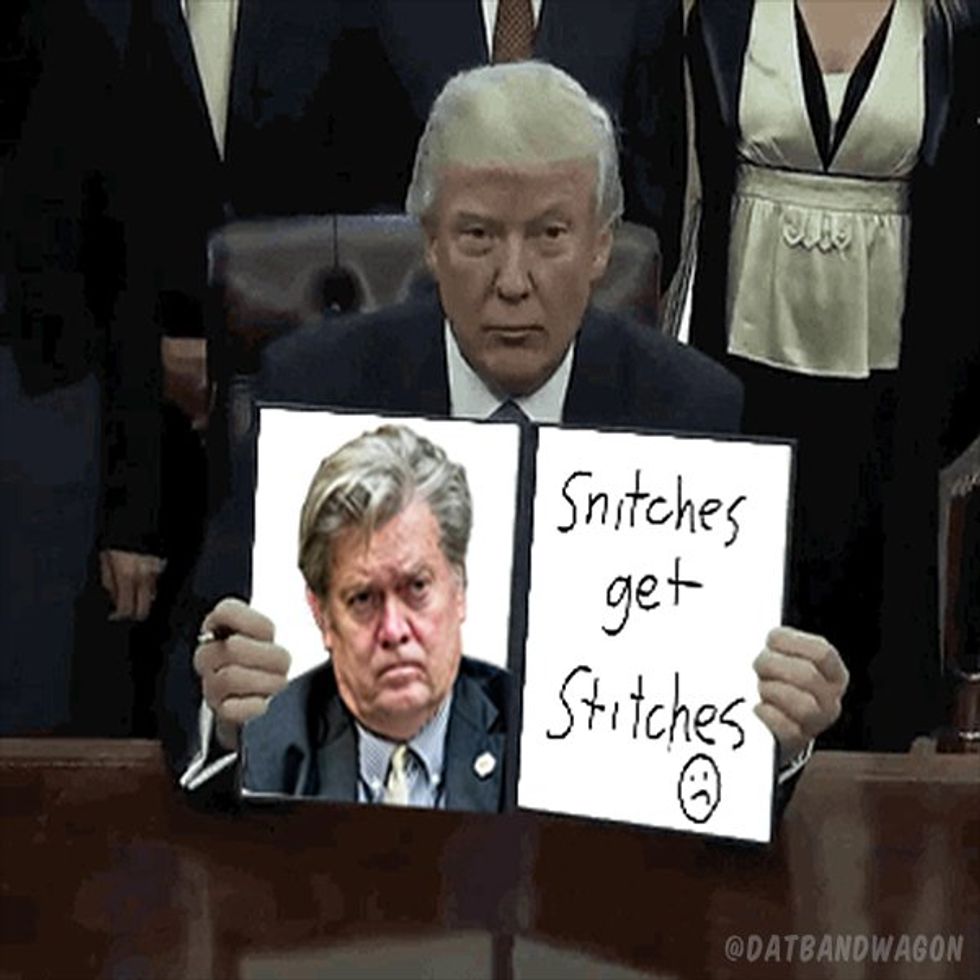 Professional chaos monkey Steve Bannon worked his magic yesterday with the House Intelligence Committee -- say what you will about the guy, but he ain't boring! During a contentious 10-hour interview, Trump's former campaign manager refused to answer most of the Committee's questions, treason weasel Devin Nunes found his courage and issued a subpoena, and the White House ordered Bannon to STFU and ignore it!
---
WHAAAAAAA?????? Let's retrace our steps and see if we can make some sense of this. (Spoiler Alert: NOPE.)
Just two weeks ago (!) Michael Wolff spilled the dirt from Steve Bannon's gin-soaked ruminations on various Trumpland morons: Greasy Moron Jared, Treasonous Moron Donny, Jr., Entitled Moron Ivanka, and of course the OG, Fucking Moron Donald Trump. Also, too, we learned that old Steve had no intention of going down with The Good Ship Moron in the Mueller investigation.
[Bannon] insists that he knows no Russians, will not be a witness, will not hire a lawyer and will not appear on national television answering questions.
LOLOLOL! Bannon immediately became Public Enemy Number One in Trumpland and got banished from Dead Breitbart's Home For Latchkey Fascists Who Still Love Daddy Two-Shirts Even Though Mommy Took Scissors and Cut Him Out of the Family Album.
Bannon's loose lips got the attention of Russia investigators, which is a thing that happens when you talk about all the cool treason stuff that went down during a presidential campaign. Mueller's team skipped the friendly invitation and issued a subpoena, and the House Intelligence Committee invited Bannon in for a voluntary chat. So Bannon lawyered up, hiring William Burck, the same attorney who represents current White House Counsel Don McGahn and former chief of staff Reince Priebus.
And then shit got weird. Did Trey Gowdy and Devin Nunes think Bannon was fair game since he was permanently You're Fired from the royal presence? Did they misread White House cues and accidentally subject Bannon to a real examination? Did the White House lawyers forget the signals and fumble the play? OR WAS IT AOT,K? Per CNN,
Lawmakers had been questioning Bannon for roughly 90 minutes when questions began on the transition, several sources said. Shortly into that line of questioning, Bannon was cut off by his lawyer, according to the sources. At that point, the interview stopped and the committee issued a subpoena to force him to divulge this information. GOP leaders of the committee would not rule out holding Bannon in contempt for failing to provide information.
Hold the phone! Team Treason has been refusing to answer questions left and right, and the Intelligence Committee hasn't done shit about it. Suddenly Devin Nunes, who is supposed to be recused goddammit, is whipping out a subpoena on the spot to force Bannon to talk? WTF is going on here?
So Burck called up the White House where someone who may or may not have been his own client Don McGahn told him that the president was invoking executive privilege. And in McGahn's(?) opinion, that privilege applies to everything that happened since election night, including the transition and all those gab sessions Bannon had with the old man after he got shitcanned. Guess that's why they call it Executive Time!
At which point Trey Gowdy LOST HIS SHIT.
Here he is on Fox Newshttps://t.co/5y2DFJQNmE

— bruhoho (@bruhoho) January 17, 2018
That's why the subpoena was issued. Because it is the most tortured analysis of executive privilege I have ever heard of. So when you make very provocative claims like treason and unpatriotic, there's a zero percent chance that these Russian lawyers weren't walked up to see then candidate Trump, then you're going to be asked about it. And you're going to be asked a lot about it.
Lil' Squinty made some stupid noises about why does anyone even ask these questions, since we all know there was NO COLLUSION and NO RUSSIA. But Gowdy was too furious to take more than a passing swipe at Adam Schiff before going back to hollering like the prosecutor he used to be before he became a lyin' ass politician.
He also needed to be asked about things with respect to Comey. The reason we had a little hiccup this morning was because executive privilege now covers things before you become the chief executive, which is just mind-numbing and there's no legal support for it, but we can't make a witness answer a question.
And Gowdy wasn't the only pissed off Gipper.
GOP TX Rep & Intel Cmte mbr Conaway on Bannon appearance where he refused to answer questions: "We're going to get these answers..This witness is not an executive..we have additional questions.

— Chad Pergram (@ChadPergram) January 17, 2018
Well, alright then. Gonna be lit today when Rick Dearborn and Corey Lewandowski have their turn in the House Intelligence barrel!
Bannon to return to House Intel Cmte Thursday afternoon. Fmr WH Dep CoS Dearborn/Lewandowski to appear before House Intel Cmte Wednesday

— Chad Pergram (@ChadPergram) January 17, 2018
Are they all going to suddenly start claiming some BS executive privilege that started November 8 and ends when Trump leaves office? Will Gowdy and his posse remember that they are useless lackeys and fall back in line? Are these Trump goobers going to try this nonsense with the special counsel? The Daily Beast reports that Bannon is happy to throw that shit up against the wall and see what sticks with a spineless weasel like Nunes, but he's not going to try it with a real investigator who'd happily cite him for contempt and throw his ass in jail.
5/ So executive privilege only applies because Bannon is choosing to abide by the Administration's desire to invoke it. Frequently, however, the Administration has refused to answer questions without invoking executive privilege. That's not lawful.

— Renato Mariotti (@renato_mariotti) January 17, 2018
Okay, so let's recap what we've learned so far.
According to the White House, Bannon is a crazy loon who barely knows Donald Trump.
Also according to the White House, Bannon is expressly forbidden from telling the House Intelligence Committee all the things he doesn't know about Trump and his family.
The White House has complied with every request until today, when suddenly they invented a new, mutant executive privilege and invoked it bigly.
Also, the White House has nothing to hide and is cooperating fully.
The House GOP has spent months carrying water for Trump, but suddenly they're going on Fox to shit all over his latest gambit.
Everything is confusing and scary and nothing makes sense.
Follow your FDF on Twitter right here!
Please fund our salaries and servers! Looking at photos of Steve Bannon is HARD WORK!
Liz Dye
Liz Dye lives in Baltimore with her wonderful husband and a houseful of teenagers. When she isn't being mad about a thing on the internet, she's hiding in plain sight in the carpool line. She's the one wearing yoga pants glaring at her phone.