Steve Scalise Refuses To Watch Joe Biden Act Like He's President
Congress
April 27, 2021 10:25 AM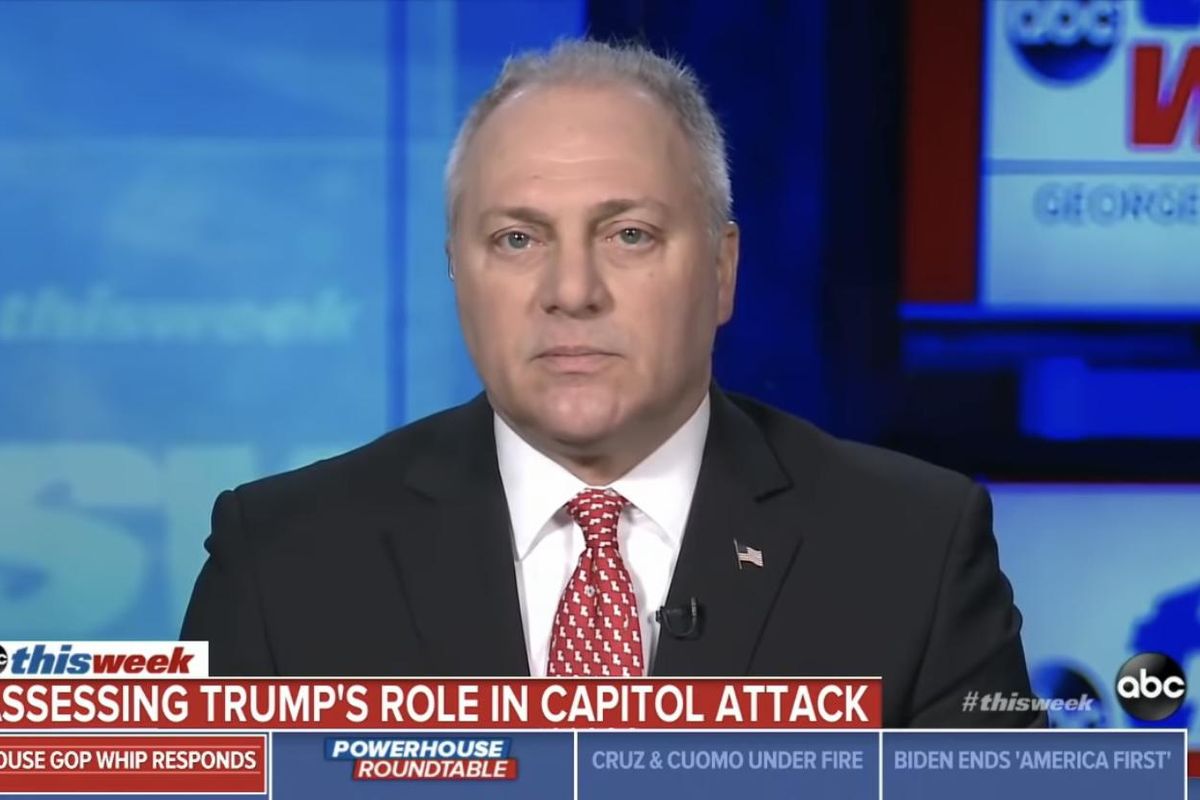 President Joe Biden will give his first address to a joint session of Congress Wednesday night, and we already know who's not going — House Minority Whip Steve Scalise. Attendance is limited because of COVID-19 restrictions, so Scalise claims he's honorably choosing to stay home and wash what's left of his hair. He's reportedly giving his ticket to some lucky ducky freshman GOP House member.
"There are not many of us that are going to be able to go, because they're limiting it pretty dramatically," Scalise said. "There are a lot of people that haven't been before that want to go."
Previous presidential addresses to Congress have commanded an audience of at least 1,600 people, but COVID-19 has shrunk the guest list to about 200. There are more than 500 members of the House and Senate. It's not just Scalise who's not coming but important, relevant people too.
---
Steve Scalise is sending a message to Kevin McCarthy by not attending Biden's speech tonight. Don't order the cur… https://t.co/rZUvYe5pF0

— Chris Hahn (@Chris Hahn) 1619523354.0
Biden himself is expected to have few, if any, guests other than the first lady, Dr. Jill Biden. Vice President Kamala Harris gets to bring her husband, Doug Emhoff, the second gentleman (a curious title because there is no "first gentleman"). No Cabinet members are expected to attend, and Chief Justice John Roberts will represent the Supreme Court. Amy Coney Barrett will have to wait until next year.

We presume that Scalise was actually invited because he said so, and he usually only lies about big things, such as so-called election fraud. During an appearance on ABC's This Week in February, Scalise was asked to confirm that "Joe Biden won the election, he is the legitimate president of the United States, the election was not stolen, correct?" We didn't really need Scalise's opinion on a matter of fact, and Scalise's response was weaselly.
"Look, Joe Biden is the president," Scalise said, dodging the question. "There were a few states that did not follow their state laws. That's really the dispute that you've seen continue on."
States did follow their own election laws. Federal courts ruled on this repeatedly. Scalise, who voted to overturn the election results, actively tried to cast a cloud of illegitimacy over Biden's presidency. Snubbing Biden's address is just more of the same red meat for the GOP's growing sedition caucus. His defenders will argue, though, that prominent Democrats blew off the previous White House squatter's lie-filled rants to Congress. This included Reps. Earl Blumenauer, Hank Johnson, Steve Cohen, and the late John Lewis.
Oh, and Oregon Rep. Blumenauer's diss track RSVP from 2019 is classic:
"The thought of spending Tuesday night in the House Chamber listening to the reckless, self-centered man who occupies the White House holds no interest for me," Blumenauer said in a statement. "Just like in past years, I plan to skip a speech that will be filled with lies, deception and divisiveness."
Of course, President Klan Robe was a racist monster, and Biden is just a duly elected Democratic president. Still, it's hard for Republicans to grasp the moral distinction. Although Scalise is not attending Biden's speech, he has notes for the president:
In the end, what he says is going to be important. And I hope his speech is more focused on unifying as opposed to just having a go-it-alone strategy where they continue to shut Republicans out of the process, even though he promised he would work with everybody, because he's yet to do that.
Oh, fuck you, dude. You joined a jacklegged coup against the current president and you're shocked and disappointed that you're not on his speed dial?
Scalise, self-proclaimed "David Duke without the baggage," can stay away if he wishes, but we need a full security screening on whoever's attending in his place. The freshman GOP class includes Lauren Boebert and Marjorie Taylor Greene. Nancy Mace is annoying but probably not unhinged enough to receive a golden ticket.
There are extra layers of security in place this year for Biden's address because of the January 6 Capitol attack. The perimeter of the Capitol is still fenced off, and some National Guard troops remain posted there. That's the legacy of the Big Lie that Scalise helped spread and the violent assault he'd like to ignore while grossly smearing Rep. Maxine Waters.
So, go watch Tiger King or whatever, Rep. Scalise, no one will miss you tomorrow night.
Follow Stephen Robinson on Twitter.
Looking for someone to give that cash to? Why not us?
Stephen Robinson
Stephen Robinson is a writer and social kibbitzer based in Portland, Oregon. He writes make believe for Cafe Nordo, an immersive theatre space in Seattle. Once, he wrote a novel called "Mahogany Slade," which you should read or at least buy. He's also on the board of the Portland Playhouse theatre. His son describes him as a "play typer guy."