Still Being Stupid About 'Hillary's Emails'? It's Not Your Fault. We're Here To Help.
Russia
October 31, 2017 03:00 PM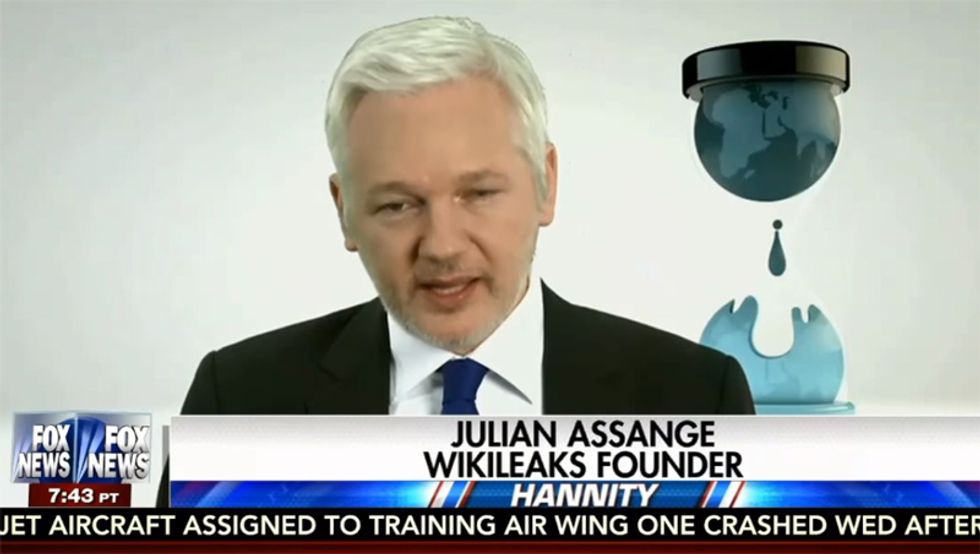 Dear reader, we are so sorry you are still being very dumb about these motherfucking "Hillary Clinton" emails. But it's NOT YOUR FAULT! Look, here's the Prince of Emails himself, Julian Assange, on Twitter last night:
---
The 'thousands of Clinton emails' WikiLeaks published were not hacked but obtained from the U.S. State Department via the Freedom of Information Act ion 3 March 2016. https://t.co/RwcCuhokmN (the '2017' reference later in the document is a typo) #Papadopoulospic.twitter.com/MEdrXY6uJz

— Julian Assange ? (@JulianAssange) October 30, 2017
This is Mr. Emails insulting your intelligence in an effort to save face. But he is a man who lost his entire face long ago, and no amount of bullshit will ever put it back on his skull.
WHY AM I READING ABOUT EMAILS AGAIN I'M SO SICK OF THIS?
Good question. It is because people are still lying about emails.
WHY ARE THEY LYING?
They are cowardly liars who care only about themselves and their bank accounts and their personal brands, and not a jot for the truth, mostly.
More specifically, with Monday's news that three Trump campaign officials have been charged in the Russia scandal, Assange is taking fresh heat for publishing the trove of emails stolen in the DNC hack.
So he's running the standard play: Feign indignation, throw up a smoke screen.
His strategy is to pretend people are mad about an entirely different set of emails: Hillary's State Department emails, which were obtained by FOIA request.
These, as we have said, are different emails!
Nobody is mad that WikiLeaks FOIA'd Clinton's State Department emails. Assange knows this, but it's more convenient to pretend he doesn't, and that he simply FORGOT, whoops!, that he ALSO published the hacked/stolen DNC emails.
The DNC emails, and the emails of her campaign manager, John Podesta, are not the Hillary Clinton State Department emails that she kept on her "homebrew server" to do Benghazi.
I KNOW THEY'RE NOT THE SAME EMAILS
Good for you, but not everyone did. Wonkette Editrix's own dear mother was confused on this point during the election, and she pays attention and doesn't even watch Fox News!
She was influenced by headlines like:
Hacked WikiLeaks emails show concerns about Clinton candidacy, email server (WaPo)
What we've learned from the hacked emails of Hillary Clinton's campaign (so far) (CNN)
18 revelations from Wikileaks' hacked Clinton emails (BBC)
These are good headlines for SEO, as they have the words "hacked" "emails" and "Clinton" in them.
But they are very bad headlines for actually explaining which emails they're referring to, because they have the words "hacked" "emails" and "Clinton" in them.
The first one, from the Washington Post, even bakes in a bit about her email server!
Headlines like these tilled the field for seeds of confusion planted by Assange, Trump, and the (small) segment of Bernie voters who like throwing dollar bills at Democratic nominees.
Assange continues to prey upon this confusion in his latest cynical gambit on Twitter.
To date, nobody has shared a single email stolen from Hillary's home email server, presumably because nobody was able to steal any of those emails. We certainly would have seen them on Bernie surrogate Killer Mike's t-shirts by now if they had been.
The emails people are ACTUALLY mad at Assange for publishing -- the stolen DNC and John Podesta emails that Wikileaks curated in a nice handy searchable format, selectively sharing only the ones that appeared to be damaging -- are the same emails people assume are at the heart of the Trump-Russia collusion scandal.
YES! TRUMP-RUSSIA! LET'S GO THERE NOW I AM THIRSTY FOR THEIR TEARS!
The Trump campaign at first seemed to believe Russia was going to give them the 33,000 emails Clinton's attorneys had deleted from her server after determining they weren't covered by State Department retention rules -- the same ones Donald Trump kept asking them to release on national television.
Cambridge Analytica, hired by Trump to e-ratfuck the election, actually asked Wikileaks to help them find these emails.
Instead, it appears that Russia was offering the DNC and campaign emails they were able to steal because John Podesta is bad at the internet.
Soon, it will probably come out that senior people in the Trump campaign actively coordinated with Russia and Wikileaks on the release of the DNC and Podesta emails, which were stolen property, and will be charged with crimes.
Maybe Trump himself will go to jail over Hillary's emails.
TIE IT ALL TOGETHER FOR ME
The deliberate conflation of the DNC emails and the deleted Clinton State Department emails not only sowed distrust of Clinton's handling of classified information, it also opened the door to truly batshit assertions.
For example, it just makes sense that Clinton would want to delete emails showing her to be friends with a trafficker of Haitian children, as Wikileaks and Reddit asserted last November.
It just makes sense that she'd delete emails in which somebody completely unrelated to her spams incredibly racist things and some insane stuff about shopping carts to somebody who is also not her, as Gateway Pundit pretended to believe last October.
Of course, neither accusation was even remotely true. None of these emails were even FROM her. But when such accusations are made against a backdrop of HACKED DELETED EMAILS CLINTON DOESN'T WANT YOU TO SEE, the extreme bullshit of the accusation gets clouded by the ur-bullshit of the conflation itself.
REALLY I CANNOT DO EMAILS ANYMORE STOP
I feel you dawg. You just work on having a good Halloween and try to forget about emails for a while. Emails.
[ WaPo / CNN / BBC / Pitchfork / BuzzFeed News ]
Unlike SOME PEOPLE, Wonkette will never lie to you about Hillary's emails. Reward us with money! We are fully reader-supported! DONATE BELOW!