Rudy Giuliani Talking In Stupid Circles Till You Get So Dizzy You Have To Hold On To The Kitchen Floor
Elections
April 22, 2019 12:15 PM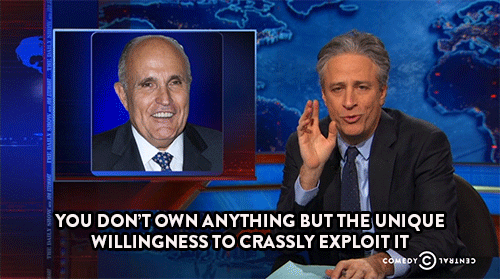 After Attorney General Bill "The Worst" Barr (beating Roseanne for the title) released a five-page memo and gave Trump almost a month to positively spin the Mueller Report, the real Mueller Report (with redactions) was finally released on Thursday. And despite Barr giving a pre-release preamble of bullshit, it was not good for Trump. So it was time to load Trump's attorney Rudy Giuliani into a trebuchet of bullshit and launch him into the Sunday shows to say stupid things!
---
We begin with CNN's "State of The Union" with Jake Tapper, where Rudy apparently has set a new standard for campaign help:
TAPPER: Taking information from Russians?

GIULIANI: No, no. There's nothing -- there's nothing wrong with taking information from Russians.

TAPPER: There's nothing wrong with taking information...

GIULIANI: It depends on where it came from. It depends on where it came from. You're assuming that the giving of information is a campaign contribution. Read the report carefully.

TAPPER: Mm-hmm.

GIULIANI: The report says, we can't conclude that, because the law is pretty much against that. Do you think -- people get information from this person, that person, this person.

TAPPER: So you would -- you would have accepted information from Russians against a client -- against a candidate if you were running in the presidential election?

GIULIANI: I probably -- I probably wouldn't. I wasn't asked. I would have advised, just out of excess of caution, don't do it.
So even though he would have advised against it, taking information from a foreign hostile power is "A-OKAY" with Rudy. We've now gone all the way to "It's not illegal if the president does it to be elected." When asked about the ethics or morality of this, despite whatever was legal, Rudy let his real feelings be known:
GIULIANI: But this didn't become an international scandal because of immorality. It became an international scandal because the president was accused of violating the law, falsely, and now nobody wants to try to figure out who did it, because that's the real wrongdoing here. And the reality is...

TAPPER: But you don't think this is immoral or unethical to take... (CROSSTALK)

GIULIANI: Well, suppose I do.

TAPPER: Yes.

GIULIANI: I'm going to prosecute people for immoral...

TAPPER: I'm not talking about the prosecution part of this.
Giuliani scoffs at morality and ethics because his history with morality and ethics is lacking. Which is why he's the perfect lawyer for an ethically and morally bankrupted president.

We go now to NBC's "Meet The Press" where Giuliani continued with the same filibustering as on CNN but added this little nugget:
TODD: This is a foreign adversary though. This is a foreign adversary, someone who many --

GIULIANI: What's the difference between a spy and a foreign adversary?

TODD: One works for the United States of America and one doesn't.

GIULIANI: Well, wait a second. Wait a second.

TODD: Doesn't one work for the United States of America and one doesn't?

GIULIANI: Clearly, stealing classified documents is theft. Now, there were overriding reasons for it, but it's still theft. Legally, it's the same thing. Morally, it's the same thing.
So if we're keeping score, it's wrong to steal/hack information but there is nothing wrong with taking stolen information or material from a foreign adversary like Russia because "what's the difference between a spy and a foreign adversary." This is what they say when they're trying to confuse you into shutting the fuck up.
We end on Giuliani's last appearance on "Fox News Sunday," where Chris Wallace pushed back. Wallace tried several times to wrangle Giuliani back on topic since all of the Trump surrogates' media strategy is always talk over/filibuster/wild tangents:
WALLACE: Sir, I'm not asking about Comey, I'm asking about Mueller.
GIULIANI: You're not giving a chance to answer it.

WALLACE: We don't need to talk about James Comey
GIULIANI: In certain respects. Everything that written and attributed to Cohen, half of it is not true.

WALLACE: I'm not talking about Cohen. I'm talking about Don --

GIULIANI: But you asked -- you're asking me, is the report, you say is the report --

WALLACE: No, I'm not. I was asking about [former White House Counsel Don] McGahn. This incident.
WALLACE: Sir, respectfully, basically, what he's saying is --

GIULIANI: -- could exonerate somebody.

WALLACE: -- I think it should go to Congress, that's what he's saying.

GIULIANI:[…]The Constitution of the United States gives the Congress a role in appointment, advise and consent. It deliberately doesn't give them a role in removal because they say, go back to the constitutional convention. They say that would be too much of an intrusion because if you interfere in excepting somebody, taking somebody, you can always go find someone else. But if you interfere in removal, you're going to force a president to keep someone he doesn't trust, doesn't like.

WALLACE: But that is -- excuse me, I mean, with all due respect, that's not the issue here. The issue is, did the president obstruct justice or not?
Finally, at some point Wallace points out Giuliani's strategy and calls him on it directly:
WALLACE: This is called an interview. It's not your closing argument.
Now everyone's fighting about impeachment, because Bill Clinton's approval rating rose after he was impeached (but not removed from office). Everybody forgets though that the Republicans held on to the House and Senate after impeachment -- and (sort of, technically, totally didn't) won the White House as well.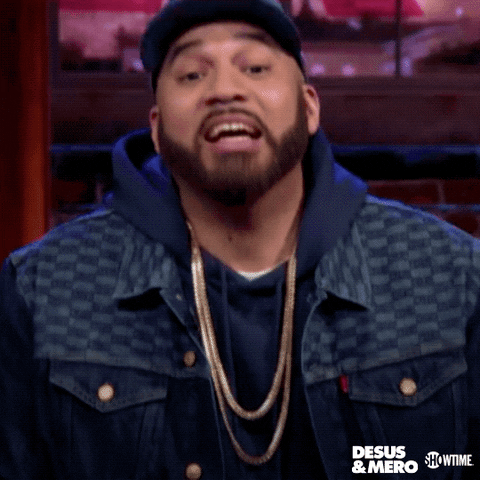 Nominate Mero to tell Trump the news.media3.giphy.com
Wonkette is ad-free and dependent ENTIRELY on the kindness of strangers. If you liked this story, please keep us going below!
Michael Mora
Your friendly neighborhood Puerto Rican Political Freelance Writer for @wonkette. Pop Culture observer, Amateur Movie reviewer & Comics fan. Former Active Duty Marine. All opinions are mine only.