A$AP Rocky Did Not Thank Trump For Getting Him Out (?) Of Swedish Jail
Post-Racial America
August 16, 2019 01:05 PM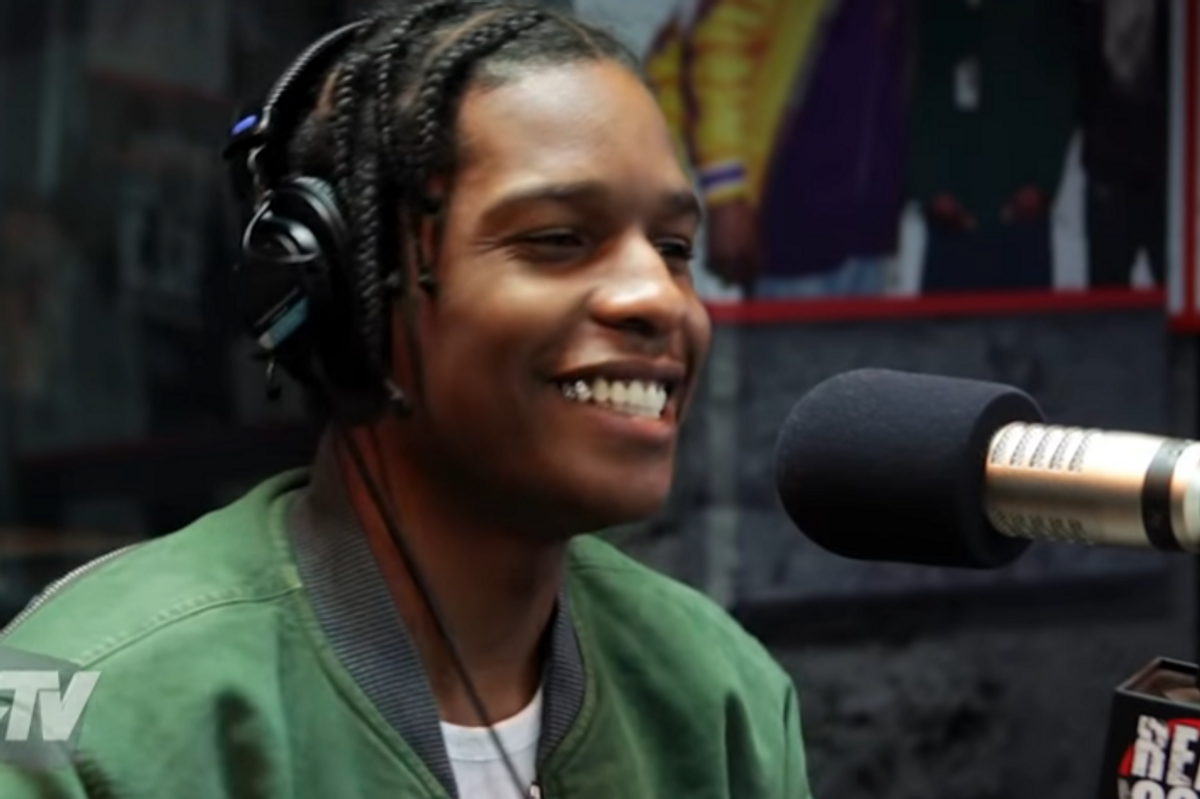 Trump's New Black Friend, A$AP Rocky, won't be doing any jail time on that assault charge he racked up in Sweden, and, maybe too, he won't end up being Trump's New Black Friend after all. At least Trump will finally be able to say he helped a black man out for free, and not have it be a complete fucking lie. And to be sure, it actually looks like Trump may be partially the reason Sweden gave A$AP Rocky a pass, and said "you don't come need to back, just pay $1,300."
Trump has spent weeks playing hostage negotiator, and believe me, he sure got tough with mean old Sweden. He HAD to. Everyone knows Sweden is such a brutal dictatorial regime that they'll put bananas, peanuts, chicken, cream, bacon, and chili sauce in a casserole, and follow you around trying to get you to "Just try one bite, you'll LOVE IT!" He had no choice.
The president ramped up the pressure on Sweden, a longtime ally, beginning with a cordial phone call to the prime minister, then critical messages on Twitter, and, finally, by dispatching a special envoy for hostage affairs, Robert O'Brien, to watch over the trial.
Yes, that says he sent in a goddamn hostage negotiator for a low level assault case. Um? Okay. I think it may be time for me to start rapping, just in case I ever fuck up so bad I need Trump's help. No, on second thought, just let me die, I don't want Trump to get any credit.
---
In a letter to Swedish officials during the trial, Mr. O'Brien warned of "negative consequences" for American-Swedish relations if Rocky, whose real name is Rakim Mayers, was not released.
Negative consequences, bro? Are you gonna make them all eat a bunch of McDonald's and Taco Bell? Start a brand new dumb ass trade war? Take away their Flying Jacob? Good luck with that.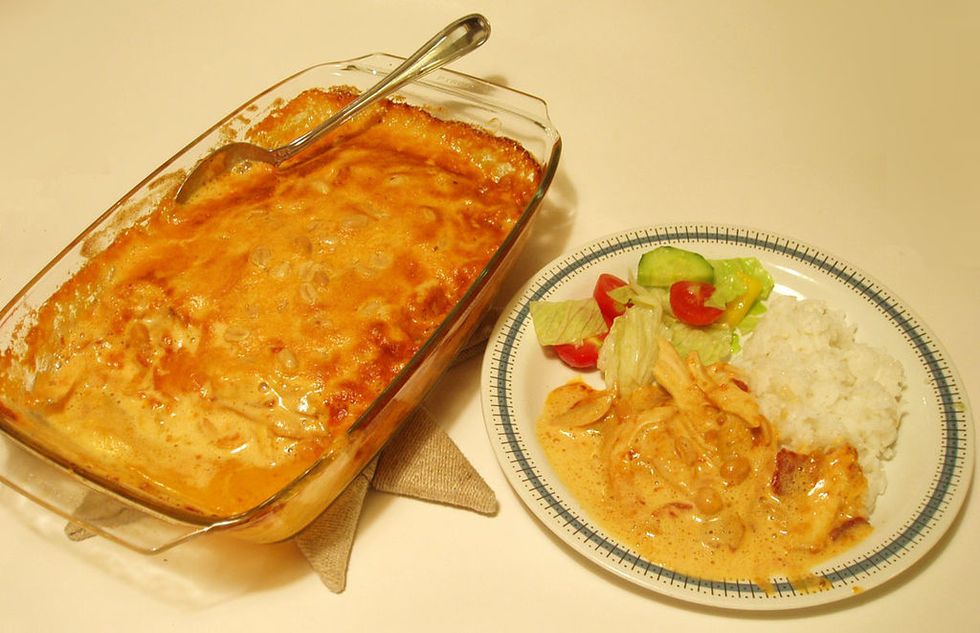 This is FLYING JACOB.Kr-val - Own work CC BY-SA 3.0File:Flygande jakob fardig.jpgCreated: 2 January 2008
Maybe this casserole is why that young man was so angry with Rocky and his crew? I wouldn't be happy, but I'm pretty sure I wouldn't get outraged enough to try to jump a rap crew in the streets of Stockholm, just because someone put bananas in a casserole. Ok, I'm lying. I would be in prison.
Regardless, Trump's high pressure tactic and possible threat to take away their comfort food must have worked. Sweden did release Rocky on August 3, and now that this is over, he will never have to go back to Stockholm in his life. Unless he wants to eat some of that ... stuff.

From NYT:
It looked like a small-time assault case, but, somehow, it swept up Kim Kardashian West, President Trump and the United States' top hostage negotiator. And on Wednesday it reached its climax, when judges in Stockholm found the rapper ASAP Rocky guilty of assault.
Well, umm hmm, maybe that will open up the rapper's eyes to the importance of black solidarity.
Mr. Jafari had repeatedly harassed the rapper's entourage, and had thrown a punch at his bodyguard just before the attack, Rocky said.
No, really, the fight was bizarre as hell.
ASAP Rocky Shares Video Leading Up To Alleged Attack In Sweden youtu.be
I really don't understand men. None of that made one fucking bit of sense. You're all stupid.

The judges found his defense unconvincing, but they decided Rocky had already served enough time and gave him a conditional sentence.
Whatever, Sweden. I've nothing to say about how following people around while belligerent and attempting to start a fight is the stupidest shit in the world, yet actually taking the fucking bait and body slamming said belligerent asshole is also the stupidest thing in the world.
Rocky had a few words for his fans, but it doesn't look like he has done much reflection.
From Delta News:

Posting on Instagram just hours after his verdict was announced, Rocky wrote: "I AM OF COURSE DISAPPOINTED BY TODAY'S VERDICT. I WANT TO SAY THANKS AGAIN TO ALL OF MY FANS, FRIENDS, AND EVERYONE WHO SHOWED ME LOVE DURING THIS DIFFICULT TIME. IMMA KEEP MOVING FORWARD. THANK YOU TO MY TEAM, MY MANAGEMENT, ATTORNEYS, LABEL AND EVERYONE WHO ADVOCATED FOR JUSTICE. (sic)"
Notice something missing? Yeah, he didn't thank Trump by name. Hahahahahaha! He's listed under, "And everyone who advocated for justice."
A$AP Rocky is obviously feeling some kinda way about even being convicted AT ALL. He got a taste of being profiled, and he did not like it one bit. Good for him; learn something from this, boo, because you have said some dumb ass shit in the past.

From Bossip

"Why, because I'm black? So every time something happens because I'm black I gotta stand up? What the f*** am I, Al Sharpton now? I'm A$AP Rocky. I did not sign up to be no political activist. I wanna talk about my motherf***' lean, my best friend dying, the girls that come in and out of my life, the jiggy fashion that I wear, my new inspirations in [and?] drugs!

I don't wanna talk about no f*** Ferguson and s*** because I don't live over there! I live in f**** Soho and Beverly Hills. I can't relate.
Funny how the click clack of the handcuffs can change one's perspective. Maybe this all happened for a reason. In the past Trump has used his power to help Black Lives only when petitioned by other very wealthy people who happen to be black, or have some proximity to blackness. And unlike the late great Nipsey Hustle, A$AP Rocky has never really been down for the struggle. His apolitical ass has spent a good part of his adult life steeped in the privilege his wealth has afforded him, without really doing much to assist those who are in the struggle for black lives. But we stood up for him, and supported him anyway. Let's hope he remembers.
Wonderbitch
Follow Wonderbitch aka Bravenak aka Bianca DeLaRosa, loves her jobs as Social Media Manager for Wonkette more than Sarah Huckabee Sanders loves lying to America. Bianca also moonlights as a Witch (THE BAD KIND!!) and is a Freelance Goddess of All Things Ever. Be very nice her because she likes to curse people, especially mean people. You can find Bianca on Twitter @Wonderbitch81, or email her at bianca@wonkette.com