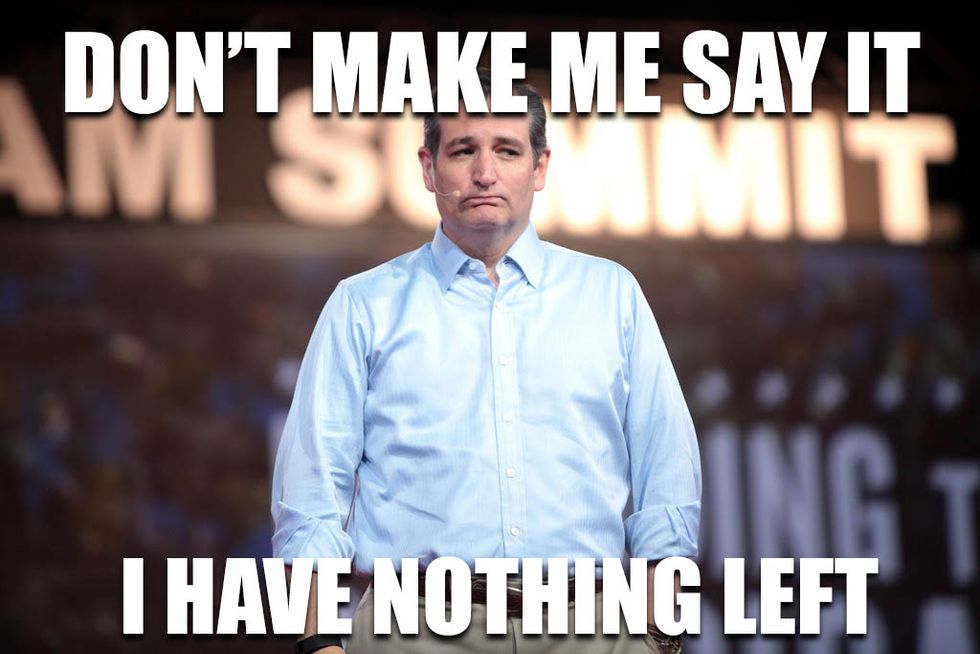 Morning Wonkers! Boy, how about that Chicago sportsball? We've got a big day ahead of us, so let's jump right into some of the stories Yr Wonkette may be talking about today!
---
Looks like the FBI is infested with Trumpkins, according to reporting from multiple sources who found the FBI using Breitbart bullshit as the basis for their investigations into Hillary Clinton, which senior officials found to be conspiratorial hearsay. Rachel Maddow summed things up really big league last night [Video]
Deep within the bowels of U.S. intelligence, the men and women in black are very worried that a Donald Trump presidency would weaken Western alliances because of his inability to comprehend the intel briefings, and his odd affinity for Russia.
A source inside U.S. intelligence has cautioned that there might be a some kind of terrorist attack on Monday, though it's cautioned that these kinds of threats usually happen during holidays or big events, like elections, and they're still verifying the credibility of the threat. In other words, EVERYONE PANIC!/MOVE ALONG, NOTHING TO SEE HERE!
Cops at the federal and state levels are on high alert against cyber attacks on voting systems ahead of Tuesday's election, and somewhat less concerned about other types of attacks, so that voting selfie you take may just end up with a Russian penis photoshopped on your mouth.
The U.S. Bureau of Labor Statistics and the latest jobs number are out, and unemployment has continued to fall while wages grew and payrolls climbed by 161,000. THANKS, OBAMA!
The U.S. Justice Department is sending subpoenas to several drug manufacturers and may bring charges about price fixing on generic drugs. Maybe the FBI can use their Breitbart brand EpiPens full of Trumpkin truth serum to get to the bottom of this?
It looks like social media is having a bigger impact on lobbying Congress critters than D.C.'s infamous K street whisperers, which is probably a good thing because, as Anthony Weiner knows, it's more risky to ask for a handy on the tweet-machine than in a dimly lit bar or a parking garage.
The Senate Leadership Fund, Mitch McConnell's pet super PAC, is dumping another $12 million into six senate races this weekend to help Marco Rubio, Ron Johnson, Roy Blunt, Richard Burr, Todd Young and Pat Toomey.
Here are 12 states that have gubernatorial elections on Tuesday. Note that one of these races is Indiana, where the Democratic candidate is currently polling ahead. Suck it, Pence!
George Soros is spending millions of dollars in an effort to see Maricopa County Sheriff Joe Arpaio defeated in his reelection campaign, as well spending millions in three other district attorney races throughout the country.
Some of Trump's businesses make only a fraction of their reported income, allowing them to record profits instead of losses, which makes it impossible to figure out how much money Trump doesn't actually have.
Ted Cruz finally took a big 'ol bite of his own shit sandwich and said he voted for Trump, despite avoiding saying he'd do so for months.
Some Republicans, like Jason Chaffetz, are openly talking about about pissing away tax dollars investigating Hillary Clinton for at least another two years should she be elected, while others are already planning impeachment proceedings, so just remember that factoid the next time someone whines that Congress doesn't do anything.
In her new book that's all about her, Megyn Kelly says that Roger Ailes sexually harassed her in a stop-the-presses late addition chapter.
If you plan on going to New Orleans, you should probably mind your P's and Q's. Hate crimes charges under Louisiana's "blue lives matter" law were dropped against a guy who said a cuss at a cop when the assistant district attorney found the man was just a foul-mouthed asshole.
The Old Grey Lady is whoring herself out on election night. For a mere $250, you can rub elbows, grope, or annoy the dry-cleaned sport coats off some of the New York Times writers while you ask why the Times felt it was necessary to sell more gimmicky garbage like private vacations that use its writers as tour guides.
The spawn of Donald Trump did a town hall on Fox News for millennials and realized that not only are Trump's kids not "millennials," but they're also completely out of touch with regular people who have underwater basket weaving degrees. Clearly they've never gone craft snorkeling in Atlantis.
The Trump kid that looks like Beavis, Eric Trump, said on the radio he thinks David Duke "deserves a bullet," probably because David Duke loves their daddy, white supremacy, and the KKK so much that he talks about him all the time.
Our long national nightmare is over! Steven Seagal has been granted Russian citizenship; we no longer have to put up that fat asshole, his shitty acting or his awful attempts martial arts. "And nothing of value was lost."
Donald Trump's supporters have a ridiculous  misinformation campaign in states voting for marijuana legislation with fake campaign ads saying that Hillary Clinton will murder stoners, and there's no amount of weed on this planet that could make you think that any of this crap was true.
And here is your Nice Time: A little reminder of what the unemployment rate has looked like under the terrible job-killing Obama Regime: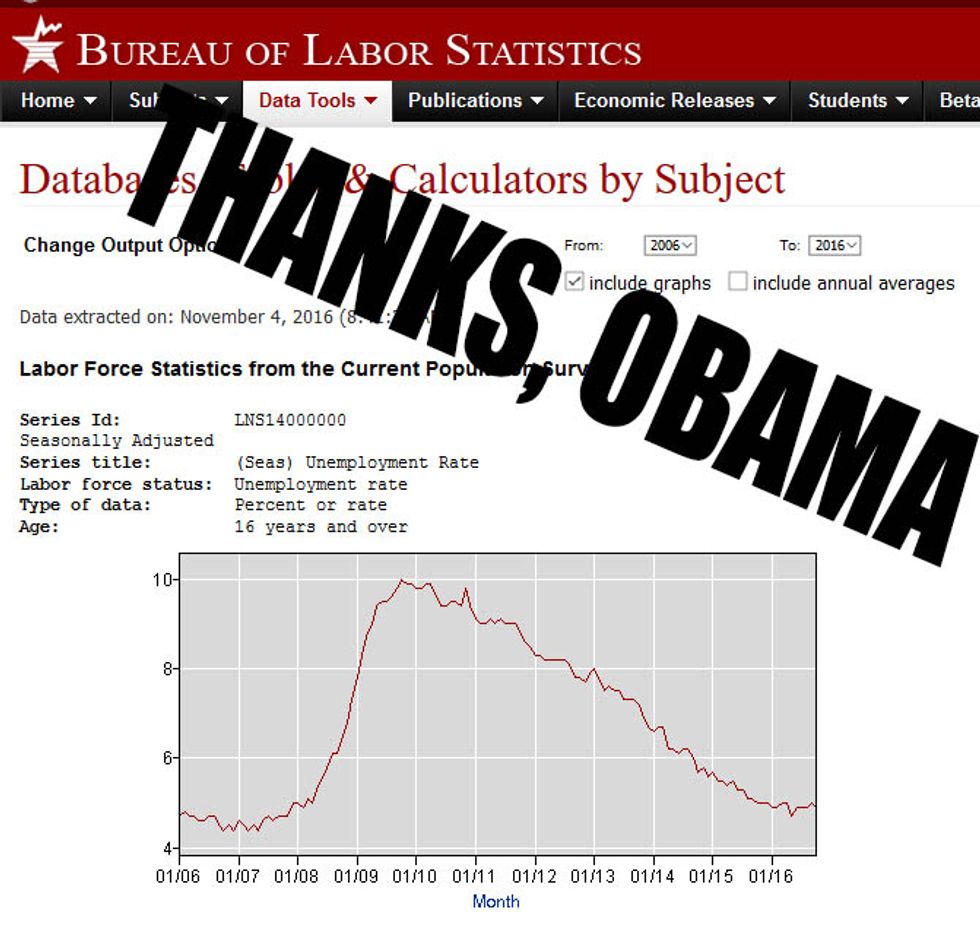 Dominic Gwinn
Dominic is a broke journalist in Chicago. You can find him in a dirty bar talking to weirdos, or in a gutter taking photos.