Ted Cruz Gets Republican Jizz All Over Your Beloved Star Trek
Featured
July 23, 2015 04:45 PM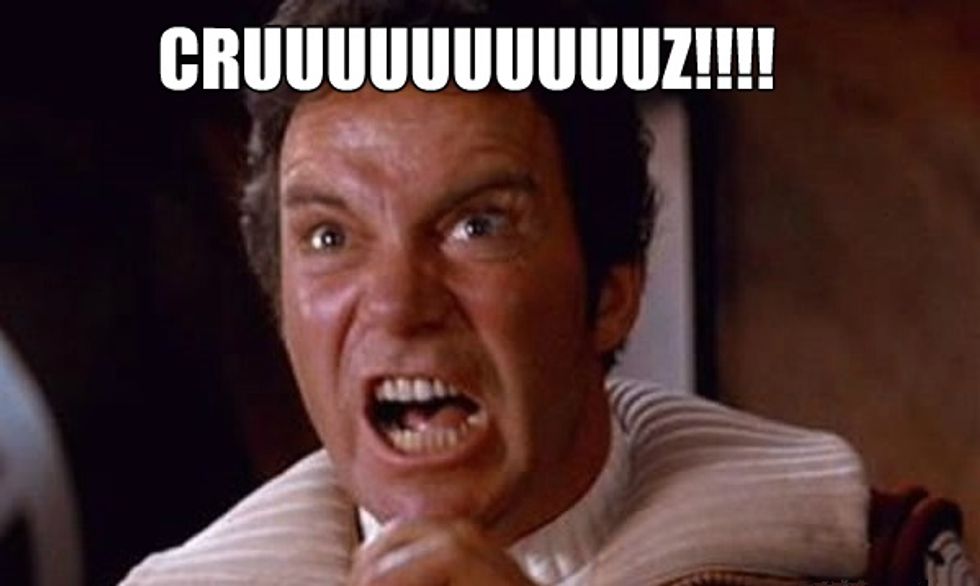 Ted Cruz is trying to ruin your beloved childhood memories again. First, he fucked up The Simpsons, and now he's coming after Star Trek, Gene Roddenberry's Kennedy Administration in Space fantasia. In Cruz's mental version of the show, Captain James T. Kirk is a Republican (or will be, in a few centuries), and Jean-Luc Picard, that tea-drinking squish, is a Democrat. This only stands to reason: Cruz has also decided that, were he alive today, JFK himself would be a Republican, too. Because, you know, tax cuts.
---
In an interview with Wonkette O.G. Ana Marie Cox in the New York Times Magazine published Thursday, Cruz outs himself as a Trekkie -- but as a fairly clueless one, so far as Trek's worldview goes. As we said when he proclaimed his love for The Simpsons (and flubbed his two "favorite" quotes from the show):

Popular culture is hard for conservatives. So much of it is filled with liberal bias, and yet they still keep glomming on to shows like The Simpsons, which openly ridicules them, or Star Trek, in which starship crews chosen by an affirmative action office zip around a post-nationalist, post-scarcity, socialist utopia spreading science and rationalism, never going to church on Sundays, and pretty much ignoring America's Judeo-Christian heritage (the last line in TOS's "Bread and Circuses" notwithstanding).
This is not to say that Cruz is completely wrong about his thoughts on the differences between the original series (TOS for you non-nerds ... are any Wonkette readers not nerds?), which ran from 1966 to 1969, and Star Trek: The Next Generation, aka TNG (1987-94). After saying that he unequivocally preferred Kirk over Picard (conventional wisdom, perhaps, but also potential fightin' words at some conventions), he offered his Deep Thoughts on the two Starfleet captains:
Let me do a little psychoanalysis. If you look at ''Star Trek: The Next Generation,'' it basically split James T. Kirk into two people. Picard was Kirk's rational side, and William Riker was his passionate side. I prefer a complete captain. To be effective, you need both heart and mind.
Gee, you'd almost think he'd have mentioned "The Enemy Within," the gloriously cheesy episode where a transporter accident literally splits Kirk into two guys, one logical and compassionate, the other emotional and violent. Not quite the Picard/Riker duo, but It's Been Done, and Cruz's little moral about needing both heart and mind is virtually taken from the episode. (Or maybe he did mention it and Cox left it out; it's a tightly edited interview, and her Nerd Alert warnings may have been going off.)
Cox also says, "I thought your critique might go in a different direction, because 'Next Generation' is more touchy-feely in its politics than the original," which is true enough, although our Inner Comic Book Guy keeps adding "Especially in the first two seasons." Cruz's reply is both simplistic and wrong:
No doubt. The original ''Star Trek'' was grittier. Kirk is working class; Picard is an aristocrat. Kirk is a passionate fighter for justice; Picard is a cerebral philosopher. The original "Star Trek" pressed for racial equality, which was one of its best characteristics, but it did so without sermonizing.
Buh-whaaaaaa? No sermonizing? This is where we know that you, Ted Cruz, are No True Trekkie. Both series relentlessly sermonized, and if anything, TOS was far more heavy-handed about it, on everything from the Cold War (the Vietnam fable "A Private Little War") to the anti-racist moralizing of "Let That Be Your Last Battlefield," the most laughably preachy episode -- from today's perspective at least -- in the franchise's history. "Last Battlefield" featured a centuries-long conflict between Lokai and Bele, the last two survivors of the their planet's race war, with some collateral damage to the Enterprise inflicted by Frank Gorshin's scenery-chewing as Commissioner Bele, the representative of his planet's ruling caste:
Nope, no sermonizing there. You're a maroon, Cruz. Now, to be fair, Next Generation's similar fable on gay rights, "The Outcast," just might have exceeded "Last Battlefield" in ham-fisted allegory.
But James T. Kirk, a Republican? Forget it. He's a Cold War liberal, much more of a Robert McNamara than a Donald Rumsfeld. Yes, a nice American imperialist man of action, but the Star Trek of the '60s and the Next Generation of the '80s and '90s are both a reflection of their creator, Gene Roddenberry, who went from reluctant Cold Warrior to "let's resolve this peaceably" after seeing what happens when a cowboy is allowed too much free rein on the bridge. And the Federation is not a galaxy of capitalist competition; it's a squishy western European post-scarcity socialist state, where nobody worries about money (except those loony Ferengi in TNG) and everyone cooperates. You won't find a priest in the bunch, except on the primitive planets where religion is a sham to control the people, and anyone kicking off his campaign for head of the Federation at a religious university -- with mandatory attendance! -- would be quickly exposed as a charlatan. Oh, and both captains of the Enterprise -- Kirk on the original and Picard on the Enterprise-D -- respected science, and would never have ignored a threat like global warming.
Ted Cruz, you're no Captain Kirk. Now, you might very well be a Harcourt Fenton Mudd ...