Texas Republicans Censure Rep. Tony Gonzalez For Being About Five Percent Less Terrible Than Rest Of Party
Right Wing Extremism
March 06, 2023 09:20 AM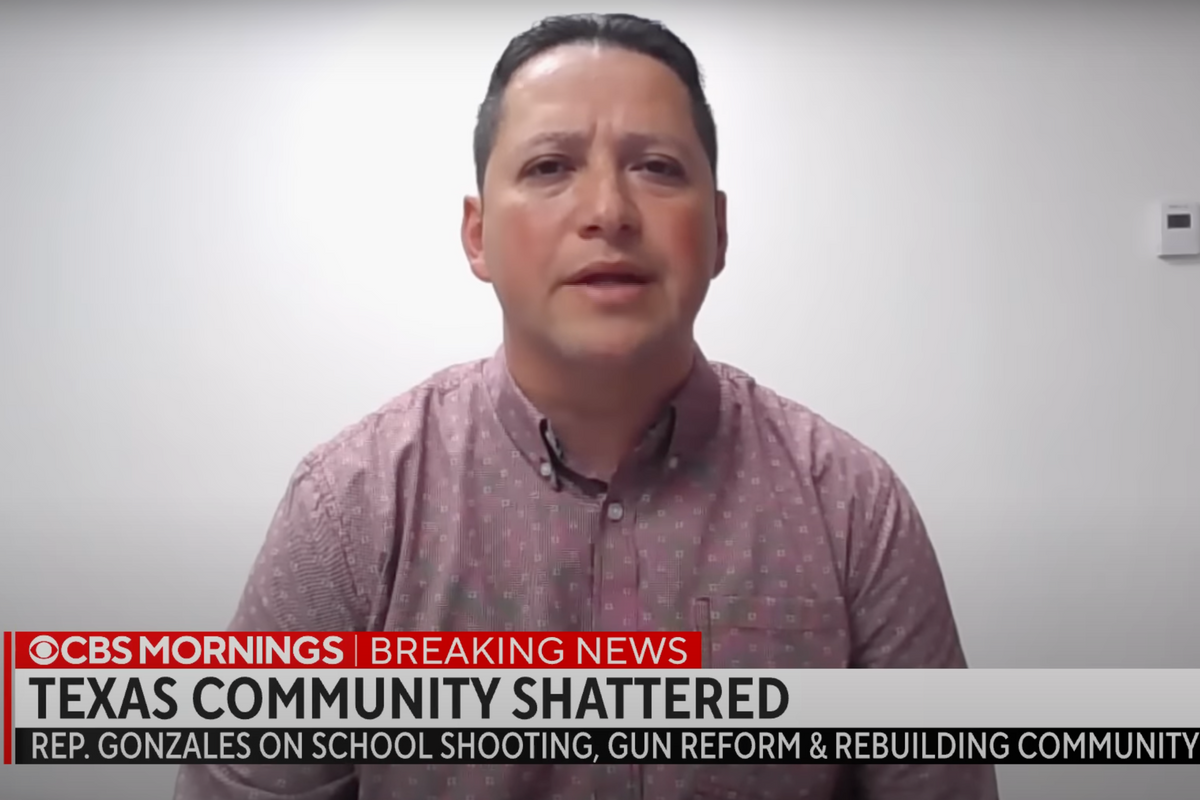 Republican Rep. Tony Gonzalez won what was considered an upset victory in 2020 over Democrat Gina Ortiz Jones in Texas's 23rd congressional district. Gonzalez doesn't get a lot of press because he's not a sociopathic liar like Rep. George Santos or outright deranged like Rep. Marjorie Taylor Greene and her fellow members of the sedition caucus. However, he's apparently angered the state Republican Party, which formally censured him Saturday.
Gonzalez probably got off on the wrong foot with MAGA when he didn't vote to reject President Joe Biden's Electoral College victory. While he's voted like your average awful Republican most of the time, he has defied right-wing orthodoxy on some key positions. He voted in favor of the Respect for Marriage Act and was a firm "no" on House (more or less) Speaker Kevin McCarthy's House rules package. Last month, Gonzalez opposed House Republican immigration proposal that would restrict asylum at the US/Mexico border, which includes a significant portion of his South Texas district. Gonzalez called the bill "anti-immigrant" and that pissed off Texans for Strong Borders, who accused him of using "leftist smears to denigrate the work of members who are serious about stopping the invasion at our southern border." (There is no invasion at our southern border. Maybe they fell asleep while watchingMars Attacks!)
Worst of all, if you're a Republican with morally questionable priorities, Gonzalez voted in support of new gun safety laws after the Uvalde, Texas, school shooting — a massacre that occurred in his own district.
---
PREVIOUSLY:
Hey, Here Are The Cool 'Moderate' Republicans Who'll Still Vote To Impeach Hunter Biden's Laptop

Republicans Know How To Stop School Gun Massacres: More Guns
The censure vote requires a three-fifths majority of the State Republican Executive Committee. This was easily achieved, as the vote against Gonzalez was an overwhelming 57 to five, with one abstention. The vote took place after a closed-door executive session that went on for about an hour. Party members debated the resolution and seemingly agreed that Gonzalez was a horrible RINO. How could the party continue to trust a man who favors sensible gun legislation? He lacked the courage of the NRA's convictions. A true patriot would've looked straight in the faces of the Uvalde victims' families, shrugged, and said, "What do you expect me to do?"
The Texas Republican Party declared Gonzalez's heresy votes were in direct "opposition to the core principles of the Republican Party of Texas," and that's probably true for an organization that maintains Ted Cruz as a member in good standing.
Gonzalez is one of the five "outspoken" members of what Semafor called a "Mod Squad" within the House Republican caucus. The others are Don Bacon, Nancy Mace, Brian Fitzpatrick, and freshman Rep. Mike Lawler. They have all mostly kept their heads down and remained silent as Greene leads the party toward the next Civil War. Gonzalez is perhaps the most defiant and quickly lost his state party's support. That's usually what happens before a bruising (and potentially successful) primary challenge from a full-on MAGA candidate.
According to his spokesperson, Sarah Young, Gonzales spent the day working and didn't attend the meeting of Texas Republicans and assorted creeps in Austin.
"We'll see how that goes," he told reporters before the vote. (It did not go well for him.)
Young released this statement:
Today, like every day, Congressman Tony Gonzales went to work on behalf of the people of TX-23. He talked to veterans, visited with Border Patrol agents, and met constituents. The Republican Party of Texas would be wise to follow his lead and do some actual work.
Gonzalez told the Texas Tribune, "The reality is I've taken almost 1,400 votes, and the bulk of those have been with the Republican Party." That's obviously not good enough. Gonzalez seems unfamiliar with how death cults work.
[AP / Texas Tribune]

Follow Stephen Robinson on Twitter if it still exists.
Did you know SER has his own YouTube Channel? Well, now you do, so go subscribe right now!
Subscribe to the Wonkette YouTube Channel for nifty video content!
Click the widget to keep your Wonkette ad-free and feisty.
Stephen Robinson
Stephen Robinson is a writer and social kibbitzer based in Portland, Oregon. He writes make believe for Cafe Nordo, an immersive theatre space in Seattle. Once, he wrote a novel called "Mahogany Slade," which you should read or at least buy. He's also on the board of the Portland Playhouse theatre. His son describes him as a "play typer guy."