Texas Tosses Rick Perry's Criminal Charges, Still Won't Help Him Win White House
News
February 24, 2016 11:40 AM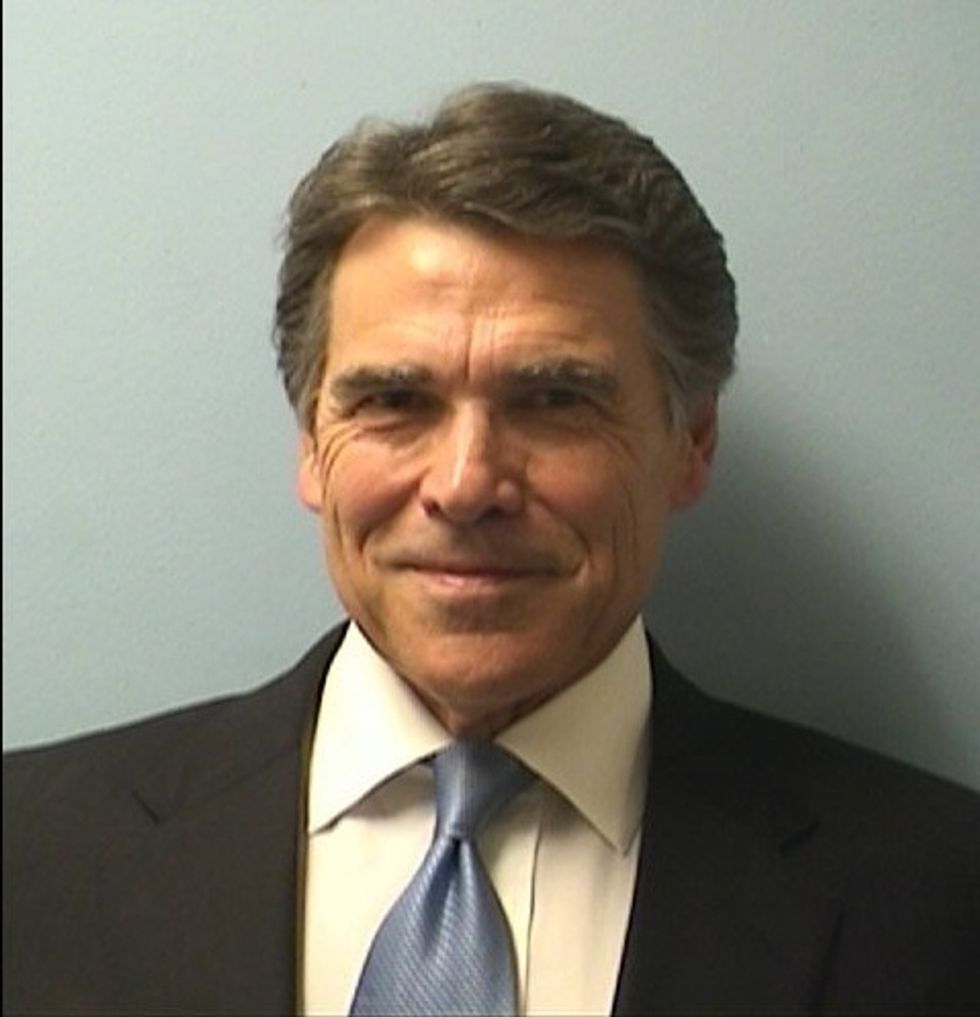 At least we'll always have this mug shot
---
Rick Perry, you remember that guy, right? Former Texas governor, former presidential candidate, former ... oops, we forgot the third thing. (See? That joke never gets old. NEVER.)
[contextly_sidebar id="qO4Soeb3dS3Ip1HEB9OrDAtkLRnK4Q4T"]In 2014, Perry was indicted for doing a whole Texas-size mess of two felonies: "abuse of official capacity, and coercion of a public official." However, Perry insisted at the time that he was innocent and it was all dirty Democrat Party politics to derail his otherwise guaranteed White House win in 2016. (Fact check: HAHAHAHAHAHAHAHAHAHAHAHAH! HA!)
Plus, as professional shit-monger bigot Bryan Fischer importantly noted at the time: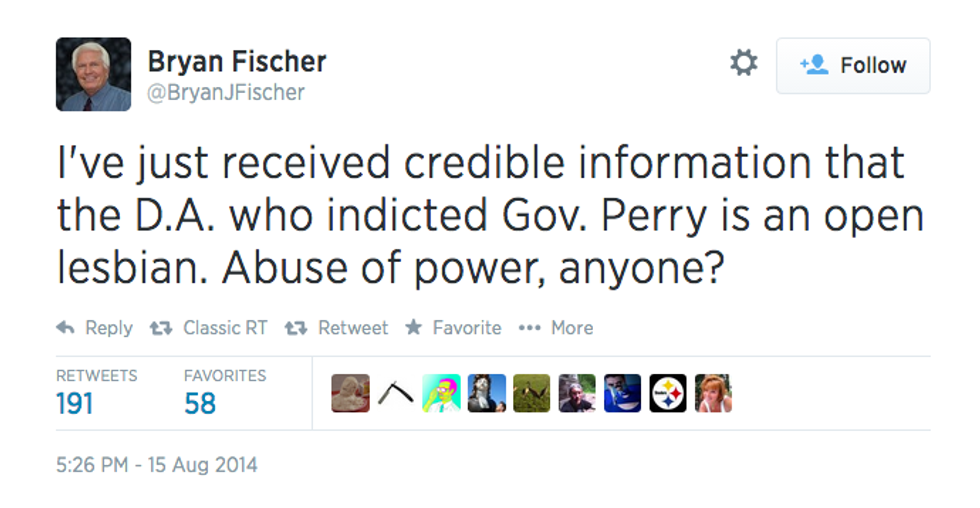 Open lesbian?! Pretty open and shut case right there, proving Perry's innocence, so we're downright shocked it took this long for the indicted ex-governor to get a Texas court to agree, but better late than never:
Texas' highest criminal court tossed the second and final felony charge against former Gov. Rick Perry on Wednesday, likely ending a case the Republican says helped sink his short-lived 2016 presidential bid.

The Texas Court of Criminal Appeals dismissed the abuse-of-power charge, which was filed after Perry threatened — and then carried out — a veto of state funding for a group of public corruption prosecutors after the Democratic head of the unit refused to resign. In its 6-2 ruling, the court said veto power can't be restricted by the courts and the prosecution of a veto "violates separations of powers."

A lower appeals court dismissed the other charge, coercion by a public servant, in July.
[contextly_sidebar id="NiJ6KScQBP4PABADdwHHd2Q2qkFf8Eoi"]Oh, the fun funny funtimes we had, gratuitously but accurately referring to INDICTED (!!!)Texas Gov. Perry. Does this mean we cain't do that no more? Because unfair! Also unfair: The dismissal of Perry's remaining charge means he definitely won't stand trial, be convicted, and thus lose his god-given Second Amendment right, under the Constitution of the United States of Texas, to bang bang pew pew all the guns, for freedom and liberty and ... and ... the EPA? No, that's not it.
We were so looking forward to watching President Obama's jackbooted Big Government thugs show up at Perry's doorstep to personally take away the convicted felon's firearms. Oh well.
But fine, Rick Perry, enjoy your guaranteed freedom, we guess. And now that you've been fully vindicated, maybe we'll see you around in the 2020 election? We hear the third's time the charm.
[AP]