The 9,746 Top Reasons We Don't Want To Watch Megyn Kelly's Dumb Fuckin' New Show
News
September 27, 2017 03:45 PM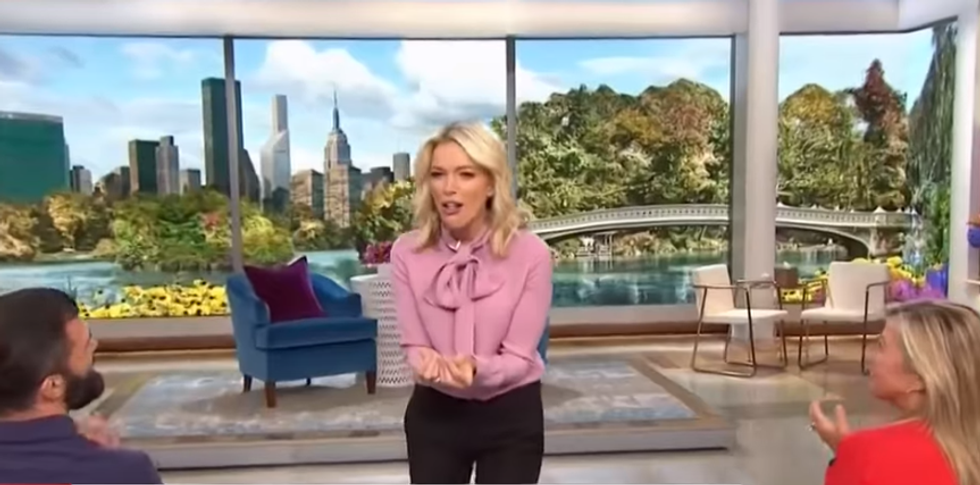 This screengrab is demonstrably cruel. #WINNING
---
Just this morning we were making fun of Erick Erickson, who is mad enough to fuck a goat about how nobody wants to watch Megyn Kelly's show, we guess because despite NBC's constant begging, nobody thinks it's going to be very good. Of course, we're pretty sure Erick Erickson is only defending her because he looooooves Megyn Kelly and wants to sexxxxxxxxxxx her, which would mean he'd have to divooooooooooorce his wife and stop FUUUUUUUUUUCKING goats. (Allegedly.)
Anyway, here's a clip from Megyn Kelly's show, "If You Change The Channel, It's Probably Kelly Ripa So Might As Well Stay Here I Guess," where she is using her MAD INTERVIEWS-ING SKILLS to ask Jane Fonda how many times she's gotten her face operated on. It is ... well shit, it's as good as we always expected:
Megyn Kelly did not please Jane Fonda today.... pic.twitter.com/8IofVdsieF

— Yashar Ali ? (@yashar) September 27, 2017
KELLY: I think it's to your credit ... but you look amazing ... do you ... do you ... have you ... why did you say ... I read that you said you felt ... you're not PROUD to admit you've had work done. Why not?

FONDA: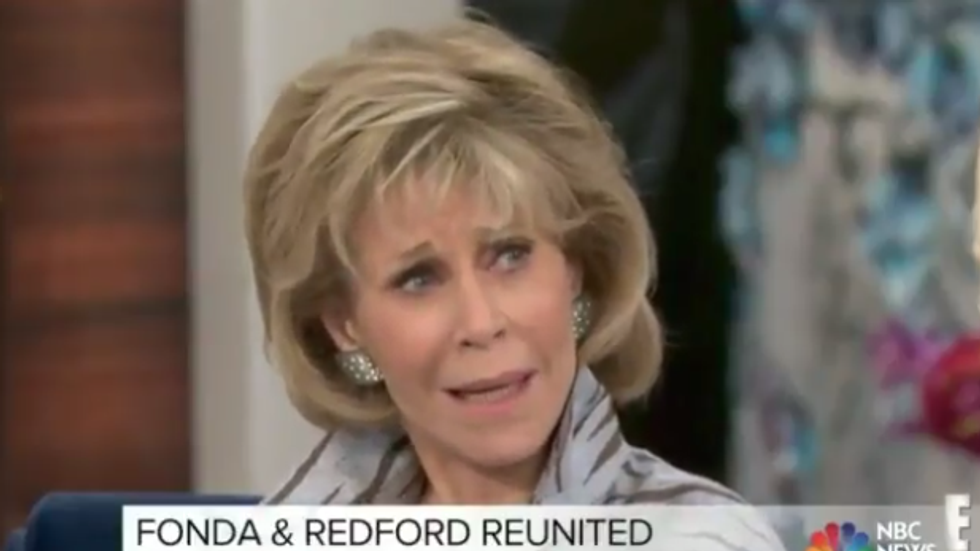 And then Fonda, as kindly as possible, tried to redirect the conversation to the movie she's promoting, instead of letting Megyn Kelly examine her plastic surgery scars.
On the premiere of Kelly's show, she brought a lifelong fan of "Will & Grace" out of the audience and asked him if it's true he "BECAME GAY" from watching the Will character. LOL, Megyn make joke! Later she told him, encouragingly (??????), that she thinks his "gay thing's gonna work out great" for him. Um, thanks, Megyn Kelly?
Here is the full fucking display:
Here is Megyn Kelly telling a gay #WillAndGrace superfan, "I think the 'Will & Grace' thing and the gay thing's gonna work out great." ??? pic.twitter.com/KyN9kVQ0rK

— Jarett Wieselman (@JarettSays) September 25, 2017
We really hope, for selfish reasons and not for Megyn Kelly reasons, that her show doesn't stay this bad, because then we are going to keep seeing godawful clips on Twitter and feel compelled to write posts about it, and just UGH.
Try not to watch Megyn Kelly being bad too many times, because studies show it's bad for your skin.
Follow Evan Hurst on Twitter RIGHT HERE.
Wonkette is ad-free! Our salaries, servers, and all of the things are fully funded by readers like you! If you love us, click here to fund us!
Evan Hurst
Evan Hurst is the managing editor of Wonkette, which means he is the boss of you, unless you are Rebecca, who is boss of him. His dog Lula is judging you right now.
Follow him on Twitter RIGHT HERE.