The Wonkette Geopoliticker: Congrats On Getting Rid Of Your War Criminal, Liberia!
News
April 30, 2012 09:34 PM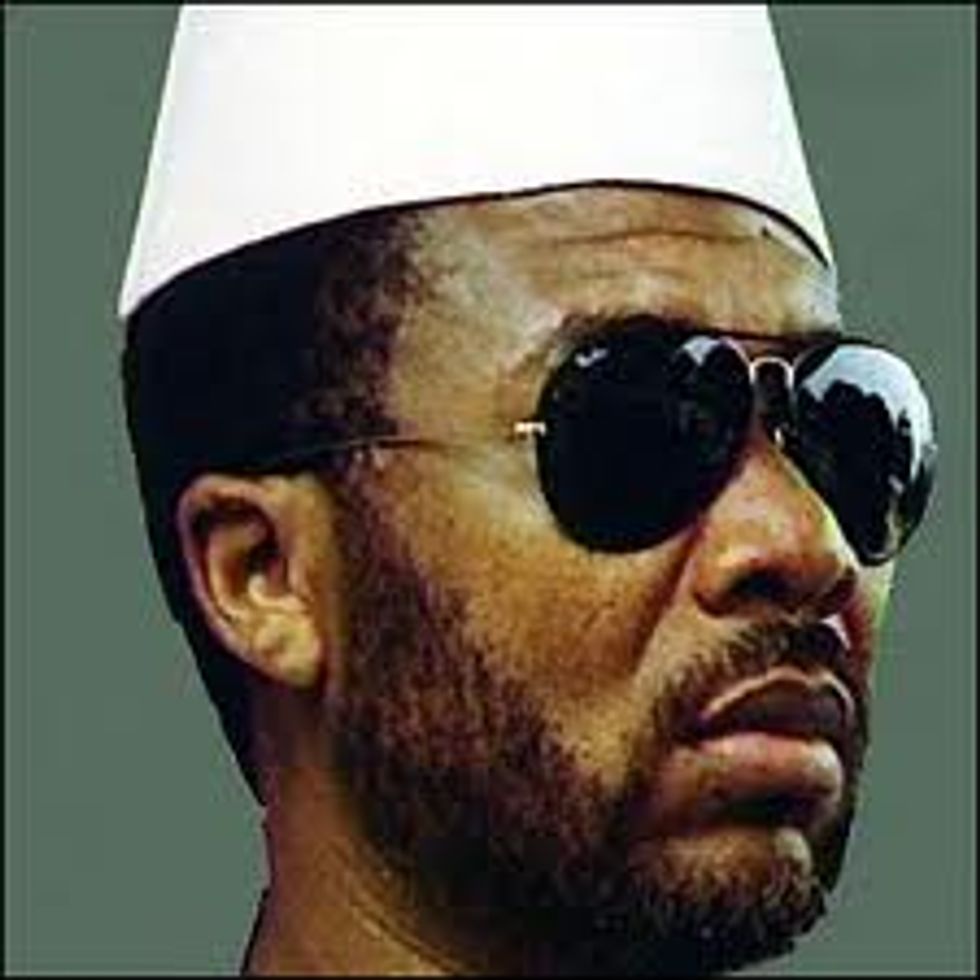 World renowned sicko and formerLiberian prez Charles Taylor is the first head of state to be convicted by an international tribunal since the Nuremberg Trials after World War II. (Nah guys, Pinochet was just Spain.) Who says that there's no such thing as international law? Up next at The Hague is Laurent Gbagbo, the former Côte d'Ivoire president who had his citizens raped and murdered; in addition, an arrest warrant has been issued for President Omar al-Bashir of Sudan, who presides over a little region called Darfur.
---
But like a lot of sub-Saharan Africa, Liberia is looking up! Ellen Johnson Sirleaf, elected in 2005 and again in 2011, is a Nobel Peace Prize winner, a far cry from the cannibal, serial-rapist murderer she took over for. Everyone Loves Her. For the fiscally conservative, she's a former Citibank VP who inherited a country with $4.9 billion in debt and reduced that to virtually nothing in just a few years. For you liberals, she's good on gay/lesbian/transgender stuff, on a continent where that's very hard to be politically (and personally). She even won the highly coveted and prestigious 2011 African Gender Award. But her best move so far has been pushing back against a tire company that's been fucking her country up since the 1920s.
Along with Ethiopia, Liberia is one of only two African nations to have never been a "colony." (Although it does have looong ties to the US, as we sent a few folks there after magnaminously deciding they didn't have to be slaves anymore.) But being a neo-colony is maybe worse: people are still raping your resources, but they don't have any social or civic ties or even lip-service to civic responsibility. Liberia has the world's best rubber forests, by far. The world uses a ton of rubber. Yet Liberia is one of the poorest countries on Earth, because the 'owner' of these rubber forests is this guy. Who? For God's sake, he was a "The Bachelor." So Andrew Firestone gets rich off good rubber growin' (although he does make a lovely merlot) while Liberians get child slavery and $3 a day.
Firestone, under previous Liberian regimes, has controlled one million acres, which is four percent of the country's area and 10 percent of its arable land. Under Sirleaf's administration, it's been scaled back to 100,000 acres, a 90 percent reduction. Local farmers are now using the 900,000 acres that were conceded.
When you look at the huge amounts of timber, oil, diamonds, iron ore, gold, and of course rubber found there, and at the transparency and fairness of the current administration, it's clear that Liberia's stock is going up. Seeing the former warlord president go to jail is just icing on the cake.