The Year In Rightwing Media, Simplified
News
December 31, 2013 05:00 PM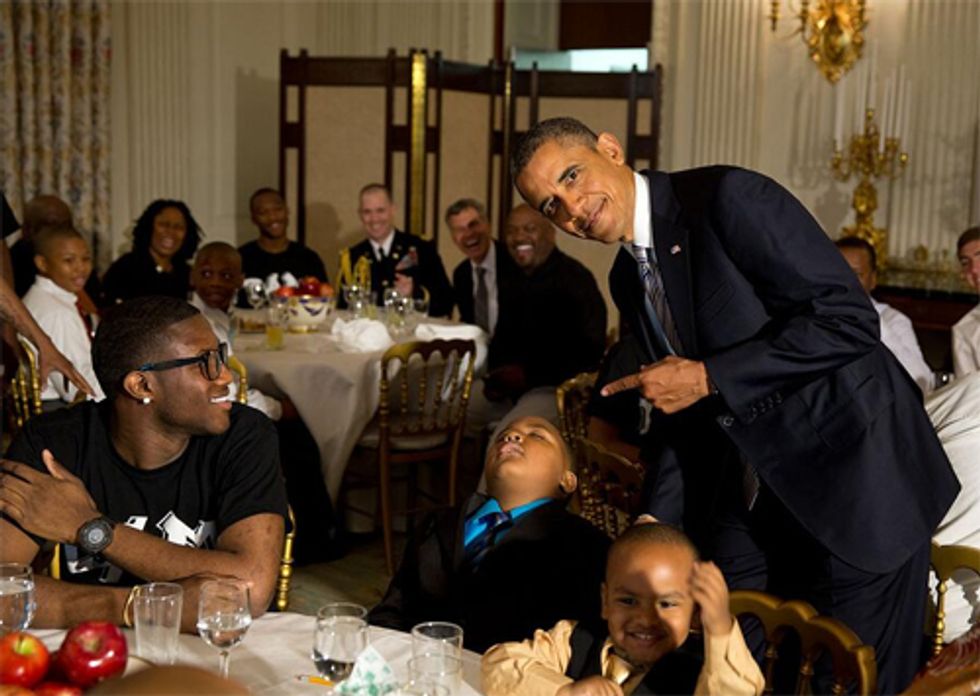 Time's Zeke Millertweetered this adorbs little photo from June as part of a year-end skim of the White House Flickr stream. Photographer Pete Souza's note:
---
"The President called me over to pose for a photo with a young boy who had fallen asleep during the Father's Day ice cream social in the State Dining Room of the White House."
So it's not hard to imagine how this pic might hit the world of rightwing media.
Twitchy: "SNAP! Obama caught shaming small child forced to attend White House propaganda event"
Gateway Pundit: "Typical: Obama inserts himself into other people's Fathers' Day celebration"
Daily Caller: "Was cute sleepy child another Obama plant?"
American Thinker: "Sleepy Child Just Another Obama Plant -- the evidence from photos"
Breitbart: "Sleepy Boy Reported To Be Another Plant"
Glenn Beck's The Blaze: "No, there is no evidence that the sleeping boy was a plant. Buy Gold!"
WND: "Did 'gay' Obama fondle sleeping child?"
Peggy Noonan: "America. Sleeping. Where Is The Greatness? America."
Drudge: "SIREN! Obama plays 'Knockout Game' on defenseless child"
Townhall/Katie Pavlich: "Pro-abort Obama With Child He Couldn't Kill In the Womb"
Sarah Palin: "Obama's America pointing sleep dad ice cream Obama precious child precious memories Alaska America Todd Gakk babies Willy Barstow foot American Exceptionalism Crhissmaks"
Erick Erickson: "Reagan never pointed at children" (1985 photo of Reagan pointing at child posted at Media Matters within 5 minutes)
Ben Shapiro: "Obama points finger, offers no market-based solutions to problems of black America."
George Will: "The sleepy child and the tragedy of single black parents"
Fox & Friends: "Some people think Barack Obama is going to send this small boy to a reeducation camp! Are they right?"