This Is A Post About Winners And Losers
Trump
July 21, 2021 10:48 AM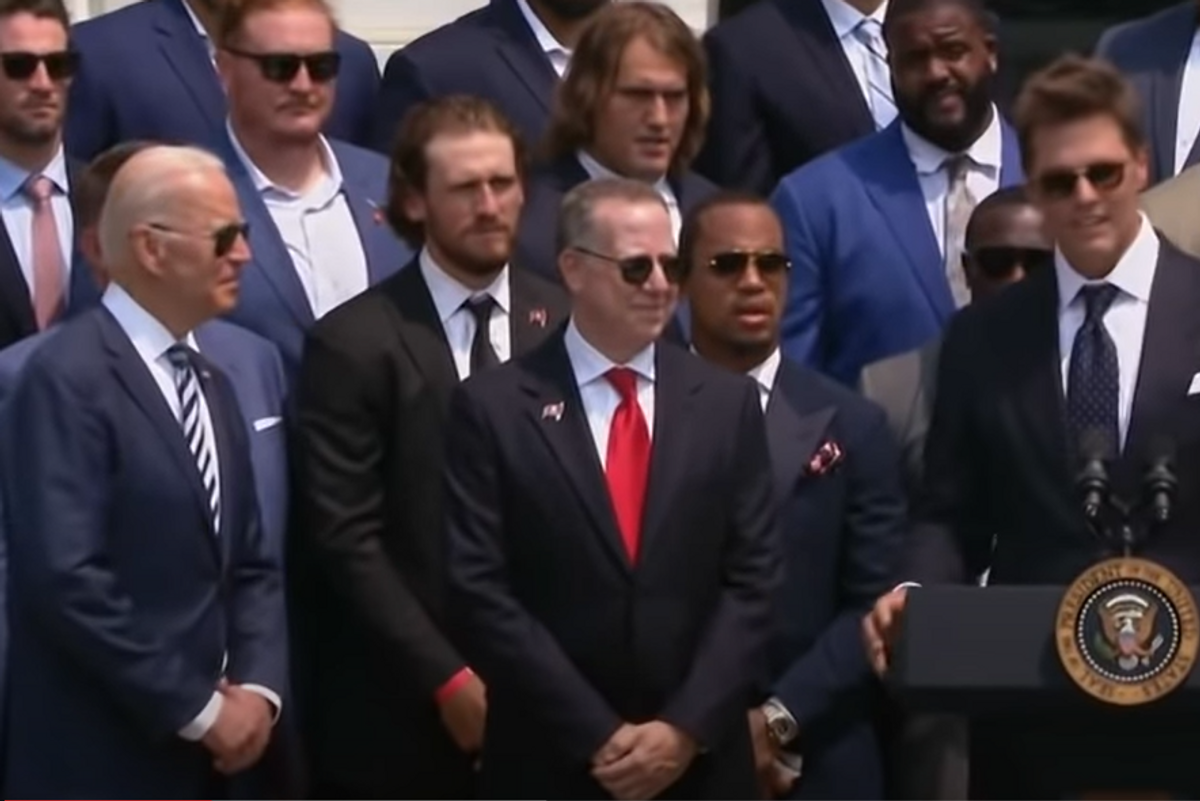 Jonathan Chait says yesterday was the worst day of Donald Trump's life. He may not be wrong about that.
Trump had a bad day, that's for sure. For one thing, his erstwhile best friend got indicted, Tom Barrack, the guy who chaired his inaugural committee. If you remember anything about that guy, how many different things he was involved in related to Trump's campaign and presidency, you can imagine how terrified that might make the former president about what's coming down the pike next.
But that's not why yesterday might have been the worst of Trump's life. Pfffffft, a day when a member of Trump's inner circle gets indicted is just called "Tuesday." And Trump doesn't care about other people's feelings or bad things happening to people he allegedly cares about, unless it affects him in some way.
What happened yesterday is that Tom Brady made fun of Trump. Twice. In public. With Joe Biden. Biden made fun of Donald Trump too! With Tom Brady! At the White House.
It was an event to celebrate the Tampa Bay Buccaneers' Super Bowl win, and regardless of what you think of Tom Brady, it was pretty fuckin' great.
---
Watch this video. Brady makes a joke about 40 percent of the country still not thinking the Bucs won the Super Bowl. Biden says hoo boy and LOL, he gets that! Brady pointedly confirms that Biden really gets that, and Biden reaffirms that he gets that. Then Brady cracks a joke about making one football mistake and people calling him "Sleepy Tom" afterward. Biden knows that feeling too! Crazy, people calling the lifetime achievement winners of Super Bowls and White Houses "sleepy"! What kinda loser does that?
The rest of the Bucs and everybody else in attendance laughed, laughed, because they got the jokes Brady and Biden were making at Trump's expense at the White House Trump delusionally thinks is his rightful home. Brady and Biden had a GOOD laugh. Brady and Biden, the guys who are winners, laughing at the expense of one loser in particular.

Chait explains in his column that there are four things that motivate Donald Trump's life, things his malfunctioning soul needs for survival:
1. To be treated as a winner
2. To pal around with celebrities
3. To not be laughed at
4. To gain the specific approval of Tom Brady
Yep, besides pooping we'd say that's about it.
Trump needs to believe he's the greatest winner in world history, when in reality he's a less-than-mediocre, physically unattractive loser who isn't the best at anything and has never won anything fairly in his entire life. He craves the company of celebrities, which is why it stung him so hard when his inauguration was such a tiny parade of losers. Hell, his entire pre-presidential life was him begging to be accepted by real New York society. It's why he went all-in on his "friendship" with Kanye West, who appeared to be in the middle of a mental breakdown at the time. That guy was cool, and that cool guy liked him!
As far as the third and fourth in Chait's list, we'll take them together, because remember how Trump fumed and raged when Barack Obama made fun of him at the White House Correspondents' Dinner in 2011? Remember how it turned out later that Obama was literally in the middle of murdering Osama bin Laden while he made fun of Trump? That was reportedly a pivotal moment in Trump's decision to ultimately try to steal the presidency, because his soul was so wounded by that man making fun of him. He cannot stand being laughed at, which is weird, because he should be used to it by now. That's all the world ever does to him.
And Chait goes through the history of Trump's long-running single white female obsession with Tom Brady, and his fantasies that he's a winner just like Tom Brady. Chait notes that Trump used to fangirl tweet about Brady all the freaking time, back when Trump was allowed on Twitter. He wanted Brady to be his son-in-law. Trump lost it when Brady got out of coming to his White House after a Super Bowl win. Of course, when you look back at the evidence — which Chait provides — it doesn't seem like Brady has really ever personally been that into Trump. He just ... has this guy who follows him to every show and tries to beg his way backstage.
So yeah, yesterday was a really bad day for Trump. Was it his worst ever? We don't know. But as Lawyers, Guns & Money puts it, Trump is Tom Brady's "thirstiest and most insecure superfan," and that guy made fun of him at the White House yesterday with Joe Biden, the guy who humiliatingly beat the shit out of him in the 2020 election. It's bad enough that so far, Trump hasn't even released an all caps misspelled statement about how ACTUALLY Tom Brady is an over-rated loser. Clearly, the wound is too raw.
For the cherry on top of this post, something else to laugh at, look how melodramatically upset Breitbart jerkoff Joel Pollak is about Tom Brady and Joe Biden giving Trump a wedgie and then posting Instagrams of themselves hugging and doing bunny ears at a party Trump wasn't even invited to:
Whatever you think of Trump, watching Tom Brady stab him in the back is disgusting. The mark of a true tragic hero… https://t.co/u1NLQvMI7h

— Joel Pollak (@Joel Pollak) 1626803147.0
Ahem. Again: Trump and Brady aren't really friends. Trump wants them to be BFFs, but in reality Trump is more like some loser with Tom Brady posters on his ceiling. Also, betraying people is pretty much what Trump is known for. Turnabout's fair play, buckaroo.
As for Pollak's suggestion that Trump has "sacrificed" for this country, and as for the entire thirsty tone of Pollak's tweet, we're at a loss to describe how pathetic that is. Almost as pathetic as Donald Trump power-waddling in Tom Brady's direction and begging Brady to come to his birthday party.
This has been a post about winners and losers. We all know which one is which. Or should we say "Who's Who."
[New York]
Follow Evan Hurst on Twitter.
Wonkette is funded ENTIRELY by a few thousand people like you. If you're not already, would you pls consider being the few thousandth and one?
Evan Hurst
Evan Hurst is the managing editor of Wonkette, which means he is the boss of you, unless you are Rebecca, who is boss of him. His dog Lula is judging you right now.
Follow him on Twitter RIGHT HERE.