This Post Contains No Links Or Excerpts From Trump's Crappy Retro Blog
White Nonsense
May 24, 2021 09:03 AM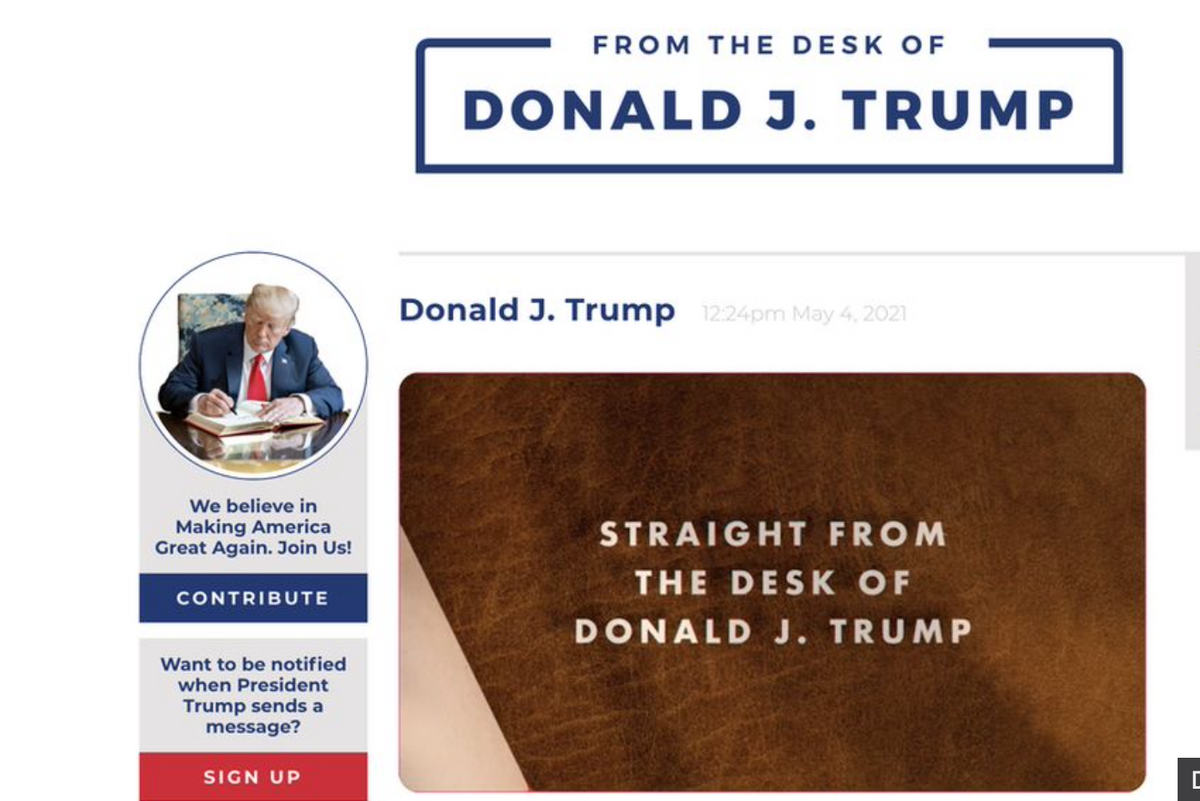 The Washington Post has a delightful article about how the one-term loser is a big, steaming flop on the Internet. Donald Trump was banned from all reputable platforms after he kept spreading lies and promoting violence. He vowed he'd start his own social media company, but he's never successfully built anything from scratch, not even a WALL. He just infiltrates existing entities, corrupting them from the inside, like his MAGA-fied Republican Party.
He's still the reigning king of the GOP, but his online influence has cratered. Social engagement surrounding him, measured through likes, reactions, comments or shares, has plummeted 95 percent since January. It hasn't been that low since 2016, when his presidency was still a distant nightmare scenario.
"He's whistling in the wind," said Megan Squire, a computer science professor at Elon University who studies right-wing online organizing and reviewed data about Trump's audience. "People just aren't following him to his little desk platform, and we can see that in the numbers. The difference is ridiculous. He doesn't have that same ability anymore to constantly put his content in people's faces the way he did before."
---
Trump has tried to recapture his online glory days with a blog, which is very 2003, but he can't start a YouTube Channel where he shares recipes and conspiracy theories because he's banned there too. The blog's called "From The Desk of Donald Trump" — we're obviously not including a link — and the general public has ignored it. The blog has no internal tools for user likes, replies or reactions, but you can share his blog content to Facebook. Last week, that happened fewer than 2,000 times a day. Last year, when Trump was lying about the pandemic,protests against police violence, and the upcoming election, his Facebook page boasted tens of millions of comments, shares and other interactions every week, according to data from the social media analytics firm BuzzSumo and the Facebook-owned content-tracking tool CrowdTangle. Now that's all over, and Trump is just an average nobody, a schmuck desperate for attention online.
The blog's inaugural post declared itself "straight from the desk of Donald J. Trump." It's apparently very important for him that people believe he sits down in front of an oversized desk and performs what humans call "work." Back in October, when he walked into a rake laced with COVID-19, his handlers propped him up at a conference table in Walter Reed Medical Center where he signed blank papers with a Sharpie. We're not kidding. The papers were blank, unlike most important presidential documents that contain at least three words, maybe even some punctuation.
Trump's blog would be more entertaining if the posts were all blank or just pictures of his desk. He's mostly just whined like a loser baby about the election he definitely lost, both freely and fairly. He's attacked his enemies, many of them fellow Republicans he feels should've aided his failed daylight election heist. Trump was always a sick, twisted freak but Big Lie Trump is so pathetic, he reminds us of Jeb Bush at the lowest point of his campaign. A more apt title for Trump's blog is ThePlease Clap Chronicles.
The blog is exactly the low-quality embarrassment you'd expect from Trump's former campaign manager, Brad Parscale, whose company built the site. The twice-impeached thug's reportedly complained to anyone within earshot that his deranged statements aren't receiving the attention they once did. His racist rants used to drive at least a couple news cycles, but now they fall flat even when Maggie Haberman at the New York Times is gulliblegenerous enough to share them verbatim on Twitter. His enablers claim he's "increasingly resigned to his banishment from Facebook," and yet the MAGA mob still considers its champion someone who got his ass kicked by Mark Zuckerberg.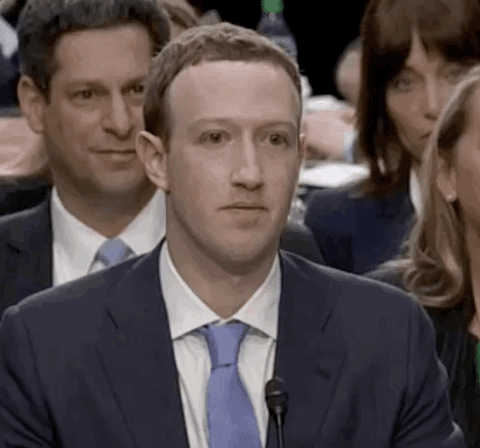 Giphy
Trump isn't interested in "the many of the conservative-friendly online alternatives that have sought to win his endorsement." Those suckers structured their whole business models around his potential participation, but he wants to troll the cool kids on Twitter and Facebook. Other advisers say he might join another platform if he was paid enough money (maybe for his mounting legal fees) and could control the terms. If anyone's willing and stupid enough to give him such a sweetheart deal, it's probably the idiots who still support him.
To win back the spotlight, his team is working on a project they're calling "Trump Media Group," which would launch this summer and couldinclude a new social media platform of Trump's own. Advisers say Trump talks about the project regularly and gets updates from the team building it, though a final product is not ready.
LOL, if these losers ever deliver a "final product" for the so-called "Trump Media Group," it'll come out looking all messed up and grotesque, like Donald Trump Jr.'s face.
Follow Stephen Robinson on Twitter.
Keep Wonkette going forever, please, if you are able!
Stephen Robinson
Stephen Robinson is a writer and social kibbitzer based in Portland, Oregon. He writes make believe for Cafe Nordo, an immersive theatre space in Seattle. Once, he wrote a novel called "Mahogany Slade," which you should read or at least buy. He's also on the board of the Portland Playhouse theatre. His son describes him as a "play typer guy."