Too Late, Martha McSally Discovers Standing By Her Man Donald Trump Was A Really Stupid Idea
2020 Congressional Elections
May 20, 2020 09:00 AM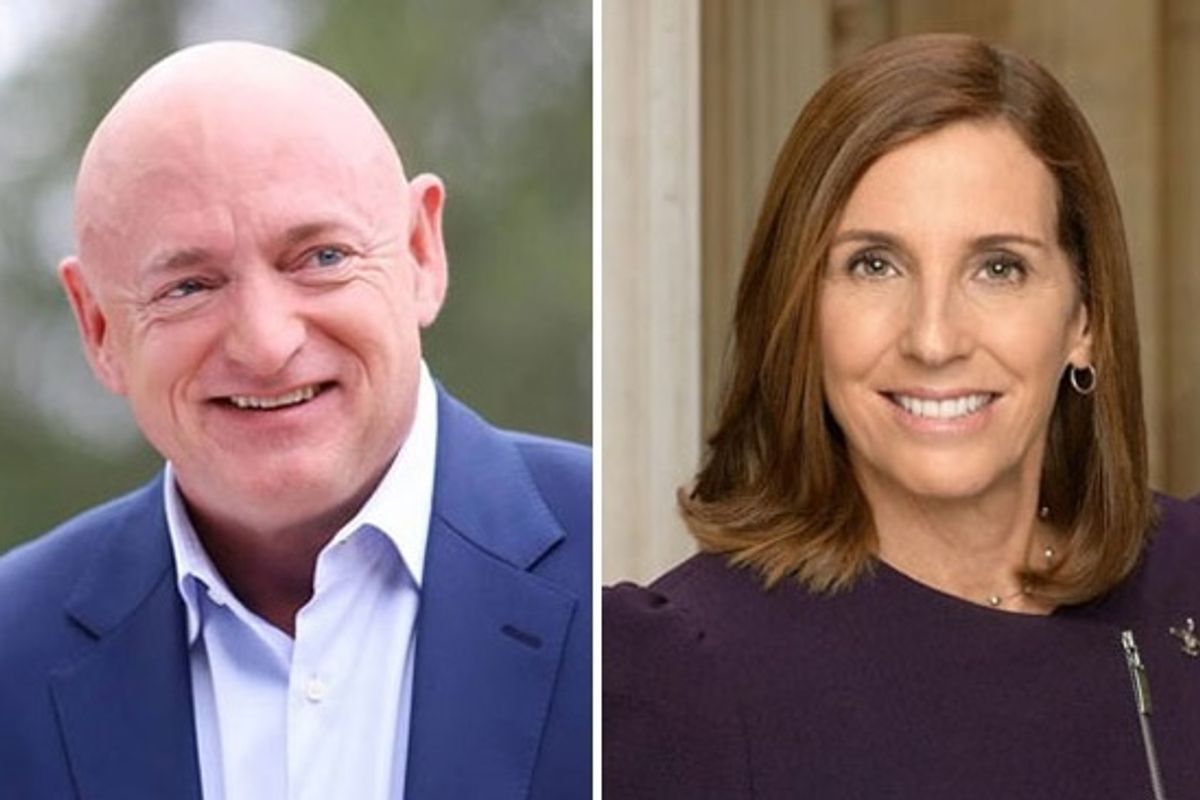 Mark Kelly and Martha McSally
Time for some sexxxxy poll porn! Comin' at you, Arizona, so GET NEKKID since it's apparently 87 degrees right now in Phoenix.
OH Predictive Insights recently chatted up 600 likely voters about the November election, and those Arizonans are really not feeling the GOP right now. Not in the presidential race or the one for Senate. The pollster hasn't put out the crosstabs on the Senate race yet, but let's start with this graphic from its presidential poll, because there's a lot here.

First off, Biden is running six points ahead of Trump, with only six percent of respondents undecided. That's a huge difference from 2016, where Trump won the state by four points, partly by scoring a 13-point advantage with male voters. This time, men and women are voting more or less the same — and both sexes prefer Biden.
---
Geographically, Trump is in deep shit, too. Together, Maricopa and Pima Counties are home to about 5.5 million of the state's seven million residents. Trump won Maricopa in 2016, but Martha McSally lost it by five points to Kyrsten Sinema in 2018. (And spoiler alert, she ain't takin' it this time, either!) It is simply impossible to lose Maricopa County by 13 points and win the state's 11 electoral votes.
As for age, the senior citizens have definitely not grown to love Trump in time. In 2016, he had about a 13 point advantage over Clinton with voters over 55; now OH Predictive shows Trump running nine points behind Biden with women and men of a certain age. With almost 20 percent of the state's population being 60+, you can't lose them by eight or nine points and win the state. Math is just math!
OH Predictive doesn't seem to have published the data from its Senate poll yet. But pollster Mike Noble discussed the results with AZ Central's Laurie Roberts, saying "McSally is doing terribly. There's no way to find a bright spot on that one."
You hate to see it!
Indeed, the poll has McSally losing to Democrat Mark Kelly, 51 to 38. She's now trailing Kelly by 13 points, even worse than the eight-point margin OH Predictive found last month. And in Maricopa County where they keep all the people — it's WORSE.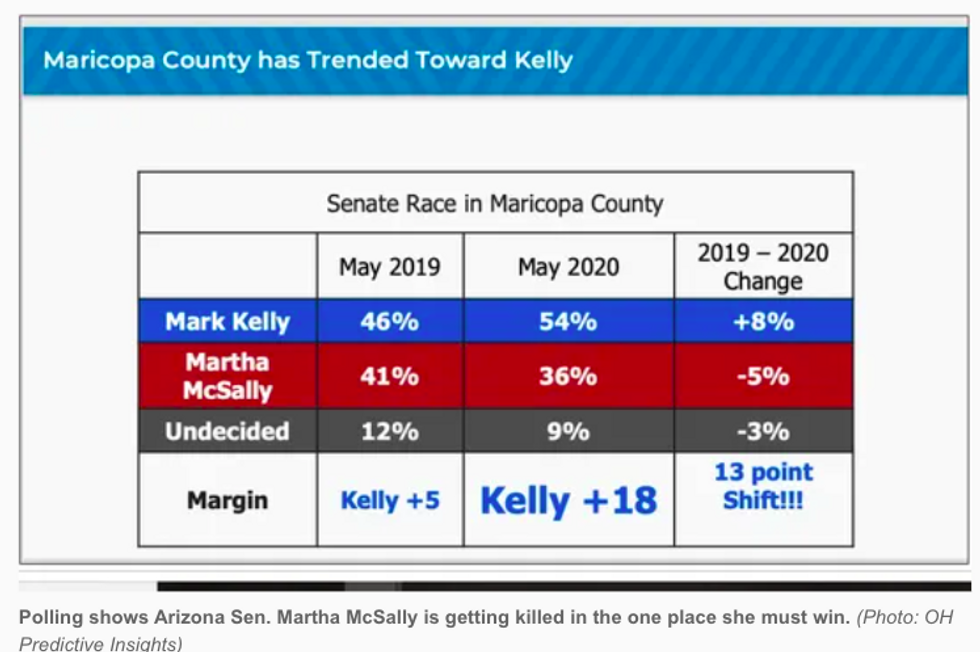 Eighteen points? She's down in Maricopa County by EIGHTEEN POINTS? Well, shit, no wonder Mitch McConnell is dumping so much cash into that race.
The voters didn't want McSally in 2018 when she lost by about three points to Sinema, a bisexual, ex-Mormon, criminal defense attorney. But Republican Gov. Doug Ducey appointed McSally to the late John McCain's seat and hoped that the voters would warm to her. Apparently they didn't, and now she's up against Gabby Giffords's handsome astronaut husband. So ... lotsa luck!
It doesn't help that McSally has yoked herself to Trump as he drives the country into a ditch. Or that she's kind of a bitch.
Here's the moment when Sen. Martha McSally called CNN's Manu Raju a "liberal hack": https://t.co/5iJ4brXuXg

— Julio Rosas (@Julio Rosas) 1579188389.0
Plus she's getting hammered by the Never Trump Republicans at the Lincoln Project.
Martha McSally Is A Trump Hackwww.youtube.com
OUCH.

Okay, you crazy naked Arizonans. Enjoy your naked sunshine orgy — you've earned it! Only, uhhh, maybe wait until after this whole pandemic thing, 'kay?
[OH Predictive AZ Presidential Poll / AZ Central]
Follow Liz Dye on Twitter RIGHT HERE!

Please click here to support your Wonkette. And if you're ordering your quarantine goods on Amazon, this is the link to do it.
Liz Dye
Liz Dye lives in Baltimore with her wonderful husband and a houseful of teenagers. When she isn't being mad about a thing on the internet, she's hiding in plain sight in the carpool line. She's the one wearing yoga pants glaring at her phone.