Trans-Hating Florida Rep Knocks Out College Student In Bar Fight (Allegedly)
Featured
March 04, 2015 04:00 PM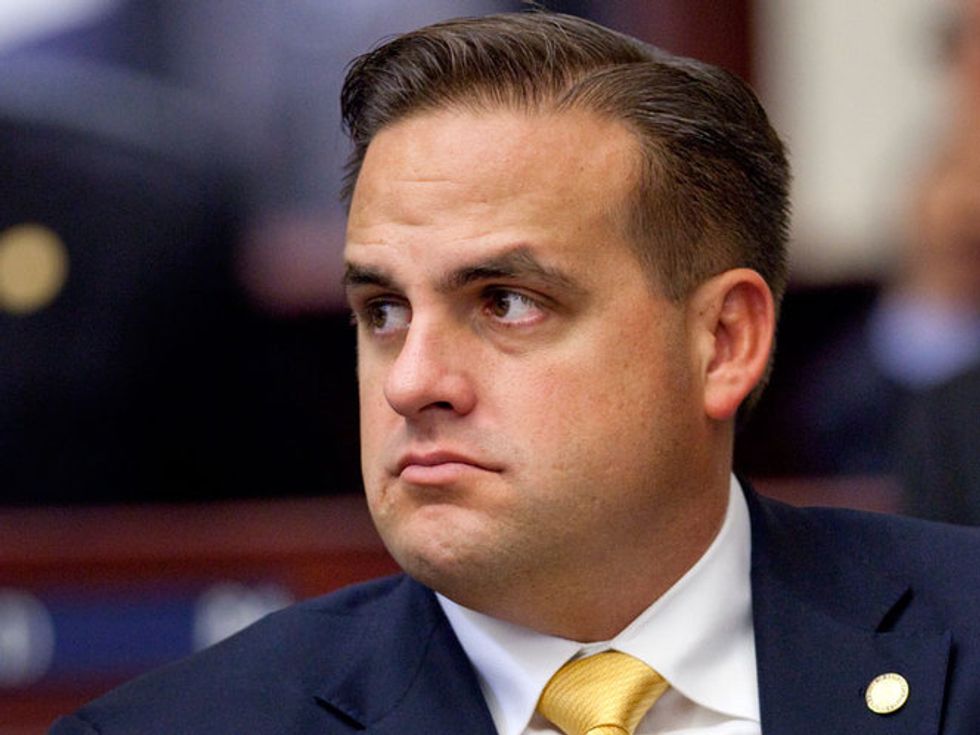 See that handsome fellow up there? That is Florida state Rep. Frank Artiles, R-Of Course, who is absolutely not an aggro meathead who has a thing for transgender folks (a hate thing, not that kind of a thing, probably) and punching college students in Tallahassee bars because they get in between him and a drink. No sir, Frank Artiles is most definitely being set up by political opponents who want to unleash a scourge of transgender people using public facilities the same as the Normals. I mean, just look at that face!
---
[contextly_sidebar id="t3eDdx5Bi3bJjTWjkX8jqdh8jKcojCe2"]
Last month, Artiles, who simply does not want some ex-female invading his tinkle space, introduced a bill to "prohibit transgender people from using facilities that correspond to their gender identities," because men are going to dress up as women so they can rape them in the bathroom and how is that for a fun logic pretzel? This would apply even to post-op trans folks, who now wouldn't be allowed to use the right bathroom because it doesn't align with their birth genders, and basically should not answer the Call of Nature at all.
Artiles' bill holds trans people who use facilities that match their gender expression liable for civil penalties, and it also provides for civil action against operators of public accommodations who follow trans-inclusive policies. The legislation would override local non-discrimination ordinances extending public accommodations protections to transgender people.
You will no doubt be shocked to learn that this kindhearted lion among men may have a teensy-weensy penis problem controlling his temper. Early Wednesday morning, Artiles allegedly cold-cocked a college student at a Tallahassee bar for the high crime of getting in between him and the bar staff*.
A college student spending Spring Break in Tallahassee didn't expect to get punched in the face by a Miami lawmaker. But that's what happened sometime between late Monday night and early Tuesday morning, hours before the start of the annual legislative session, according to the student.

Peter Alberti, a Connecticut native who studies in Charleston, said state Rep. Frank Artiles decked him at Clyde's and Costello's, a downtown Tallahassee bar steps from the Florida Capitol. "He was trying to get by, up at the bar, to get drinks," Alberti told the Miami Herald in a telephone interview Tuesday. "He punched me in the face."
Oh, and this isn't the first time Artiles has been accused of getting punchy. There's a rumor floating around the Capital that he got into a scuffle with another lawmaker's aide.
One of Artiles' friends, former state Rep. Doug Holder, even joked in his farewell House of Representatives speech last year that he would leave Artiles former state Rep. Rob Schenck's punching bag.

"Aides aren't so good for that," Holder said, referring to a rumored, earlier scuffle between Artiles and another lawmaker's aide.
LOL, legislators beating up aides, har har!
Artiles, naturally, denied this most recent incident ever took place. Oh sure, he was at the bar, and being heckled at the bar, but he didn't punch anyone. He didn't even have a drink. Oh, and if he really punched that kid, the kid would KNOW IT:
A former Marine, Artiles suggested Tuesday he would only deliver the kind of blow that would result in serious pain. "If I had hit somebody, they'd be in the hospital," he said.
So if Artiles is innocent, as has been clearly proven by the bulletproof "I'm a Marine and If I Hit Him He'd Be in the Hospital" defense, then what exactly is behind this?
"Didn't happen," [Artiles] said in a text message to the Herald after learning from a reporter that the newspaper had spoken to Alberti. "It is a set up."
Ah, Watson, the game is afoot! Whoever could it be trying to set Artiles up by having a college student walk into his fist? This conspiracy, Artiles continued, went straight to the top.
He also speculated he was being targeted by political enemies opposed to his contentious positions, such as challenging Citizens Property Insurance and trying to prohibit local governments from allowing transgender men and women into the public bathrooms of their choice.
Ah, yes, makes perfect sense that the Insurance and/or Trans Overlords would recruit an out-of-town college kid to get fake-punched at a bar that Artiles so happened to be at after 1 a.m. but was not drinking. Those trans folk are devious, man. And that's why we need to keep them out of our public restrooms.
*TO BE FAIR, we've been to Tallahassee bars and seen the college kids there, and there's a good chance this kid deserved a righteous ass-kicking. But when you are a state legislator, it is generally a Bad Idea to get into bar fights with Spring Breakers. The optics are all wrong.