Trump Administration Fuckers Fucking All The Things
Healthcare
February 06, 2018 12:02 PM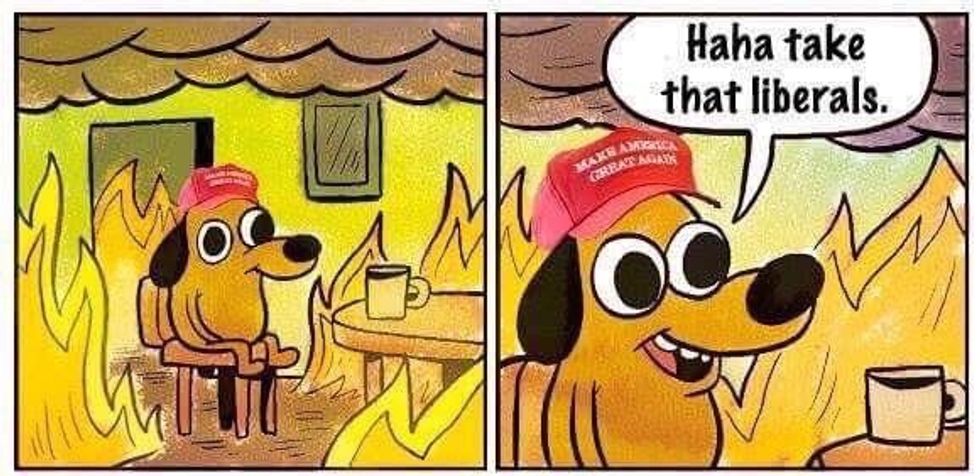 Are you triggered? Do you need a safe space? (Repeat 3000 times)
---
We are all, of course, amazed and fascinated by the unfolding drama of the Devin Nunes Wet Fart Memo (and now the Democratic counter-memo, Please Clean That Out of Your Pants, DEVIN). It's insane and shiny and also maybe a constitutional crisis, so of course it's something to keep an eye on. But as Vox's Matthew Yglesias reminded us yesterday, there's a whole boatload of awful that's also going on while the Memo sucks all the oxygen out of our attention spans, and as Willy Loman would say, attention must be paid. We can't allow ourselves to go haring off after every latest distraction, or we'll lose focus on what really matters. Which reminds us, did you see what Donald Trump tweeted about Willy Loman?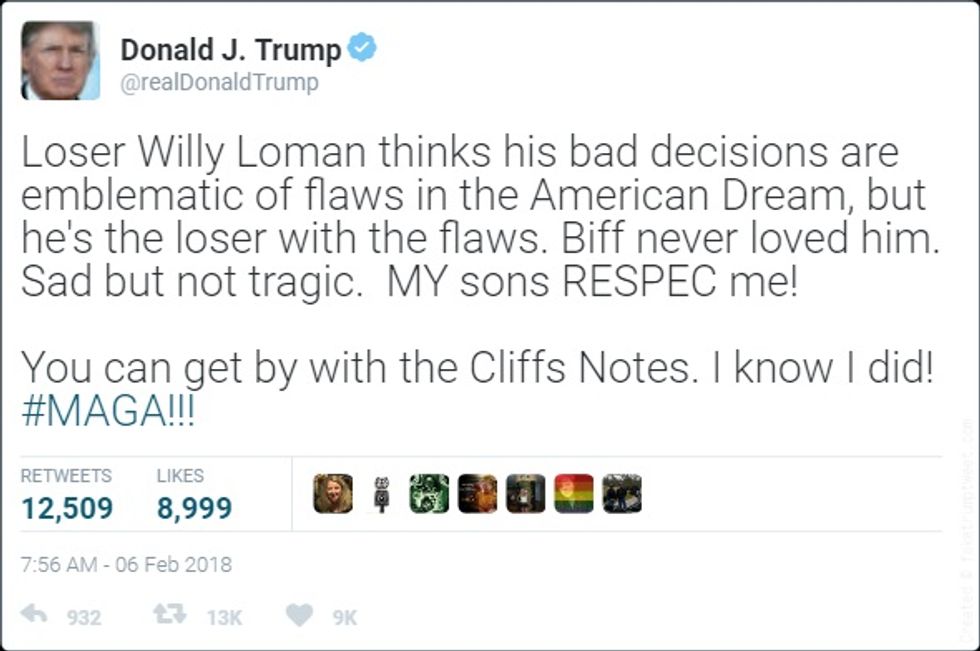 Very much a fake tweet. FAKE, I SAY!
The point here isn't that the lamestream media isn't covering important stories; they are. But Yglesias reminds us that we shouldn't just relegate some of this stuff to the browser tabs that we definitely plan to read later, just as soon as we catch up on the latest dumb things Donald Trump said about how not applauding Donald Trump is
pretty much the same as treason.
As we like to say around here, go
read the whole piece
at Vox, especially the links, since that's the point. But since we have your attention here, we're going to grab a couple of the items Yglesias noticed and look at them a little more closely for your infotainment pleasure, if that's the word (it isn't).
The War On Healthcare Continues
While Congress finally funded the Children's Health Insurance Program last month as part of what started as a Republican attempt to fuck over Dreamers, there's still been no long-term funding for another key component of providing healthcare to kids and adults, community health centers. Like CHIP, community health centers are popular with both parties (George W. Bush and Barack Obama both expanded them), and they help a hell of a lot of people for fairly little federal money. Unfortunately, though, they have one other thing in common with CHIP: Money ran out for them at the end of September, and while reauthorizing funding for them is usually a simple matter, this year the funding for something large majorities of both parties want has become a bargaining chip (or bludgeon) for Republicans who think they can use a Democratic priority to force concessions on another: protecting DACA recipients.
These health centers are the primary source of healthcare for some 26 million Americans, many of whom are uninsured, and many of whom have just recently gotten health insurance for the first time with Obamacare. In fact, expanding community health centers was a key part of the Affordable Care Act:
With the law expanding coverage to millions, the Obama administration wanted to ensure that the newly insured would have adequate access to medical services [...]

"There was a fairly widespread assumption that this would become the norm, that these two programs would travel together," says Sara Rosenbaum, a health policy professor at George Washington University who has written on community health centers. "One program would address coverage and the other access, but this year has upended that assumption. Now the program is standing on its own."
And that's left funding for community health centers even more vulnerable, particularly now that CHIP has been funded. But the places where many families actually receive their healthcare are in more danger than ever, thanks to the complete chaos in the Trump administration and Congress, made worse by those Republicans who hear "community health centers" and assume that has to be something communist, like Mao's Barefoot Doctors.
Go read Sarah Kliff's excellent piece at Vox on what community health centers do (the pics of adorable babbies getting doctor visits are worth it) and what's at stake as the money runs short.
Mick Mulvaney Keeps Gutting Consumer Financial Protection Bureau
Mick Mulvaney keeps swinging his wrecking ball at the Consumer Financial Protection Bureau (CFPB), and here's the latest bit of rubble: Last week, Mulvaney declawed the agency's Fair Lending Office of the ability to actually enforce rules against discriminatory lending. Now, according to a memo Mulvaney sent to CFPB staff, the office will "continue to focus on advocacy, coordination, and education," while its enforcement functions get moved to a different part of CFPB, the Office of Supervision, Enforcement and Fair Lending.
Mulvaney's surface explanation for the change is that it's simply a matter of streamlining: Since CFPB already has one office to enforce consumer financial rules -- or at least, whatever rules remain as Mulvaney slashes them -- why bother giving separate enforcement powers to the Office of Fair Lending and Equal Opportunity, whose mission is to "ensure the fair, equitable, and nondiscriminatory access to credit for both individuals and communities that are enforced by the bureau"? The main enforcement office already has "Fair" in its title, after all. And you know, under almost any other administration, that might sound like a reasonable thing to do -- maybe there really is some overlap and inefficiency? But with Trumpers, skepticism seems the best default, especially since the Dodd-Frank Act, which created the CFPB, specified that the Fair Lending office have enforcement powers. It's almost like that was what Congress intended, huh?
Elizabeth Warren, who helped make CFPB a thing in the first place, isn't buying it, and warns this is one more move to put all enforcement of consumer regulations under Mulvaney's control so he can block actual enforcement. Again, read the whole piece at American Banker and be ready to catch your jaw as it drops.
Oh, in other defanged-CFPB news, the payday loan industry is rewarding Donald Trump for killing off consumer protections by scheduling their annual retreat at Trump National Doral Golf Club just outside Miami. Fun!
But Wait, More Fuckery!
Those are just two of the dozen stories Yglesias called attention to in his (read the whole thing) list of stories that, in more normal times, would probably be getting more attention on cable news and on the twitters. But with everything in a constant state of chaos, they aren't grabbing a lot of eyeballs, and that's a damn shame. Because this shit matters:
In conclusion, everything is awful, but that's no reason not to be paying attention to it, or it might get more awful. Yes, we're the same mommyblog that told you to look at kittens earlier. Don't get all judgy.
Yr Wonkette is supported by reader donations. We need your money so we can boss you around more. NOW CLICK AND GIVE, YOU!
[Vox / American Banker / Vox / Bloomberg Law]