Not Even Bedbugs Booking Trump's Roach Motels During Coronavirus :(
Trump
March 31, 2020 04:07 PM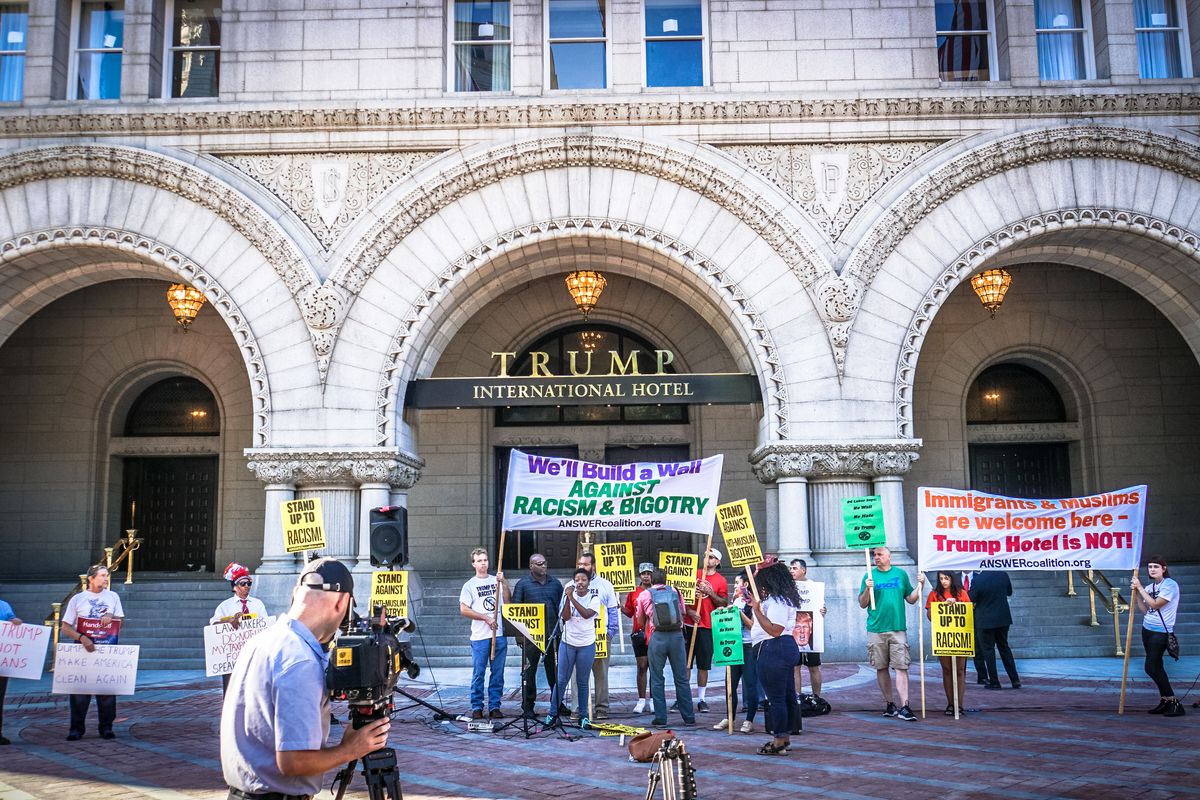 Pour one out for the Trump boys, whose hotels are even tackier and sadder with no one in them. The Washington Post reports that "seven of the Trump Organization's 10 top-grossing properties were closed" as of today, and the remaining three in Chicago, New York, and Washington, DC, were barely hanging on, with their bars and restaurants shuttered. Sadly, that band of misfits trying to dig up Ukraine dirt on Joe Biden has to meet on Zoom now that BLT Prime is closed. Because you know they're still fucking that chicken, somewhere.
The Post says that Trump's Emoluments Inn in DC, leased from your federal government, is at five percent occupancy, and "managers of the hotel have been peppering social media with promises of a comeback and thank you messages to the few guests staying there." The hotel, which has been the subject of many lawsuits because HOLY SHIT, HOW IS IT NOT AN EMOLUMENT FOR THE PRESIDENT TO POCKET MONEY OFF OF LAND LEASED FROM THE FEDERAL GOVERNMENT???, functioned as the Republican center of gravity in DC until this month. GOP insiders mingled nightly at the bar with lobbyists, Sprint executives looking for a favor from the administration conspicuously wandered the lobby in branded polos, the Secret Service was parked upstairs paying top dollar, and everyone from the RNC to Attorney General Bill Barr booked events there, so as to shower Dear Leader with ever more cash.
---
And yet, even before the COVID-19 pandemic, the property had failed to meet expectations. Poor Vanky was netting less that $4 million per year from it — hardly worth getting out of bed for! — so the family decided to put the place on the market last fall. Perhaps, as the marketing material put it, someone "unencumbered" with the Trump name might be able to make a go of it. Maybe some benefactor from Petro-stan would like to curry favor with the Trump administration by taking the place off the family's hands?
Sadly, the bribe sale will have to wait, since coronavirus has collapsed the commercial real estate market, along with everything else.
"We have toured only the most discerning buyers and are proud to be representing such an iconic asset," broker Jeffrey Davis of JLL told the Post, adding that he anticipates "working with the Trump Organization on finding the right fit once the industry is back up and running."
But the postponed sale and industry-wide contraction raises multiple questions about the future of Trump Hotel DC, specifically, and all the Trump properties generally. To wit, what happens if they stop paying the bills? As Jonathan O'Connell, who authored the Post story with David Fahrenthold. points out, Trump's business seems to be headed for a major conflict with the federal government.
Trump Org is a borrower on a number of hotel and golf properties to Deutsche Bank. Those properties are producing n… https://t.co/xTRUjSXv2j

— Jonathan O'Connell (@Jonathan O'Connell) 1585676105.0
In theory, Trump's businesses are disqualified from receiving any funds under the coronavirus stimulus package. So is the federal government going to sue the president's business to evict it from the DC property? Trump's good buddy Treasury Secretary Steven Mnuchin has already shown himself willing to flout black-letter law and refused to hand over president's tax returns. Is there any doubt he'd be willing to make sure the DC lease gets renegotiated on advantageous terms for his boss?
What about Trump's good buddies at Deutsche Bank? Will they call in the notes if Trump's businesses fall behind on their payments, as they have so many times in the past? Will Trump sue, claiming he's been released from his obligations because a pandemic is an "Act of God," as he did after the 2008 real estate bubble burst? And what the hell do we even have an Emoluments Clause for if not to prevent exactly this nightmare scenario?

Remember how they made Jimmy Carter sell his goddamn peanut farm?
[WaPo]
Follow Liz Dye on Twitter RIGHT HERE!

Please click here to support your Wonkette. And if you're ordering your quarantine goods on Amazon, this is the link to do it.
Liz Dye
Liz Dye lives in Baltimore with her wonderful husband and a houseful of teenagers. When she isn't being mad about a thing on the internet, she's hiding in plain sight in the carpool line. She's the one wearing yoga pants glaring at her phone.