Trump Fishing For Terrorists...In Sweden? Wonkagenda, Mon. Feb 20, 2017
News
February 20, 2017 09:28 AM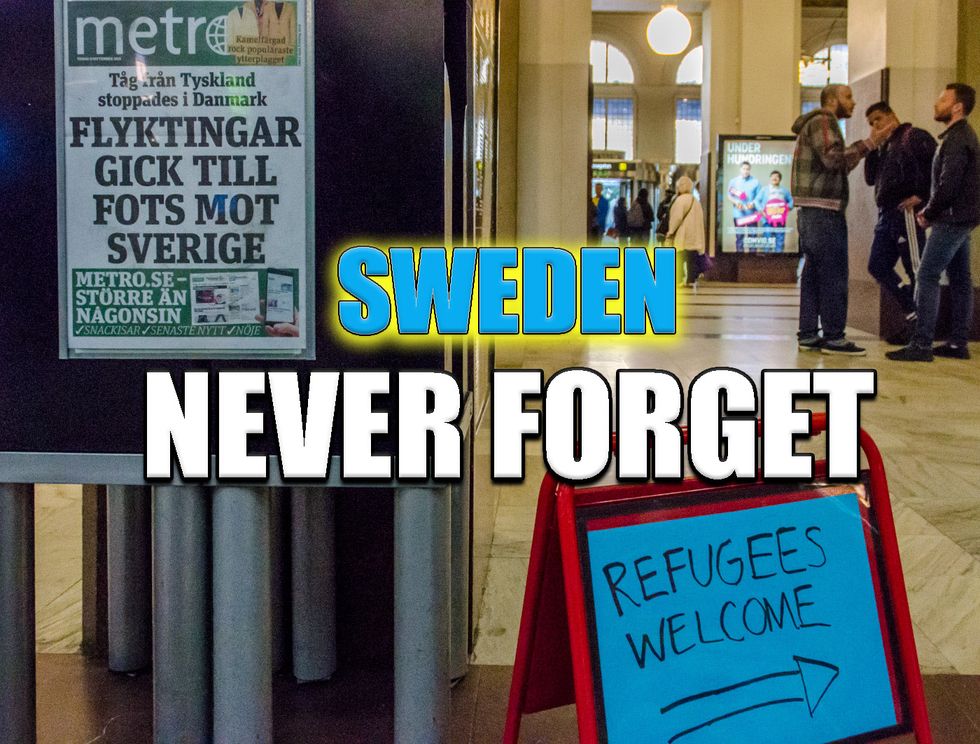 ---

Trump asked us all to #NevarFerget a sad-emoji thing that happened in Sweden this weekend, just like Bowling Green, after they let in spooky war refugees into their godless country. This would NEVER happen in a Christian nation!
Trump's trying to create a new Muslim bantravel restriction on religious and ethnic minorities from Muslim majority countries and a leaked draft of the order says it's like Muslim ban lite, but still has that same bitter taste you love!
The Senate Intelligence Committee is asking a bunch of agencies and businesses not to delete, burn or shred the paper trail relating to Russian hacking during the election. Oh, now they tell us!
Trump's lawyer, (that "Says Who" guy) Michael Cohen, met Russian lovin' Ukrainians and a Trumpkin Russian business magnate to discuss easing Russian sanctions in exchange for Russia pulling out of Crimea, and then gave the plan to Mike Flynn. HOWEVER, Cohen now says the dog ate his homework.
Paul Manafort would like to remind you that he is NOT helping Donald Trump, or any other politician, foreign or domestic, because he's pursuing business deals with a Trumpkin business person to do businessman stuff. Nothing nefarious here, just two regular business guys businessing for a business. [Archive]
John McCain and Lindsey Graham went on teevee this weekend. McCain went all Mavericky on Chuck Todd, and said he hates Meet the Press, but he still needs them to keep it (his poll numbers) up. Graham went on teevee to give the free press a freebie reach around.
Lindsey Graham was in Munich with Chris Murphy and Jeanne Shaheen to warn Not America how much of a "pain in the ass" Russia is during elections.
Wall Street fat cats and government nerds are nervous Trump's fake news B.S. may evolve into fake facts so that the U.S. economy looks like it is always doing bigly gooder after the administration tinkers with data.
Donald Trump "You're Fired" an NSC adviser after he publicly displayed a lack of loyalty to The Don during a thinky-talk in D.C.
All sorts of crazies, like John Bolton, are jockeying to fill the bleak, black sucking void that Mike Flynn left behind. [Archive]
Poor Betsy DeVos has had a tough week because people throughout the public school system and Department of Education are "being sponsored" and "very carefully" planning on how to make her life hell.
Unofficial Shadow President #12 Mike Pence met with E.U. & NATO leaders in Brussels to "deepen our relationship" in Europe now that Putin has instructed Trump to say that everybody in Europe should do a Brexit.
Defense Secretary Jim Mattis is in Baghdad reminding the U.S.'s failed oil colony that we're not trying to steal all the oil in Iraq because we're actually trying to drink ALL the oil milkshakes in the Middle East.
People all over Not America are buying LOTS of guns because their armies are too old and shitty to play in World War III.
British MP's will debate whether or not Donald Trump can come across the pond today after 1.85 million people signed a petition to bar President Pussgrabber, preemptively killing any presidential complaints about Piccadilly Circus's lack of animals and clowns.
People who live near Mar-a-Lago are PISSED at Trump because Donald Trump is winning so much that he's choking the local economy. Support the Mar-a-Lagan Liberation Front!
#TheResistance has been getting crafty on the Internet in their outreach initiatives, even though Facebook looms large overhead like a mindless robot.
This weekend on late night teevee, Colbert apologized on behalf of all the Stephens for Stephen Miller, Mnuchin, and President Bannon being dicks. On Bill Maher, Malcolm Nance and Larry Wilmore told some obnoxious alt-right dickhole to "Fuck Off" for being a hypocritical attention whore, and John Oliver 'splainered about Vladimir Putin's Rasputin-like control over gullible Russians , and then broke down why that stupid Trump Sweden thing sucked the oxygen out of other more important news stories.
And here's your morning nice time: OCELOT KITTENS!
Dominic Gwinn
Dominic is a broke journalist in Chicago. You can find him in a dirty bar talking to weirdos, or in a gutter taking photos.