Trump Gives Don McGahn The Send-off He Deserves
popular
November 01, 2018 12:10 PM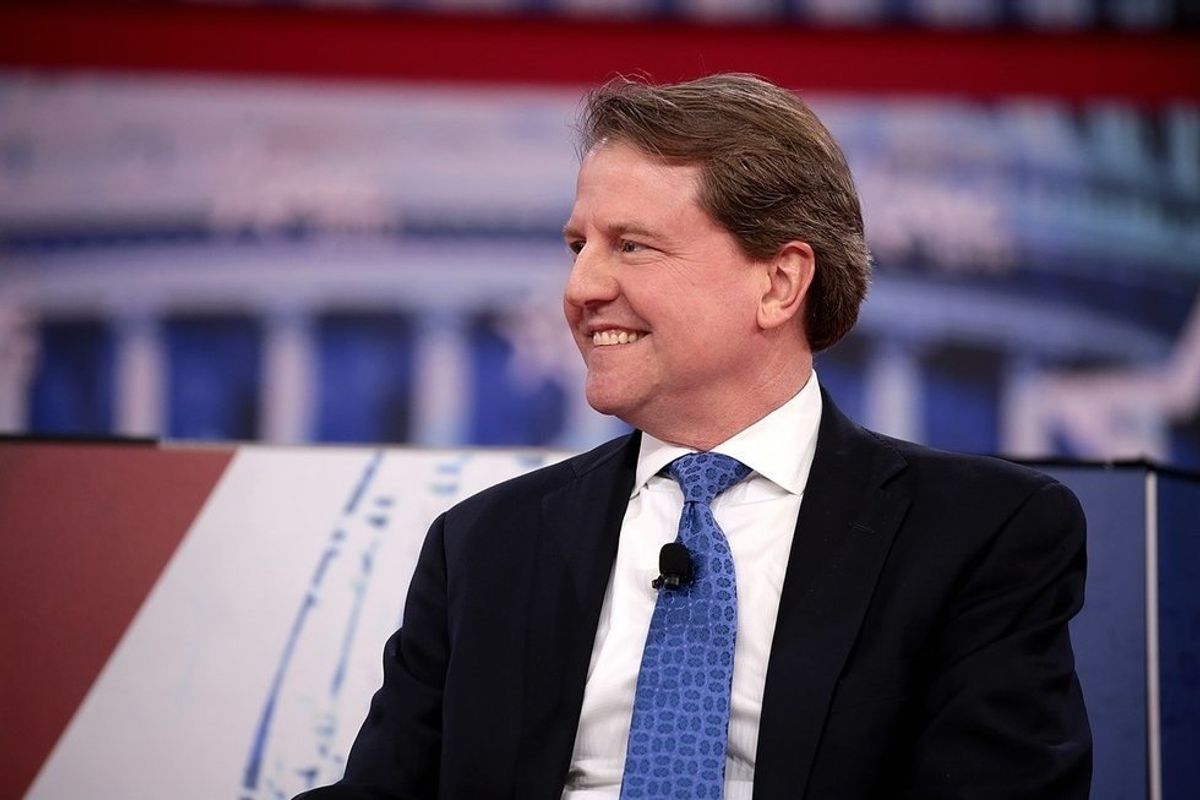 upload.wikimedia.org
Lie down with dogs, wake up with fleas. And we sincerely hope that wherever Don McGahn is, he's itchy all over. CNN reports this morning that, on his way out the door, the former White House counsel enjoyed one last performance review with That Orange Idiot.
In a face-to-face Oval Office meeting, the President groused to McGahn about Mueller's appointment made on McGahn's watch as White House counsel, and the cloud the investigation has continued to cast over the presidency, the people familiar with the conversation said.

Sources say while the President was fixated on Mueller, he also gave McGahn high marks for other matters during his time as the top White House lawyer, as CNN previously reported.
So, like a Gentleman's C. Because McGahn did the assignments, but his class participation was lousy. It says right there in the syllabus, dude, "Aggressively shield the president from all civil and criminal investigations, by means both legal and illegal." Would Roy Cohn have sat down with Robert Mueller for 30 hours and spilled his guts?Not a chance!
---
This wasn't the first time McGahn found himself in Trump's crosshairs. The two butted heads at the start of the administration as Attorney General Jeff Sessions faced pressure to recuse himself from the Russia investigation. Trump enlisted McGahn to urge Sessions not to take that step — which he eventually did anyway. Trump remains furious at his attorney general for the recusal.

Later, Trump ordered McGahn to fire Mueller, an entreaty the White House counsel refused to carry out. Instead, McGahn threatened to resign.
Must have been a fun chat with McGahn splaining to the Special Counsel how it's totally cool for one officer of the court to encourage another to violate his department's own ethical dictates to shield their boss from a corruption investigation. Can't wait to see the recap when Adam Schiff takes the gavel at HPSCI in January!
Now, in a normal administration, the White House counsel would stay on until his replacement had passed the background check and was cleared to take the reins. But when Trump heard McGahn was planning to resign, he immediately took to Twitter to You're Fired him. Because he's a disgusting fleabag. Which McGahn knew damn well when he took the job!
"Typically you would have the incumbent stay until the successor was ready to take his place. But in this case, McGahn was tired of the President and the President was tired of McGahn." The source added while the departure was "positive," both men recognized it was time for McGahn to go. "He didn't want to stay on and the President didn't want him to stay."
So Emmet Flood, who reportedly agreed to be Trump's in-house Russia lawyer as a stepping stone to the White House counsel position and then got passed over for the job, gets to keep Cipollone's chair warm until his background check comes through. Because humiliating the staff is pretty much Trump's calling card. This will no doubt improve morale at the White House Counsel's office, which was already operating on a skeleton crew. It's a well-oiled machine!
Cue up the world's two tiniest violins, for a pair of Washington lawyers who set their reputations -- and probably their kids' college funds -- on fire for a man who doesn't give a shit about anyone but himself. Maybe you can get a bulk discount on your legal fees, since you're about to be starring in several congressional investigations. Scratch, scratch!
[CNN]
Follow your FDF on Twitter!

Please click here to fund us. Maybe we can buy an iota of sympathy for these people. But probably not.
Liz Dye
Liz Dye lives in Baltimore with her wonderful husband and a houseful of teenagers. When she isn't being mad about a thing on the internet, she's hiding in plain sight in the carpool line. She's the one wearing yoga pants glaring at her phone.