Did You Send Trump A Thank You Note For Your Trump Food Box From Donald Trump?
2020 presidential election
October 01, 2020 11:01 AM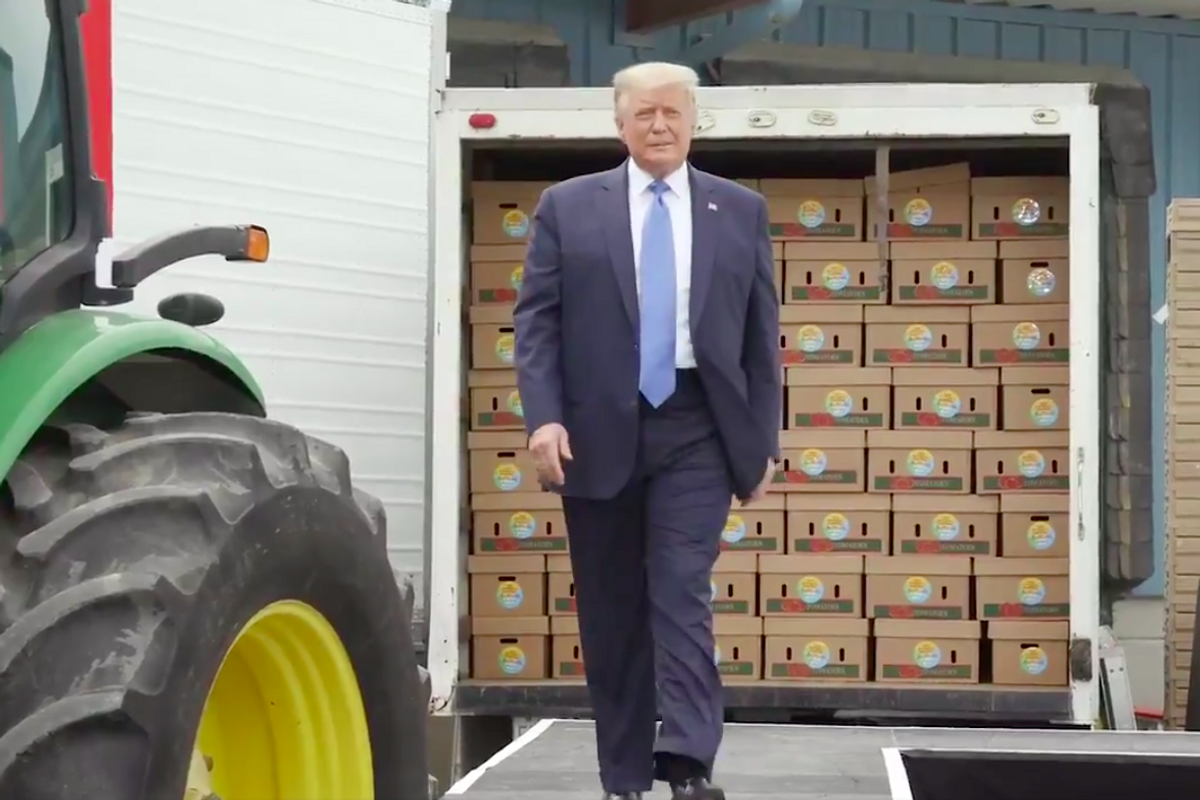 Hosanna! Let us all give thanks unto the Dear Leader, source of all blessings.
Or so the Department of Agriculture would have us believe. Politico reports this morning that the USDA is now requiring all federally funded food boxes to contain a personal letter from Donald Trump extolling his own beneficence.
"Dear Family," begins the note, which appears on White House letterhead in both English and Spanish, and goes on to assure recipients that "As President, safeguarding the health and wellbeing of our citizens is one of my highest priorities," and that "You and your loved ones are cherished members of our great American family."
Subtle.
---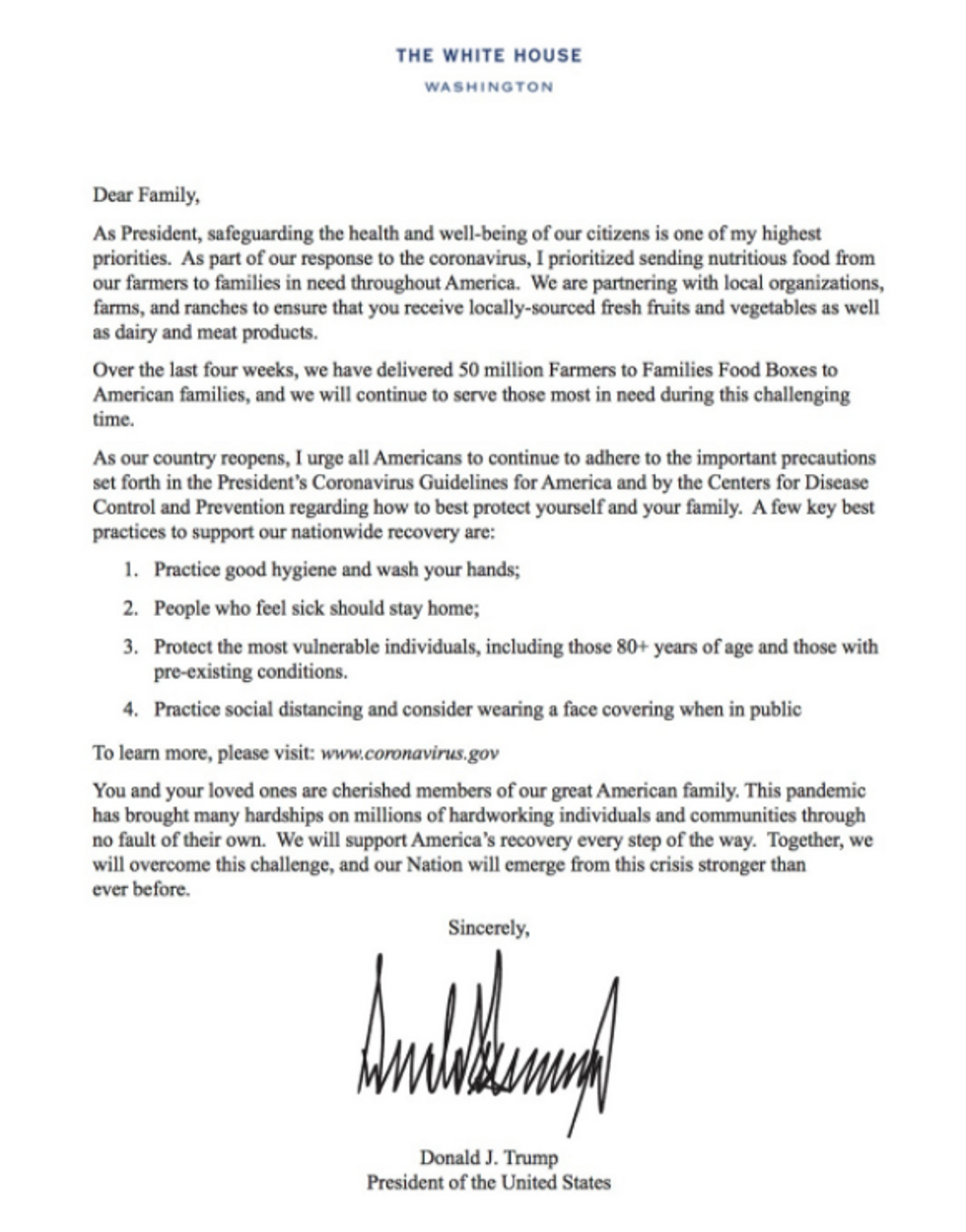 Image via Politico
What else can you expect from a guy who used the White House to host the RNC, insisted that coronavirus aid checks go out with his name on them, is currently raiding Medicare to send out $200 bribes to every senior citizen in the runup to the election, and just raided $300 million from CDC coronavirus funds to shoot a series of ads praising his own coronavirus response?
And still ... WTF????
According to Fox, it was Princess Goya von Hatch Act who first came up with the idea to use the USDA's Farmers to Families food box program to remind Americans who butters their bread, literally. But as of this week, after congressional Democrats sent a letter to Agriculture Secretary Sonny Perdue complaining that the letter violates the Hatch Act's ban on using government resources for a political campaign, inclusion of that reminder is now mandatory. Read that one as a giant middle finger, 'cuz it is.
And here's the White House going the full Slim Shady with a video of Uncle Don and his daughter touring the food bank. Stalin would be proud! But watch it quick since the White House already pulled the video off its Twitter feed this morning when the story dropped, so it'll probably occur to those comms savants to yank it from YouTube eventually.
President Trump visits the Farmers to Families food box program in North Carolinawww.youtube.com
"This is supposed to be about helping hungry people," House Agriculture Subcommittee on Nutrition Chair Marcia Fudge told Politico. "It is one of the worst things I've seen in a long time."

In response, the USDA raced to hide behind the one member of the administration with any credibility.
"In addition to benefiting from fresh produce, dairy and meat products, Americans in need also are receiving essential information about how to protect themselves and others from COVID-19. These measures include avoiding crowds, maintaining physical distance (6 feet), covering your mouth and nose with a cloth face cover when around others, and washing your hands often," the USDA said in a statement the agency attributed to Dr. Anthony Fauci.
Astute observers will note that the letter merely invites readers to "consider" wearing a mask, here renamed a "face covering" so as not to offend the people Trump has convinced masks are tyranny. But in any case, food banks are still leery of appearing to endorse a candidate this close to the election. Some reported consulting their own lawyers to avoid running afoul of election law, and one in Oregon dropped out of the program altogether.
In summary and in conclusion, vote this pack of disgusting grifters out. Thanks, and God bless.
[Politico]
Follow Liz Dye on Twitter RIGHT HERE!

Please click here to support your Wonkette. And if you're ordering your quarantine goods on Amazon, this is the link to do it.
Liz Dye
Liz Dye lives in Baltimore with her wonderful husband and a houseful of teenagers. When she isn't being mad about a thing on the internet, she's hiding in plain sight in the carpool line. She's the one wearing yoga pants glaring at her phone.