Trump Lawyers Deny Sticking Russian Spy Shoe Phone Straight Up Jared Kushner's Ass
Russia
September 13, 2017 11:49 AM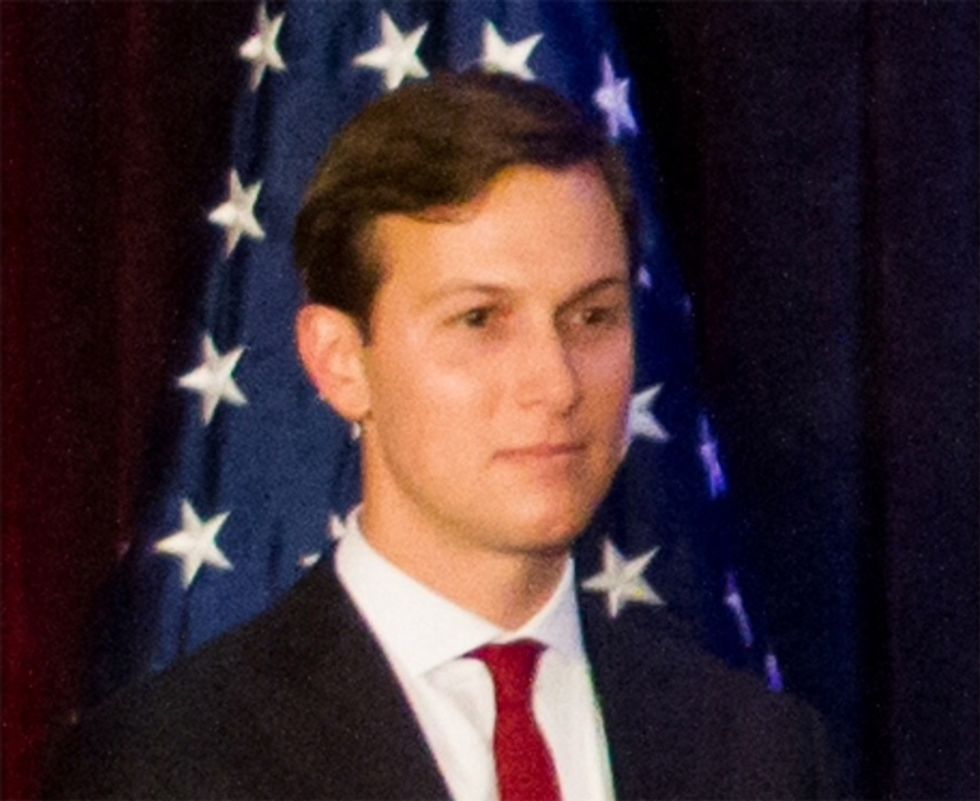 If this were one of the Godfather movies, Jared Kushner would long ago have been garroted by Keith Schiller in a black Escalade parked outside Trump's golf club in Bedminster, NJ.
---
"You have to answer for Sergei," Trump would tell him. "And Vnesheconombank, too." Then Jared would realize his fate was sealed. Maybe he'd cling to a shred of hope as he climbed up into the big car, but deep down he'd know. You can never cross The Family and survive.
But this isn't The Godfather. Instead of Don Corleone, we have Donald Trump in a White House filled top to bottom with Fredos. They're all intemperate fuck ups who can't be trusted to run a simple numbers game without knocking up half the waitresses. Which is why Jared Kushner, who poses an obvious and growing threat to the Trump administration, remains the president's most trusted adviser.
On Monday, the Wall Street Journal peeled back another layer of the reeking onion to reveal that Donald Trump's own lawyers told him in June that Kushner had to go. Because it's really fucking stupid to keep a guy in the White House who had multiple contacts with Russian government and financial figures that he "forgot" to disclose on his security clearance forms, eighty-five times. (Or like at least three.) Especially when scary special counsel Robert Mueller and his legal team that never loses are deep in your shit over those same Russian connections.
By June, when the lawyers told the president of their concerns, federal investigators had begun examining a meeting during the transition that included Mr. Kushner and the Russian ambassador to the U.S., and another one that he held with the head of a Russian-run bank that has faced U.S. sanctions.

Trump attorneys were also aware of a meeting that hadn't yet been made public: one at Trump Tower in June 2016 that involved a Russian lawyer with ties to the Kremlin, Mr. Kushner and the president's eldest son, Donald Trump Jr., according to people familiar with the matter.
Hold up! Did they say JUNE? Trump's lawyers told him in June that Kushner and DJ were in deep shit because they'd had that meeting with all the Russians at Trump Tower to discuss bouncy Russian babies, OR financial sanctions against Putin and his merry band of thieving oligarchs, OR compromising information on Hillary Clinton stolen by Russian hackers depending on how hard you're squeezing Don Jr.'s nuts when you ask him about it?
UHHHHH.....
So Donald Trump was telling a big fat fucking lie on July 8 when he drafted Don Jr.'s statement that the June 2016 meeting at Trump Tower had been entirely unrelated to the campaign? And even if DJ didn't tell his father about the meeting at the time (HAHAHA), the president knew exactly how bad it was in June, weeks before he lied about it to the press?
After some members of the legal team aired their concerns to Mr. Trump in June, including in at least one meeting in the White House, press aides to the legal team began to prepare for the possibility that Mr. Kushner would step down, drafting a statement explaining his departure, said people familiar with the matter. [...]

Anticipating that the meeting would become public, members of the legal team in June already had developed talking points to manage the political fallout—including a statement that would explain a potential Kushner resignation. The statement on behalf of Mr. Kushner expressed regret that the political environment had become so toxic that what he viewed as a standard meeting was becoming a weapon for Mr. Trump's critics, according to two people familiar with the documents.
OKAY, THEN!
All the lawyers in Trumpworld are now in crazy spin mode. The WSJ article has three different versions of the story of what Donald Trump knew about Kushner's Russia problem and when he knew it.
Version 1: He Never Knew!
Crazy Mark Kasowitz insists that no one ever suggested that Kushner had to go. Perish the thought! Any minimally competent attorney would have flagged Kushner's legal conflict as a major problem, but Kasowitz will pinky swear it never came up.
I never discussed with other lawyers for the President that Jared Kushner should step down from his position at the White House, I never recommended to the President that Mr. Kushner should step down from that position and I am not aware that any other lawyers for the President made any such recommendation either.
No wonder he got pushed out in June. But Sarah Huckabee Sanders appreciates his service, because it made it easier for her to get up and lie about it in the White House press briefing yesterday.
No conversation that I'm aware of. And certainly no presentation, as both the president's attorneys have gone on record to say.
That's a pretty careful parsing, Sarah! You don't personally know about any conversation, and if there was one, then it didn't rise to the level of a presentation. Right!
Version 2: The Lawyers Talked About It, But No One Ever Told The Old Man!
John Dowd, who took over as Trump's lead attorney for the Russia investigation after Marc Kasowitz's shortcomings hit the papers, insists that no one ever mentioned to Trump that his son-in-law's Russian entanglements might pose a problem.
John Dowd, who first joined the legal team in June and now heads it, said in an interview Monday that "to my knowledge" the proposal wasn't taken to Mr. Trump. Mr. Dowd also said he did not side with some of his colleagues who believed Mr. Kushner needed to go.

"I didn't agree with that view at all. I thought it was absurd," Mr. Dowd said. "I made my views known." He called Mr. Kushner "absolutely terrific" and "a great asset, real gentleman, a pleasure to work with."
Kush is just such a prince, they'll never be able to solve the Middle Eastern-Drug-China-Tech crisis without him. Unpossible!
Version 3: Trump Knew The Whole Time!
The WSJ cites multiple, unnamed sources who verify that Trump's legal team did, too tell him that Kush had to go after Robert Mueller was appointed Special Counsel in May.
Some of President Donald Trump's lawyers earlier this summer concluded that Jared Kushner should step down as senior White House adviser because of possible legal complications related to a probe of Russia's involvement in the 2016 presidential election and aired concerns about him to the president, people familiar with the matter said.
Kushner's ongoing presence in the White House poses an obvious danger to everyone around him. If Mueller has reason to suspect that Kushner discussed the Russia probe, he can subpoena all parties to the conversation.
If, for example, Mr. Kushner mentioned the probe—even casually in a meeting—aides who heard his remarks could face inquiries from Mr. Mueller's agents. Some lawyers were also concerned that Mr. Kushner might discuss the probe with the president without a lawyer present.
And once a person is in front of the grand jury, there is no controlling what Mueller will ask him. Which is why Kushner should have been walled off from the President from Day 1!
So, Why Doesn't Trump Just You're Fired Him?
GOOD QUESTION. Why the hell is Jared still employed at the White House? It's downright bizarre, if you think about it. Everyone else in Trumpland is Trump's Guy. They're all toadies like Michael Cohen and Omarosa. Or family like Ivanka and her moron brothers. Even Gary Cohn is Trump's Guy because he needs Trump to get the stupid tax cut through. Cohn and Mnuchin put all their chips on That Idiot -- if he goes down, they get nothing.
But Jared is different. Jared is desperate to save his family business, which is on the hook for a billion dollars after he steered them into high-end commercial real estate just before the bottom dropped out of the market. He's the only one with divided loyalties, so in a very real sense, he's not Trump's Guy. Which made him an easy mark for the Russian oligarchs.
Irony of ironies, Donald Trump screwed everybody that ever worked with him, but he can't You're Fired the one person who can take down his whole administration. It would be tragic if the Old Man didn't deserve every bit of what's coming.
We see you, Boychik! And so does Robert Mueller.
Click here to fund our salaries! Don't make us go back to those gross ads like a common Brietbart!
Liz Dye
Liz Dye lives in Baltimore with her wonderful husband and a houseful of teenagers. When she isn't being mad about a thing on the internet, she's hiding in plain sight in the carpool line. She's the one wearing yoga pants glaring at her phone.