Trump-Loving Terrorist Cesar Sayoc Set To Make Prison Great Again
Trump
March 22, 2019 10:01 AM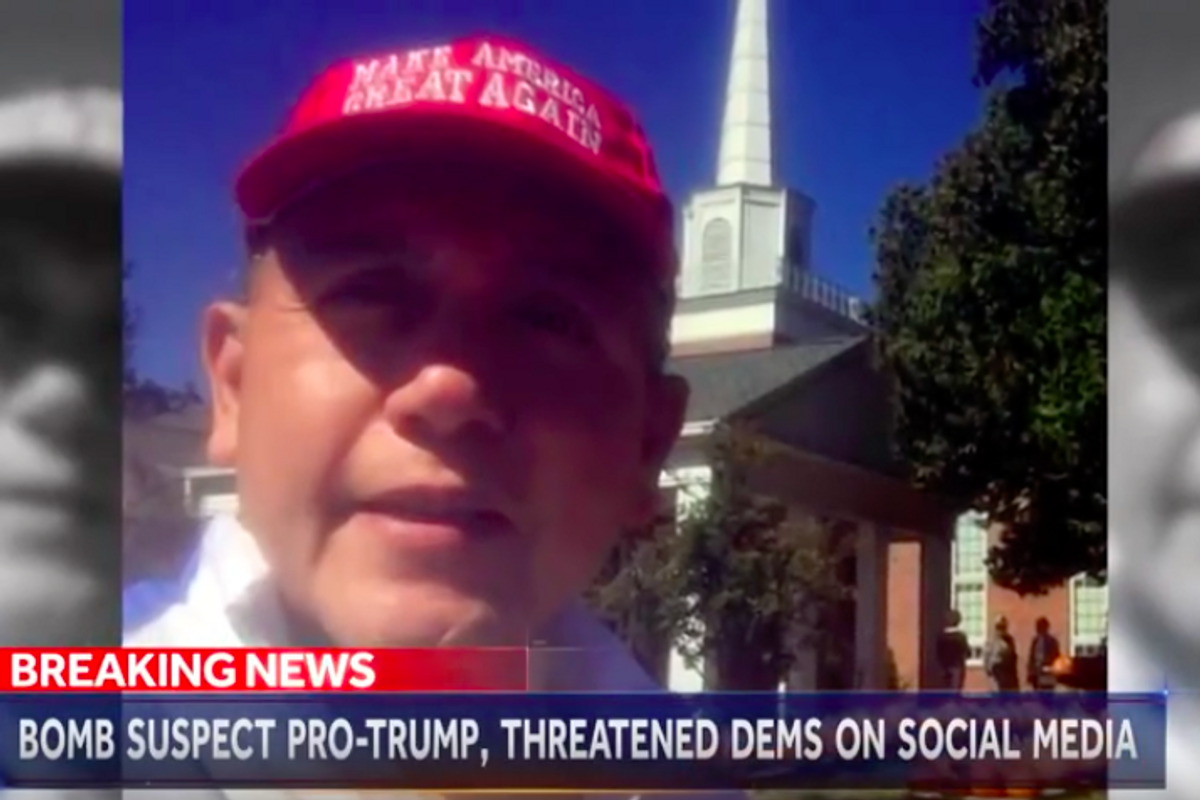 Dirtbag domestic terrorist Cesar A. Sayoc Jr. pleaded guilty Thursday to sending homemade pipebombs to prominent Democrats, including Barack Obama, Hillary Clinton, Joe Biden, Maxine Waters, George Soros, and Robert De Niro. He shed some crocodile tears and probably a few real ones because he's expected to spend the rest of his life in prison for the fortunately unsuccessful attacks.
Mr. Sayoc, 57, paused his explanation and broke into sobs, finally collecting himself and speaking softly just before he pleaded guilty to the attack. "I know these actions were wrong, and I'm extremely sorry," he said.
That's a rather weak sauce apology for trying to blow up dozens of people. Sayoc didn't flush paper towels down someone's toilet, causing it to overflow. He "painstakingly assembled" the bombs and stuffed them with "powder from fireworks, fertilizer, a pool chemical and glass fragments." Sayoc also, for reasons only a "Criminal Minds" unsub could understand, placed a photo in each package of the intended murder victim with a red X marked over the face. This is terrifying, which is probably why they call him a "terrorist."
---
The media tends to describe Sayoc's targets as "critics of Donald Trump," as if they're just people who didn't like his movies. He's the president not M. Night Shyamalan. Sayoc tried to assassinate a former president, vice president, first lady, and several sitting members of Congress. Sure, they've all "criticized" Trump because they have eyes and ears and common sense. But let's not enable Trump's massive ego and define these people solely by their opposition to the White House squatter.
"In alphabetical order, SAYOC's intended victims were former Vice President Joseph Biden, Senator Cory Booker, former CIA Director John Brennan, former Director of National Intelligence James Clapper, former Secretary of State Hillary Clinton, CNN, Robert De Niro, Senator Kamala Harris, former Attorney General Eric Holder, former President Barack Obama, George Soros, Thomas Steyer, and Representative Maxine Waters. Between October 22 and November 2, 2018, the FBI and the U.S. Postal Service recovered all of the 16 IEDs mailed by SAYOC."
The former Florida resident was a registered Republican and almost as big a fan of Trump as Trump himself. Prior to his arrest, he was living in a van, as all psychotics are required to do under Florida law. He'd decked it out with pro-Trump stickers that derided liberals and the media. There was even some gruesome art of Trump standing on a tank holding a rifle as fireworks exploded behind him and the American flag tried desperately to not get involved. Sayoc also had pinups from all of Trump's appearances in Tiger Beat magazine.
Trump has taken no responsibility for his inflammatory, divisive rhetoric that might've definitely inspired Sayoc to take out everyone Trump dislikes. We're only fortunate that like so many of Trump's loyal followers, Sayoc is a complete moron who could never do anything right in his life, including the attempted murders.

Records from Mr. Sayoc's phone and laptop showed he had conducted internet research on several of his targets, searching for such phrases as "hilary Clinton hime address," "address for barack Obama," and "john brennan wife and kids."
Right-wing troll media didn't believe in him before he was busted. For weeks, while decent people were scared for their lives, conservative cranks claimed it was a "false flag" operation or a liberal plot to smear Trump and suppress the Republican vote for the upcoming midterm elections. They never apologized and never will.

It's expected that Judge Jed S. Rakoff of Federal District Court will sentence Sayoc for his 65 felonies on Sept. 12. He can cry us a river and then go fuck himself in it.

[New York Times / NPR ]
Follow Stephen Robinson on Twitter.
Yr Wonkette is supported by reader donations. Please send us money to keep the writers paid and the servers humming. Thank you, we love you.
Stephen Robinson
Stephen Robinson is a writer and social kibbitzer based in Portland, Oregon. He writes make believe for Cafe Nordo, an immersive theatre space in Seattle. Once, he wrote a novel called "Mahogany Slade," which you should read or at least buy. He's also on the board of the Portland Playhouse theatre. His son describes him as a "play typer guy."