Trump Org CFO Allen Weisselberg Cooling It At Rikers While Trump Blarps Around His Trash Motel Lanai
Legal
March 31, 2023 01:45 PM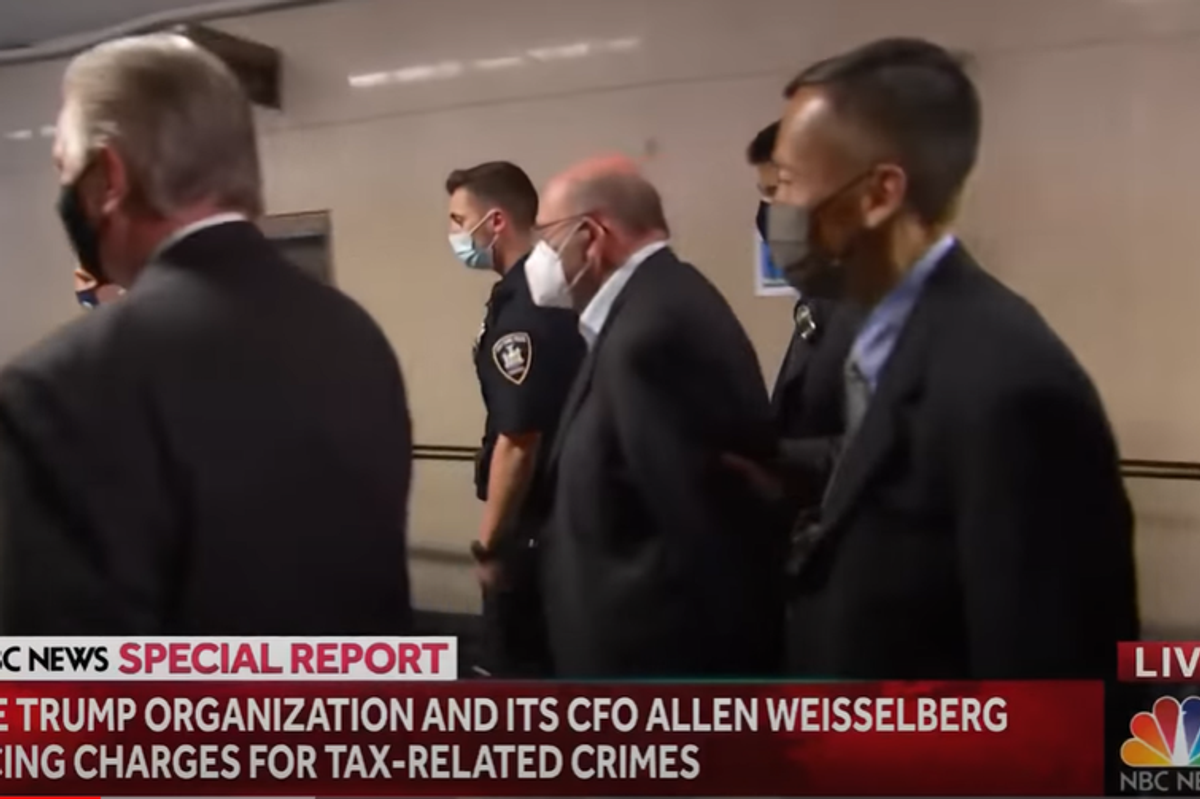 Donald Trump had a bad night, but presumably not as bad as his former CFO Allen Weisselberg. That's because Weisselberg is currently a guest of the state of New York at the infamous jail on Rikers Island, a place not fit for human habitation, while Trump got to hang out on the lanai at Mar-a-Lago getting his ass kissed by a gaggle of sycophants.
Manhattan District Attorney Alvin Bragg had Weisselberg dead to rights on years and years of tax fraud, but let him take a plea deal that involved just 100 days in custody. Infuriatingly, Weisselberg was not required to flip on Trump, and he was more or less useless as a witness "for" the prosecution. Essentially, he and his former colleagues testified that Weisselberg masterminded a scheme to divert hundreds of thousands of pre-tax dollars from his salary, stiffing Uncle Sam and the state of New York, without the knowledge of anyone else in the company. Sure, Trump's signature was on the tuition checks for Weisselberg's grandkids, but he had no idea — or so they told the jury.
Weisselberg is back in the news this week because of reporting by the Daily Beast's Jose Pagliery, who absolutely owns the Trump New York legal beat. He says that Bragg is putting the screws to the accountant about false financial statements he submitted to an insurance company on behalf of the Trump Organization. Flipping Weisselberg, who can likely corroborate former Trump fixer Michael Cohen's claims that Trump knew about the hush money payment to Stormy Daniels, would be a godsend for prosecutors in the case against Trump. So it's unfortunate that Bragg blinked so hard in their last go round.
---
In the meantime, the Trump family, which was paying criminal lawyer Nicholas Gravante to represent Weisselberg, just fired him, and replaced him with former prosecutor Seth Rosenberg, as reported by the Daily Beast and later confirmed by the New York Times.
From DB:
According to a source familiar with the dispute, Trump associates were bitter about Gravante's decision to have Weisselberg meet with Manhattan prosecutors to prepare his testimony for that trial, a move they saw as being too friendly with law enforcement. This source added that Trump Organization lawyers were bothered by that arrangement and convinced Eric Trump—the Trump son who is now the executive vice president of the Trump Organization—to cut Weisselberg's lawyer loose. The other two sources who confirmed Gravante's departure from the case also said he was not viewed as a Trump ally.
And the Times:
In essence, Mr. Weisselberg, who prepared for his testimony with both the prosecution and the defense, needed to serve two masters.

One, the Trump Organization, was upset. His testimony proved damning for the company, which was convicted in December.

Mr. Weisselberg's decision to meet with the prosecutors ignited a battle between the company and his lawyer, Nicholas A. Gravante Jr., according to people with knowledge of the matter. Some people in Mr. Trump's circle questioned whether Mr. Gravante, who had secured the plea deal that spared Mr. Weisselberg a lengthy prison sentence, was too cooperative.
From a legal perspective, it's entirely appropriate for a company to pay for an employee's attorney. And, yes, there is an inherent tension in a lawyer being paid by a party whose interests may not align directly with that of her actual client. That's normal. What's not normal is the company's own lawyers blabbing to reporters that they fired the attorney for representing the employee's interests instead of the company's. That's, uhh, MOB SHIT, which is why Trump's lawyer Susan Necheles made sure to deny it in public.
"Nick made sure that Weisselberg cooperated with both the defense and the prosecution and Weisselberg's testimony at trial was extremely helpful to the defense and hurt the prosecution," she told DB. "Mr. Weisselberg's decision to change lawyers was entirely his own, a decision which I understand Mr. Weisselberg made in consultation with his family after the conclusion of the trial."
And then she crossed her fingers, knocked wood, and made a plea to the heavens that her idiot client wouldn't burp out an admission about Gravante on social media. Luckily, he was too busy shit talking the judge to bother.
The Judge "assigned" to my Witch Hunt Case, a "Case" that has NEVER BEEN CHARGED BEFORE, HATES ME. His name is Juan Manuel Marchan, was hand picked by Bragg & the Prosecutors, & is the same person who "railroaded" my 75 year old former CFO, Allen Weisselberg, to take a "plea" deal (Plead GUILTY, even if you are not, 90 DAYS, fight us in Court, 10 years (life!) in jail. He strong armed Allen, which a judge is not allowed to do, & treated my companies, which didn't "plead," VICIOUSLY. APPEALING!
Yep, just tweet burp through it, Poppy, you're doing great.
[Daily Beast / NYT]

Catch Liz Dye on Opening Arguments podcast.

Click the widget to keep your Wonkette ad-free and feisty. And if you're ordering from Amazon, use this link, because reasons.
Liz Dye
Liz Dye lives in Baltimore with her wonderful husband and a houseful of teenagers. When she isn't being mad about a thing on the internet, she's hiding in plain sight in the carpool line. She's the one wearing yoga pants glaring at her phone.