All These Russian Dudes Who Were At Trump's 'Nauguration, For The Supreme Court!
Russia
June 28, 2018 03:20 PM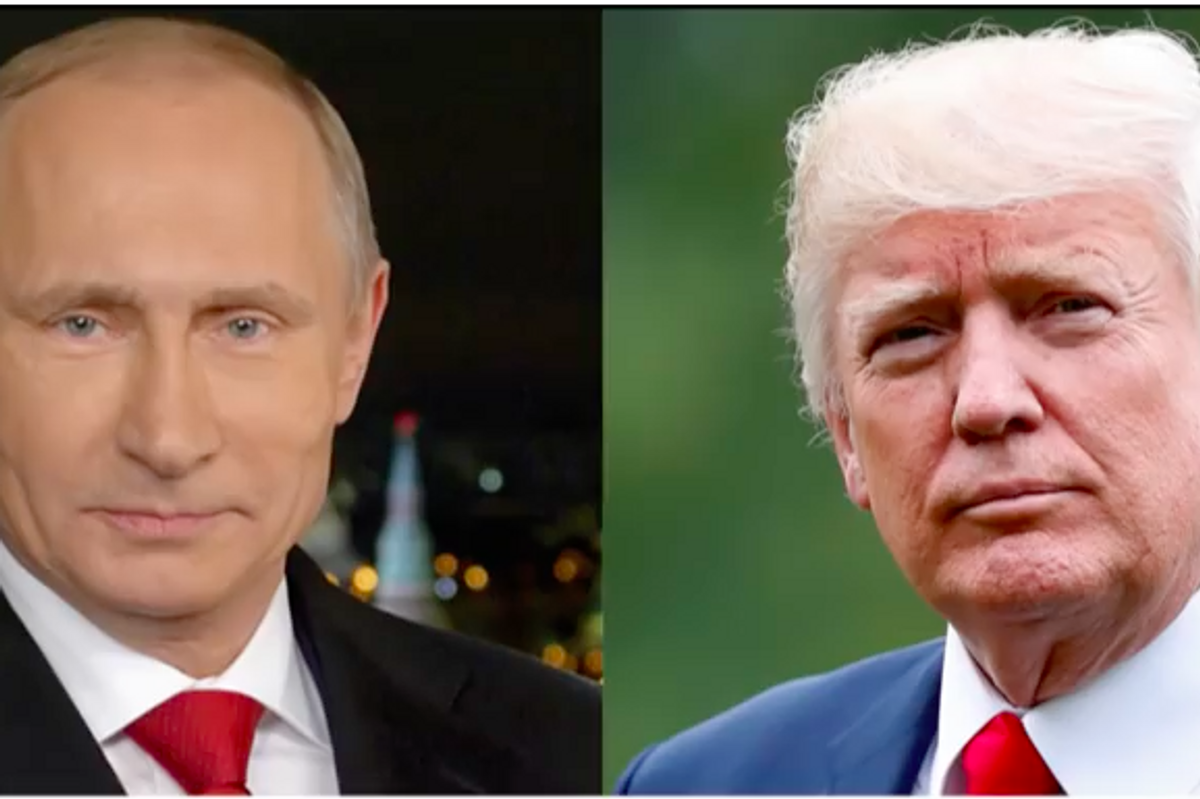 Donald Trump is all set to nominate a replacement for Justice Kennedy on the Supreme Court just four months before midterm elections. Barack Obama was stymied in his efforts to replace Justice Scalia a full nine months before the Russian-subtitled elections in 2016, and as Education Secretary Betsy DeVos would tell you after consulting someone nearby, nine is greater than four. Unfortunately, there was always a cloud of illegitimacy over Obama's presidency because of his inexplicable blackness, which was the subject of never-ending and totally rational discussions on FOX News.
There's no question of Trump's legitimacy: He lost the popular vote, which is just how Republican presidents roll. He didn't even need the Supreme Court. There's been some talk about his campaign possibly colluding with a hostile foreign power to win the Electoral College, but Trump has cleared all that up.
Russia continues to say they had nothing to do with Meddling in our Election! Where is the DNC Server, and why didn… https://t.co/aKI3hu6wef

— Donald J. Trump (@Donald J. Trump) 1530185115.0
---
See? Russia swears it had nothing to do with any sort of attack on the integrity of our nation's elections! Honestly, Vladimir Putin is as patient as the next guy, but he's getting tired of explaining this every morning before giving Trump his daily instructions. Now, can we all just leave the sort-of president alone and let him pick another predictably right-wing horror show? The Supreme Court has a lot of important upcoming cases to consider, comprising a diverse range of topics such as "Can a sitting president be subpoenaed?" or "Can a subpoenaed president who perjured himself be indicted?" or the purely academic "Can an indicted president pardon himself?"
Despite our Manchurian President's reassurances, Robert Mueller is continuing his investigation into Russian interference in the 2016 presidential election. Weird how even in the booming Trump economy, Mueller won't give up his safe government job. The special counsel now has his eyes on the guest list for the receptions after Trump's 2017 inauguration, which was attended by at least a trillion more people than showed up for Obama's tacky hip-hop barbecue block party in 2009.

Several billionaires with deep ties to Russia attended exclusive, invitation-only receptions during Donald Trump's inauguration festivities, guest lists obtained by ABC News show.

These powerful businessmen, who amassed their fortunes following the collapse of the Soviet Union -- including one who has since been sanctioned by the U.S. Treasury Department -- were ushered into events typically reserved for top donors and close political allies and were given unprecedented access to Trump's inner circle.
Yep, just a few hours after Trump spoke with such passion about the "forgotten man" he'd later party with the type of men that Jeff Sessions always forgets.
Matthew Olsen, a former senior national security official who now serves as an ABC News consultant, said their presence at inaugural events is "very concerning."

"This reflects a Russian strategy of gaining access to our political leaders at a time when they are just forming a government," Olsen said. "They don't need to be spies in the James Bond sense. They are powerful people with significant wealth who are in a position to exert influence on U.S. policy makers. And they're in a position to report back to Russian intelligence services on what they're able to learn."
I'd love to have heard that first report to Russian intelligence. I bet it was something like, "Yeah, they actually went through with it! Those American idiots and their concern for 'peaceful transfer' of power even if the incoming leader of the Western world is a decadent buffoon. No, I didn't have the chocolate soufflé. It looked too rich for me."
Several donated enough to the Presidential Inaugural Committee to qualify for tickets to a "Candlelight Dinner" in Washington's Union Station on the eve of the inauguration, a perk for $1 million contributors, the list of attendees show. Guests were treated to a preview performance by singer Jackie Evancho, a one-time runner-up on "America's Got Talent," who would go on to sing at the inauguration the following day.
A cool million gets you a show from an "America's Got Talent" ... runner-up? I guess if you're only coming for espionage purposes, you can shrug off the lousy entertainment and non-top-shelf vodka.
Names on the guest lists of the Candlelight Dinner included Victor Vekselberg, the billionaire head of the global conglomerate Renova Group, who was later sanctioned by the U.S. Treasury "for operating in the energy sector of the Russian Federation economy." Late last year, Vekselberg and his American cousin and business partner, Andrew Intrater, were stopped at a New York airport by federal agents working for Special Counsel Robert Mueller and questioned, according to the New York Times.

Vekselberg and Intrater were seated at the dinner next to Michael Cohen and his family, according to a source familiar with the arrangements. Intrater's firm, Columbus Nova, later signed Cohen to a $1 million consulting contract.
You'd think the guests hobnobbing with Trump would be those devoted "super elites" from rural Ohio and Michigan, but they only voted for Trump. Russia, after all, put a lot of rubles where its vote was. Judging from Trump's Twitter feed today, he's not pleased with this latest Mueller news.
When is Bob Mueller going to list his Conflicts of Interest? Why has it taken so long? Will they be listed at the t… https://t.co/RNYRkyxZFx

— Donald J. Trump (@Donald J. Trump) 1530189805.0
....persecuted on old and/or totally unrelated charges (there was no collusion and there was no obstruction of the… https://t.co/SpG2p56INu

— Donald J. Trump (@Donald J. Trump) 1530190577.0
Trump, who has "zero tolerance" for desperate families crossing the border, has a more loosey-goosey attitude to any "old and/or totally unrelated" laws his cronies might've broken. I have a feeling the next associate justice of the Supreme Court might agree.

You love Wonkette very much, yes? You don't mind this SER guy? Please DONATE to our snarky cause.
Stephen Robinson
Stephen Robinson is a writer and social kibbitzer based in Portland, Oregon. He writes make believe for Cafe Nordo, an immersive theatre space in Seattle. Once, he wrote a novel called "Mahogany Slade," which you should read or at least buy. He's also on the board of the Portland Playhouse theatre. His son describes him as a "play typer guy."