Trump Revisits Golden Oldie, Peeing On 'The Dossier.' Again.
Elections
December 26, 2017 12:16 PM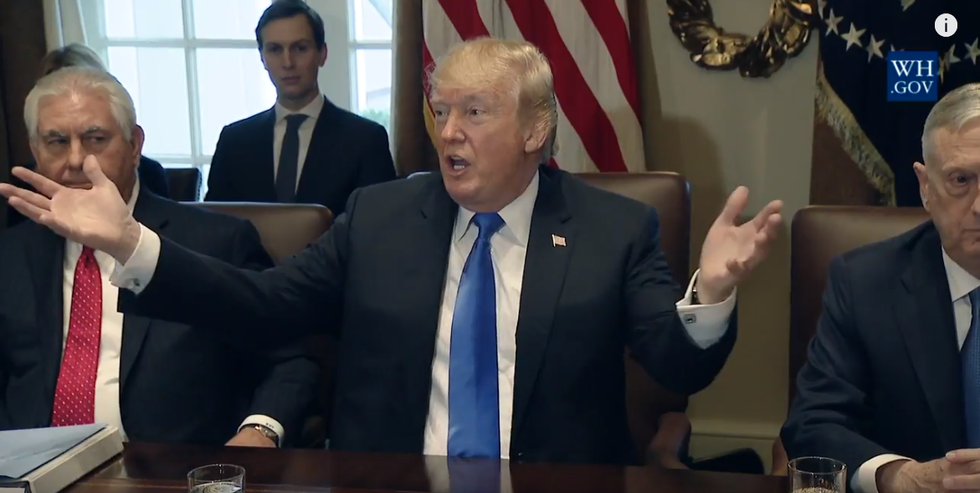 I AM NOT CRAZY!
---
Your president, who is busy "reading documents a lot" and DOES NOT have time to watch much television, spent Christmas weekend live tweeting Fox News. And the old lunatic is still at it this morning!
WOW, @foxandfrlends "Dossier is bogus. Clinton Campaign, DNC funded Dossier. FBI CANNOT (after all of this time) VERIFY CLAIMS IN DOSSIER OF RUSSIA/TRUMP COLLUSION. FBI TAINTED." And they used this Crooked Hillary pile of garbage as the basis for going after the Trump Campaign!

— Donald J. Trump (@realDonaldTrump) December 26, 2017
Seems even batshit crazier than usual, no? In point of fact, both FISA and grand jury warrants are secret, so no one at the White House, much less Fox News, has any idea whether the Steele Dossier was used "as a basis for going after the Trump Campaign." But Lawfare says "nah mang," and Robert Mueller is investigating Trump for obstructing justice by firing James Comey, a crime he was kind enough to admit on national television. And Comey told his Deputy Director Andrew McCabe and FBI Chief Counsel Peter Baker at the time, "Hey, that orange ape just asked me to kill the Flynn investigation and pinky swear a loyalty oath!" So it's **DRUDGE SIRENS! ALL HANDS ON DECK!** at Fox to smear McCabe, Baker and the whole FBI as a bunch of deep state liberals in the tank for Hillary.
Look, here's the guy Trump just endorsed for Florida governor, all ready to plant a big pink kiss on the presidential ass.
.@RonDeSantisFL on FBI investigation: "If the FBI isn't gonna give us the information that we're asking for in terms of the dossier, then we should hold both Rosenstein and Christopher Wray in contempt." @JudgeJeanine pic.twitter.com/E7aUBakM4A

— Fox News (@FoxNews) December 25, 2017
Sure Trump had Rod Rosenstein draft that memo saying he'd fired Comey for being soooooo mean to Hilz, but that was May and this is now.
.@FoxNews-FBI's Andrew McCabe, "in addition to his wife getting all of this money from M (Clinton Puppet), he was using, allegedly, his FBI Official Email Account to promote her campaign. You obviously cannot do this. These were the people who were investigating Hillary Clinton."

— Donald J. Trump (@realDonaldTrump) December 24, 2017
How can FBI Deputy Director Andrew McCabe, the man in charge, along with leakin' James Comey, of the Phony Hillary Clinton investigation (including her 33,000 illegally deleted emails) be given $700,000 for wife's campaign by Clinton Puppets during investigation?

— Donald J. Trump (@realDonaldTrump) December 23, 2017
The career civil servants at the FBI have the goods on Chairman MAGA, so they have to go!
.@RepPeteKing: "If there's any collusion issue here, to me it's the @FBI, it's the Clinton campaign, it's the Russians for that matter." pic.twitter.com/ydaLglbeDk

— Fox News (@FoxNews) December 25, 2017
.@GovMikeHuckabee: "My naughty list would include, of course, Andrew McCabe, Bruce Ohr, Peter Strzok, Lisa Page, Chuck and Nancy." pic.twitter.com/S42q5yjK9t

— Fox News (@FoxNews) December 25, 2017
Last week Trey Gowdy (R-Lickspittle) implied that McCabe was about to be fired or would quit to avoid testifying before the House. In fact, McCabe testified for 16 hours before the Intelligence, Oversight, and Judiciary Committees where he's reported to have told the Congressmen, "HELL YEAH we all knew the president was trying to kill the Russia investigation!" So when news broke that McCabe is planning to retire in March, Trump jumped on it like it was the last bottle of perfume at Walgreens on Christmas Eve.
FBI Deputy Director Andrew McCabe is racing the clock to retire with full benefits. 90 days to go?!!!

— Donald J. Trump (@realDonaldTrump) December 23, 2017
Because who wouldn't want to stay on to be a punching bag for the howler monkeys when he could go triple his salary in private practice? It's mysterious!
We will never get used to having a leader who learns about personnel changes in his own administration from TeeVee. But it appears that Trump only learned that FBI Director Christopher Wray had reassigned the Bureau's General Counsel Peter Baker from his pals at Fox. Naturally this was interpreted as a sign of further nefarious, pro-Hillary holdovers being purged by a righteous Director who donated $50,000 to Republican campaigns.
Wow, "FBI lawyer James Baker reassigned," according to @FoxNews.

— Donald J. Trump (@realDonaldTrump) December 23, 2017
.@FreemanWSJ: "You're looking at a lot of evidence that the senior leadership of this law enforcement agency was all-in for @HillaryClinton." pic.twitter.com/WhdxkROl5H

— Fox News (@FoxNews) December 24, 2017
Then Politico helpfully slimed chimed in Friday with an article implying that Baker had leaked the dossier to Mother Jones writer David Corn. In reality, everyone in DC knew about the dossier in the summer of 2016, several news organizations had a copy of it, and it was never published until after the election. But why let that or the reputation of a career public servant get in the way of a good story, right?
Legal Twitter was fucking pissed! Ben Wittes unleashed an epic tweet thread on a dishonorable president shaming honorable public servants and encouraged people to donate to the FBI Agents Association in their names.
The President is impugning the integrity of the FBI by attacking two honorable public servants: Jim Baker and Andy McCabe. I just donated $1,000 to the @FBIAgentsAssoc in their names. I urge others to give as well and tweet that you did so to #thanksFBI. https://t.co/dim8LH3Ns3 pic.twitter.com/Kje8iEsZPu

— Benjamin Wittes (@benjaminwittes) December 23, 2017
Andy McCabe & Jim Baker epitomize integrity, competence, and respect for rule of law. Not surprised @realDonaldTrump fears them, along with the rest of FBI. I just donated to @FBIAgentsAssoc as a small way of saying #thanksFBI. Here's how you can too: https://t.co/eSCrfJxxwx https://t.co/QIzsn6EGYY

— John O. Brennan (@JohnBrennan) December 24, 2017
Indeed. Jim was/is a wonderful PUBLIC servant

— Gen Michael Hayden (@GenMhayden) December 23, 2017
Thank you to everyone who has generously contributed to our charitable funds. Your money will directly benefit FBI families in need.

— FBI Agents Assoc. (@FBIAgentsAssoc) December 23, 2017
And some lawyers were wondering if the president's tweets amounted to further obstruction of justice or witness tampering.
Normally, someone being investigated for obstruction of justice who intimidates and threatens three key witnesses against him (here Comey, McCabe and Baker) risks additional witness tampering charges. https://t.co/oLgBbKdus0

— Norm Eisen (@NormEisen) December 24, 2017
Using Twitter on Christmas Eve to intimidate a witness (McCabe) in a criminal investigation is not a very Christian way to celebrate the holiday. But it does make Mr. Mueller's job easier and that's a nice thing to do. Merry Christmas!

— Richard W. Painter (@RWPUSA) December 24, 2017
.@POTUS has tweeted quite a bit about career FBI official Andrew McCabe, who could be called as a witness against Trump in an Obstruction of Justice case. Trump's Twitter feed is the gift that keeps on giving. Merry Christmas Robert Mueller. pic.twitter.com/gIG0LIhSoQ

— Ted Lieu (@tedlieu) December 24, 2017
THIS IS FINE. LOLOLOL.
Okay, real talk. Nothing is fine. Trump's minions have decided it's too politically risky to fire Mueller right now, so they're trying to discredit the nation's entire national security apparatus instead. They're hoping they can restrain the old lunatic from Saturday Night Massacring everyone long enough to get some political hacks in there to kill the whole Russia investigation. THIS SHIT IS DANGEROUS.
Yeah, we got no jokes. God bless us everyone.
Are you a good Wonker who sends us money by Amazon? Well not anymore you're not, because Amazon done fucked our payment system. Would you be so great as to re-sign with Paypal or Stripe? K we love you bye.
[Business Insider / Politico / Newsweek / WaPo]
Liz Dye
Liz Dye lives in Baltimore with her wonderful husband and a houseful of teenagers. When she isn't being mad about a thing on the internet, she's hiding in plain sight in the carpool line. She's the one wearing yoga pants glaring at her phone.