Trump Says It's Not His Fault If David Perdue, That Stuffed Shirt He Endorsed For GA Gov, Loses
2022 midterms
March 30, 2022 03:10 PM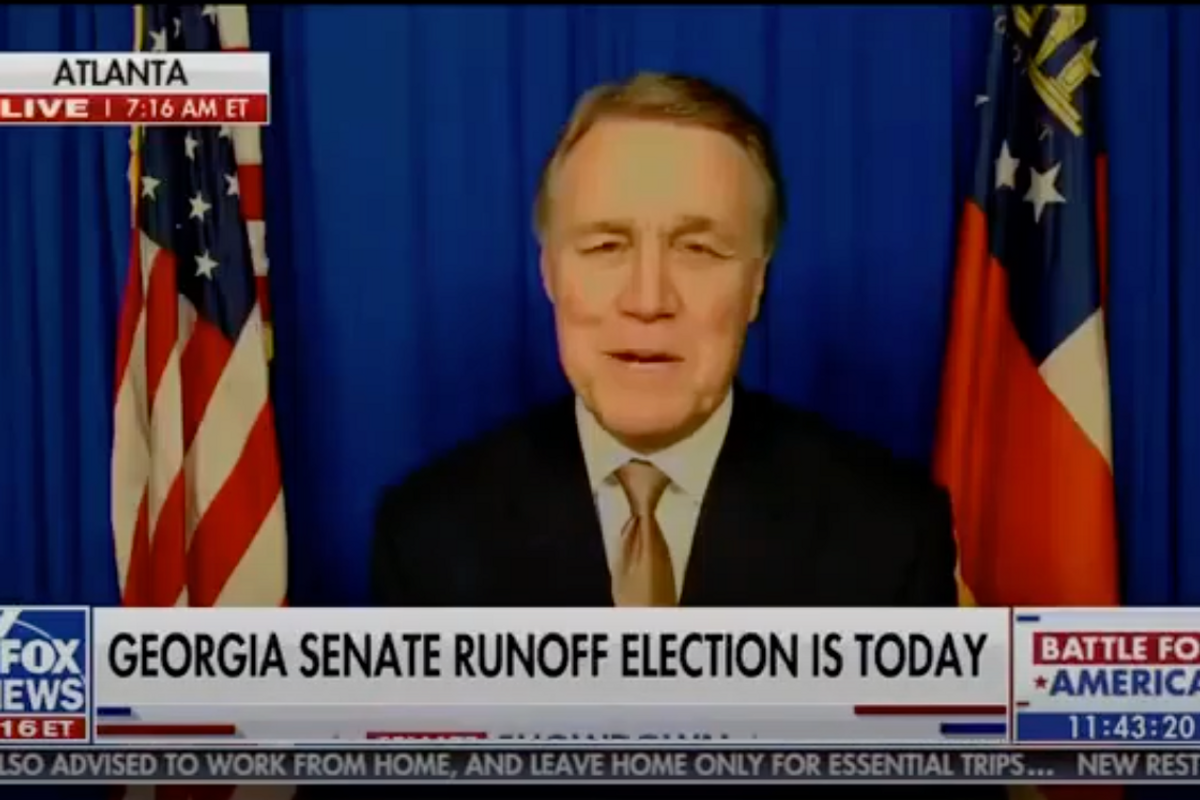 Just last week, Donald Trump tried to wash the stench of loser off himself by kicking Alabama Rep. Mo Brooks to the curb.
"Mo Brooks of Alabama made a horrible mistake recently when he went 'woke,'" Trump railed against his erstwhile ally as he withdrew his endorsement in Alabama's US Senate race, purportedly over disloyal comments Brooks made a full seven months before.
And now Trump's backing away from another endorsee, as David Perdue's numbers look increasingly anemic in his challenge to sitting Georgia Governor Brian Kemp, who enraged Trump by failing to call a special session so the legislature could steal the state's electoral votes from Joe Biden.
In that same interview yesterday with Biden-Ukraine fanfic writer John Solomon where Trump begged Putin for kompromat on the sitting American president, he also made clear that if Perdue loses, it ain't on him.
---
Trump: \u201cI endorse a lot of people that are are long shots \u2026 Hopefully David Perdue is going to win. These are not sure things. If I lose one along the way, which you have to, right, they\u2019re going to say, \u2018This was a humiliating experience.\u2019\u201d #gapolpic.twitter.com/cPbN9Js3WO

— Greg Bluestein (@Greg Bluestein) 1648607883
"I endorse a lot of people that are long shots," Trump babbled. "Look, we're fighting a governor who's done a very poor job in Georgia. Horrible job on the election! And hopefully David Perdue is going to win."
But, if he doesn't win, he wants everyone to know that he's not embarrassed. It happens to lots of guys. And, look at these hands, there's absolutely no problem there.
"These are not sure things. If I lose one along the way, which you have to, right, they're going to say, 'This is a humiliating experience.' I could be 100 wins and one loss, and they'd make it sound like this is humiliating thing. These are really dishonest people."
UH HUH.
As CNN points out, Trump's 2022 endorsements have been a pretty mixed bag, particularly the races he got into early because he was pissed off and trying to oust an incumbent. Sure, the party seems to have coalesced around Wyoming's Harriet Hageman in her challenge to Rep. Liz Cheney. But Kelly Tshibaka hasn't managed to pick up much steam since she got dispatched to go take out Sen. Lisa Murkowski in Alaska. And Trump promised to campaign for whoever suited up to take on South Dakota Senator John Thune, but couldn't find a single person to register to challenge him — even Trump's best gov pal Kristi Noem wouldn't take the bait.
For reasons no one quite understands, Trump got pissed off at Alabama Governor Kay Ivey and talked Lynda Blanchard, his former ambassador to Slovenia, into challenging her.
Trump tapped Rep. Ted Budd to run for Senate in his name in North Carolina. Budd has thus far failed to clear the field, and is still duking it out with former Governor Pat McCrory and former Rep. Mark Walker.
In Pennsylvania, Trump's early endorsement of accused domestic abuser Sean Parnell didn't pan out. And now, the vacuum in his wake has sucked in Dr. Oz, so the Keystone cops GOP are kicking the crap out of each other when they should be concentrating on the general election.
And Herschel Walker might well win in Georgia, but he sure as hell isn't who the GOP wanted to take on Sen. Raphael Warnock.
So if they "lose one along the way," just know that it's everybody else's fault, not Trump's. Anyway, apropos of nothing, here's a video of Perdue explaining that he wasn't saying "Lock him up" about Brian Kemp, he was saying, uh, "socks for cup?" Or something.
At a gaggle, @DavidPerdueGA says he \u201cmisunderstood\u201d the chant of \u201cLock him up!\u201d about @GovKemp at Trump rally. \u201cI really thought they were saying lock them up.\u201d Adds that \u201cthe people responsible\u201d for 2020 and 2021 \u201cshould be investigated and are brought to justice.\u201d #gapolpic.twitter.com/X5ZhhhwN1e

— Patricia Murphy (@Patricia Murphy) 1648572718
LOL.
Follow Liz Dye on Twitter!
Click the widget to keep your Wonkette ad-free and feisty. And if you're ordering from Amazon, use this link, because reasons.
Liz Dye
Liz Dye lives in Baltimore with her wonderful husband and a houseful of teenagers. When she isn't being mad about a thing on the internet, she's hiding in plain sight in the carpool line. She's the one wearing yoga pants glaring at her phone.