Trump Slut Devin Nunes Rubbing Dick All Over Russia Probe Again
Russia
October 11, 2017 04:06 PM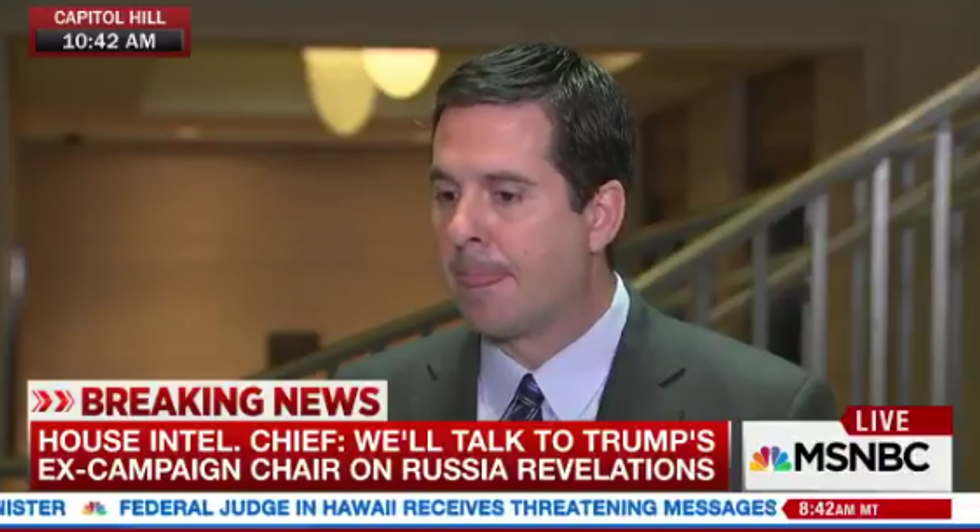 Put your tongue back in your mouth, jackass.
---
Donald Trump's little lapdog in the House of Representatives, Devin Nunes, is still hard at work doing his own version of the Russia investigation, which involves doing his dumbfuck best to obstruct justice in the House Intel Committee's actual Russia investigation, in service of his master Trump, the man he may or may not have wet dreams about every night.
CNN reports that Nunes is issuing subpoenas to Fusion GPS, the intelligence firm that commissioned former British spy Christopher Steele to do the investigative work that became the Steele Dossier, which alleges beaucoup collaboration between the Trump campaign and Russia to steal the election. It also alleges that Russian hookers peed on or around Donald Trump's face a lot.
... [T]he move blindsided some committee members, multiple sources told CNN. And it has angered some on the committee who say that Nunes is still seeking to direct an investigation he was supposed to have no involvement in leading.

"He's not in any way, shape or form working on the investigation," said one Democratic committee member. "He's sitting outside the investigation and pushing it in a political direction."
Nunes is doing this, of course, because even though he said he was recusing himself from the investigation, he never really did, even though he had embarrassed his dead grandma and Jesus and all his J/O buddies thoroughly by acting as the errand boy for Donald Trump's bullshit made-up Twitter claims that the Obama administration had done illegal "wire tapps" to him, and that they had properly "unmasked" Trump people, for nefarious political purposes. We will #NeverForget the week Nunes stopped fiddling with his weenus through his pants pockets long enough to order his Uber driver to pull over immediately, at which point he did a series of ninja moves and figure skater jumps (girlfriend got triple axels like Yamaguchi, y'all) all the way to the White House, so he could receive exclusive White House "intelligence" about said "wire tapps" and "unmaskings." Armed with the information he received from the White House, he traversed the thousands of miles of hills, valleys, fjords and reporters' microphones across the White House lawn, completing his perilous journey to the White House, so he could give the White House the "intelligence" he had just received from the White House, about the White House.
(God, what a fucking Trump whore. Even GOP Senator Richard Burr, chair of the Senate Intelligence Committee, says Nunes pulled that entire thing out of his ass.)
ANYWAY. Nunes has also been misbehaving in other ways, such as when he sent House staffers to the office of Christopher Steele's lawyer in England, so they could ... God, we don't fucking know. Give Steele a swirlie? The point is that Nunes is very upset about the dossier, because it is full of #FakeNews (that actually hasn't been debunked -- in fact, a lot of it has been confirmed!) about the gelatinous hunk of orange badger shit America is currently being forced to tolerate as its "president."
Chuck Grassley is leading a similar campaign of distraction in the Senate Judiciary Committee, making Fusion GPS the subject of the investigation instead of actually investigating Trump and Russia. Grassley, like Devin Nunes, is a very stupid man, though we're pretty sure Grassley, unlike Devin Nunes (allegedly!) doesn't have wet dreams about Donald Trump. (He has them about corn.) (Allegedly, we suppose.)
Democratic Rep. Eric Swalwell, a member of the House Intel Committee, told Rachel Maddow Tuesday night (WARNING: link goes to a wingnut "news" site, whom we thank BIGLY for the embeddable video and transcription!) that Nunes's fuckery runs the risk of his committee issuing a "flat-earth report" about Trump and Russia:
... [I]t is frustrating that you see unity on the Senate side with Senators Burr and Warner, and then disunity on our side.

And if we have a report on the Senate side with one set of findings and a bizarro report out of the House Republican side, I think that helps the Russians, you know, perpetuate their narrative that this was just something that was made up. It's not true. And actually, in that chaos, they will thrive and be able to come at us again.
OH! Wouldn't Russia and its puppet in the White House just love that? Wouldn't it be just marvelous for Trump and his slutty GOP buttboys in the House of Representatives to be able to call that investigation the REAL ONE, while they shit on the Senate's investigation and call it fake news?
Swalwell added that Devin Nunes tends to poop the bed regarding this investigation at very specific times:
... [A]ctually, there is a pattern here that as we make progress or the press makes progress on this story, that's when this nonsense shows itself. But it's the act that you would expect from Donald Trump's legal team. Not from an independent investigation.
WHOA. IF. TRUE.
Just kidding, that doesn't surprise us one bit. It gives us a good barometer, though, for when the shit's really about to hit the fan for Trump, whether because it's Mueller Time, or because something amazing is about to hit the press. Just put a GoPro on Devin Nunes and watch for him to create a diversion by stripping off his panties on the White House lawn or strapping himself to Donald Trump's leg or jerking off into the Reflecting Pool for one straight hour while lustily screaming "UNMASK ME, DONALD, UNMASK ME!"
Or something like that.
How can anyone know what "Liddle' Devin" is going to do?
Follow Evan Hurst on Twitter RIGHT HERE.
Wonkette salaries, servers, and all of the things are fully funded by readers like you! If you love us, please click here to fund us!
[CNN]
Evan Hurst
Evan Hurst is the managing editor of Wonkette, which means he is the boss of you, unless you are Rebecca, who is boss of him. His dog Lula is judging you right now.
Follow him on Twitter RIGHT HERE.