Trump To Africa: Give Us Your Blood Diamonds!
News
February 13, 2017 11:35 AM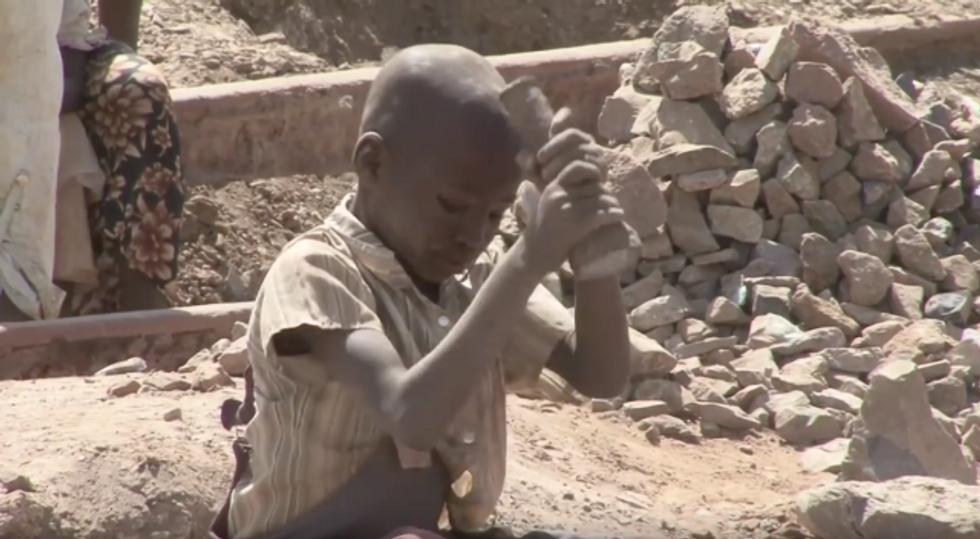 Hey readers, did you know that there are seven continents? (For now anyway. *cough* Australia.) In the Trump Administration's quest to spray its foul and destructive scent over each and every one of them, don't sleep on the damaging American Greatness already bestowed upon Africa.
---
Trump's reinstatement of the Global Gag rule hamstrings NGOs everywhere, but acutely in Africa, where health providers reliant on assistance could forfeit aid for just uttering that word that rhymes with "apportion."
Similarly, the PEPFAR program finds itself in precarious territory. While imperfect, this program successfully treats and prevents HIV, malaria, and other brutal diseases. PEPFAR is sometimes and deservedly hailed as President W's greatest achievement, poncho battle included.
In FY 2016, PEPFAR provided care for 6.2 million orphans and vulnerable children (OVC), training for 220,000 new health care workers, and supported testing and counselling for 74.3 million people, including 11.5 million pregnant women.
While Obama expanded and improved the program, it is uncertain whether these literally life-saving services will continue to save third world citizens.
Speaking of our planet's most vulnerable children, a rule tucked into the Dodd-Frank bill protected kids in places such as war-torn Democratic Republic of Congo by discouraging American companies from doing business with warlords employing forced child labor to mine the country's vast mineral wealth. Many of the minerals at issue can be found in our phones and computers that aid us in reading news items about exploitative child labor practices. Under the rule, a company that uses any of these minerals is "required to conduct a reasonable 'country of origin' inquiry that must be performed in good faith and be reasonably designed to determine whether any of its minerals originated in the covered countries or are from scrap or recycled sources."
Companies are then required to disclose such information in Security & Exchange Commission filings. These public filings would then alert investors who might not want to fund rape-y and murder-y warlords. But according to a leaked draft of an executive order, this protection seems destined to be buried.
The memo, distributed inside the administration on Friday afternoon and obtained by The Intercept, directs the Securities and Exchange Commission to temporarily waive the requirements of the Conflict Mineral Rule, a provision of the Dodd Frank Act, for two years — which the rule explicitly allows the president to do for national security purposes.
Under the law, the president is allowed to suspend the rule for national security purposes. Where's the Breaking News informing the public of the national security emergency initiating this suspension? Is the Tungsten Gap widening to dangerous levels?!
When it comes to the Congo, we're talking about a country with an estimated $24 trillion dollars in buried mineral wealth. Hence, corporate compliance found itself on shaky ground prior to our emperor's inauguration. Last year, Amnesty International expressed doubts that even our most noble corporate citizens (Apple, Microsoft) are properly vetting their supply chains. Of particular issue continues to be child-mined cobalt being purchased by Chinese parts-manufacturers and finding its ways into our handheld devices. These kids make around $1 a day, which sounds great when they're not being beaten or shaken down by the mines' private security teams. On the flip side, we have SO MANY pixels now!
Involved corporate actors include Intel, who just so happened to let Trump take credit for the pending construction of a long-planned semiconductor factory in Arizona. Intel is an interesting case as it initially fought the Dodd-Frank rule, but took affirmative steps to comply with it. This included publishing a report claiming the company conducted "40 on-site reviews of smelters in the eastern DRC."
As further rationale, the Executive Order noted "some job loss," though we're unclear if that meant "some" American workers or "some" indentured child servants. The Draft Order also notes compliance costs for these suffering and strapped tech corporations in a sector worth mere trillions of dollars.
It also cited 2014 SEC estimates about the costs imposed on companies, which entailed upfront costs of $3 billion to $4 billion, and $200 million per year thereafter.
Gee, I wonder if these corporate people will continue these practices when there's nothing in it for them.
In the end, none of it really matters. As we've seen over the last month, our bumbling and incompetent chief executive is merely sitting on his own balls and distracting us from the evil that Congressional Republicans are just going to do on a daily basis.
House Financial Services Chairman Jeb Hensarling, meanwhile, is planning to reintroduce his Financial CHOICE Act bill, which contains a provision to repeal the conflict minerals rule.
Finally, a voice for the voiceless.
Puzder Watch: Day Whatever
Andy Puzder, Labor Secretary nominee was scheduled to have his congressional committee hearing this week. But the cabinet's very own Lauryn Hill postponed for a fourth time.
After reports of cold feet and and a colder heart surfaced, Puzder addressed these concerns:
"I am fully committed to becoming secretary of labor and I am looking forward to my hearing," Puzder said in a statement to the Associated Press, which first reported the news that he is trying to divest his assets in CKE Restaurants.
According to the Washington Post, Puzder sought to place his four percent chunk of CKE (Carl's Jr) in a blind trust. But the Office of Government Ethics told him he would have to completely divest, which is strange because we thought this rule changed like a few weeks ago. Anyway, since the company is privately held, it may take more time for Andy to find a taker for his share of the "burger" business.
Meanwhile, Puzder's very own home town turned on him in a scathing St. Louis Post Dispatch editorial:
He is brash, outspoken, misogynistic, combative and uninterested in quarantining himself from his financial interests. Like many of Trump's nominees — Rick Perry at the Energy Department, Betsy DeVos at Education, Ben Carson at Housing and Urban Development — he is almost uniquely unqualified for the duties of the office to which he seeks confirmation.
I guess you can't go home again. But you can still screw over all your home town's wage-an-hour workers.