Trump Will Make America Healthy Again! (LOL) Wonkagenda For Mon., Jan. 16, 2017
POTUS
January 16, 2017 09:05 AM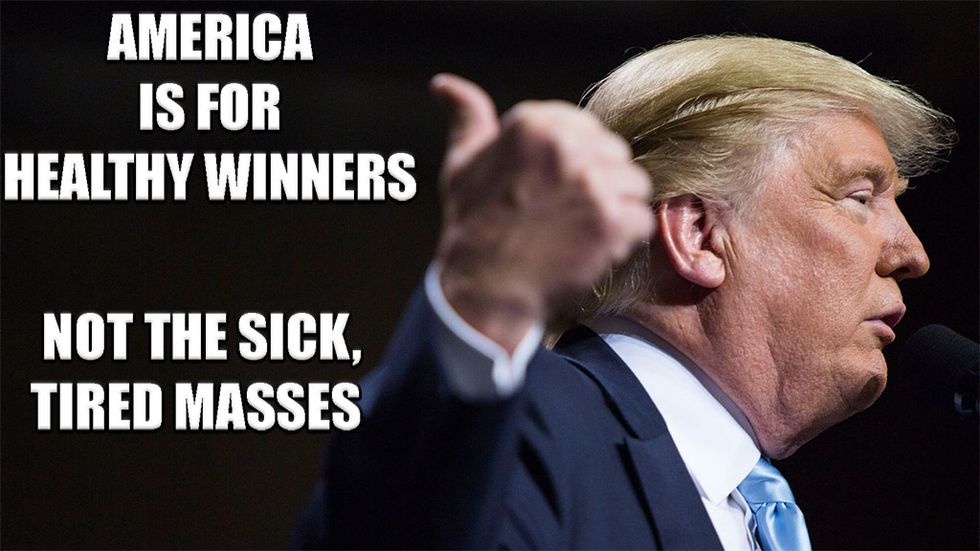 Happy MLK Day, Wonkers! We hope you all had a lovely weekend. Here's some of the things we may be talking about today!
---
Trump says he wants to give "insurance for everybody," but he's not saying if that means universal coverage or cheap, plastic lunch boxes full of vodka and band-aids. Luckily, Bernie Sanders is still screaming about socialist healthcare with Elizabeth Warren. (The good screaming, and the good socialist healthcare.)
The White House Press pool might be getting thrown into the deep end as the incoming Trump administration considers moving the White House press room, and that's causing all types of rage and commentary from grumpy olds.
Outgoing CIA Director John Brennan was on teevee this weekend and suggested that Trump stop being such a dick to the U.S. spy agencies, so of course Trump, in his infinite wisdom, accused Brennan of leaking his pee pee tape.
Trump spoke with some NOT AMERICAN newspaper where he called NATO old and shitty and German Chancellor Angela Merkel a failure, and floated easing sanctions on Russia, prompting every U.S. ally in Europe to simultaneously shit itself in terror. Also, he won't stop tweeting.
Big corporations are setting large effigies of cash on fire for Trump's inauguration in an attempt to influence other idiots with deep pockets.
Lady Liberty's divorce with Obama is already putting a strain on federal workers who are nervously tiptoeing around their D.C. offices in fear that they could be randomly fired by their boss.
Speaking of being fired, Carl's Jr./Hardee's CEO and Trump's pick for labor secretary, Andy Puzder, is genuinely despised by his employees for being a rich, insensitive prick who would rather hawk half-naked women eating grease burgers than pay honest wages.
Now that Republicans control the Congress and the White House, the Koch Brothers are back to their same old chicanery, threatening Republicans and Red State Democrats with truckloads of money.
The World Economic Forum released its 2017 Inclusive Growth and Development report today, the gist of which is things are bad. The poor are getting poorer, and the rich getting richer, but the U.S. is doing better than you might think. Thanks, Obama!
The A-List celebrities avoiding the inauguration will be gathering in New York City to protest Trump on Thursday, with similar protests planned all over the country throughout the week in preparation for the inauguration.
Our B. Barry Bamz sat down with the LIBERAL New York Times to talk about the Marxist literature he's been reading and recommending to people, and how he became a writer after smoking marijuana cigarettes.
And here's some bonus nice time! It's SNL's hard take at Trump's press conference from last week. NOT FUNNY! SAD!

And, finally, your morning Nice Time: RIVER OTTERS!
Dominic Gwinn
Dominic is a broke journalist in Chicago. You can find him in a dirty bar talking to weirdos, or in a gutter taking photos.