Trump's Crappy Cabinet. Yr Wonkagenda: Monday, November 14, 2016
Elections
November 14, 2016 09:00 AM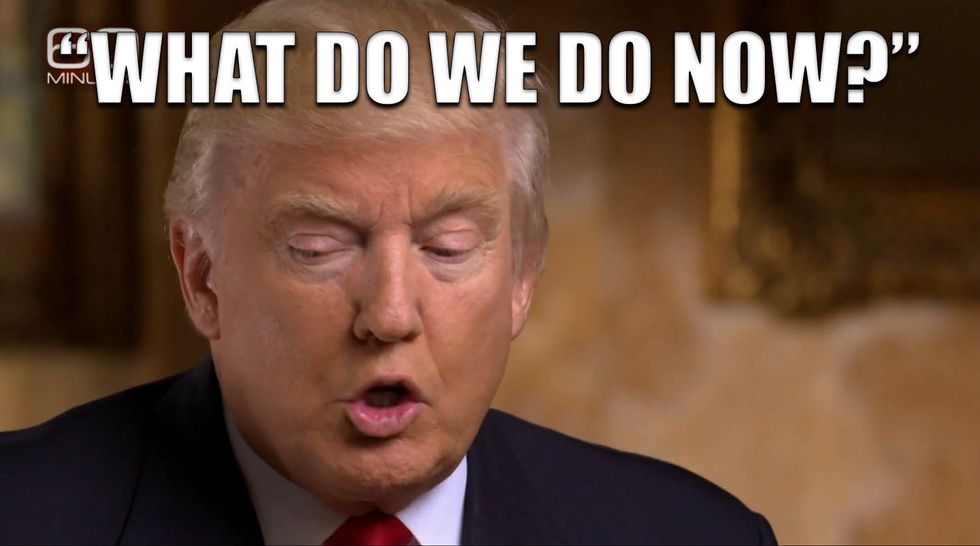 ---

Donald Trump has named RNC Chair Reince Priebus as Chief of Staff, proving Trump's rejection of the "establishment" was just pillow talk, baby, and he'll treat you all like gold. Just you wait and see!
Trump has named Breitbart's hate hurler in chief Stephen Bannon as his Chief Strategist, a not-real cabinet level position that usually only exists during campaigns to spread propaganda.
Trump had his first interview with 60 Minutes' Leslie Stahl, where he talked about deporting millions of immigrants, building his Wall, not taking the presidential salary, pro-Trump hate speech, and how his transition team is filled with the same lobbyists he spent the past year railing against.
Mayors of sanctuary cities like New York, Los Angeles, San Francisco and Chicago are telling Latinos and other immigrants they're safe, no matter what nefarious garbage Republicans try to cram down our throats.
Trump has a new 10-point plan for "black America" that will see cities designated as disaster zones, an outreach initiative to "the African American church," tax holidays, and more cops to stop and frisk people who look like trouble. It's for their own good, and eventually they'll thank Trump.
Gitmo is more messed up than you could possibly imagine, leaving prisoners and physicians with deep emotional scars and traumas that are likely to continue now that America has decided that state-sanctioned torture isn't so bad after all.
Obama might have thrown up the proverbial yellow tape around certain issues like how and when to engage enemy combatants, or where to prosecute journalists reporting federal leaks, but Trump will probably burn all those "rules" down because limits on head-bashing are not big league good things.
In a phone call to donors this weekend, Hillary Clinton blamed FBI Director James Comey for her loss after all his interfering and editorializing throughout the election. Comey, for once, is staying silent.
Congress Critters will try to ram through a bunch of crap before the end of the year aimed at making it easier to kill Obamacare and cut taxes. This is one lame duck session that's likely to live up to its name.
Never Trumpers are likely to face hell in their 2018 midterm elections as tea-party crazies ooze out of the trash piles to primary sitting Congress critters for their disloyalty.
Chelsea Manning is asking Obama to commute her sentence seeing as how it's highly unlikely to happen under the next group of assholes waiting to take power.
Bernie Bros are back, and the Sanders supporters are trying to replace local Democratic party officials, while top Democrats in the House and Senate are backing Rep. Keith Ellison's bid to run for DNC chair.
Protests against Donald Trump continued this weekend in cities across America, with many expecting to protest daily through the inauguration in January. Friendly reminder if you plan to protest: get comfy boots if you live in a snow-prone environments.
The notorious Justice Ruth Bader Ginsburg made her stage debut Saturday at the Washington National Opera's "Daughter of the Regiment" to a standing ovation where she advised, "Dropping traditions that have worked and are continuing to work is like throwing away your umbrella in a rainstorm because you are not getting wet."
And here's your morning Nice Time, baby sloths! Aren't they adorable?
Dominic Gwinn
Dominic is a broke journalist in Chicago. You can find him in a dirty bar talking to weirdos, or in a gutter taking photos.