Trump's Love For Himself May Cause Chafing. Wonkagenda For Wed., Dec. 28, 2016
POTUS
December 28, 2016 09:02 AM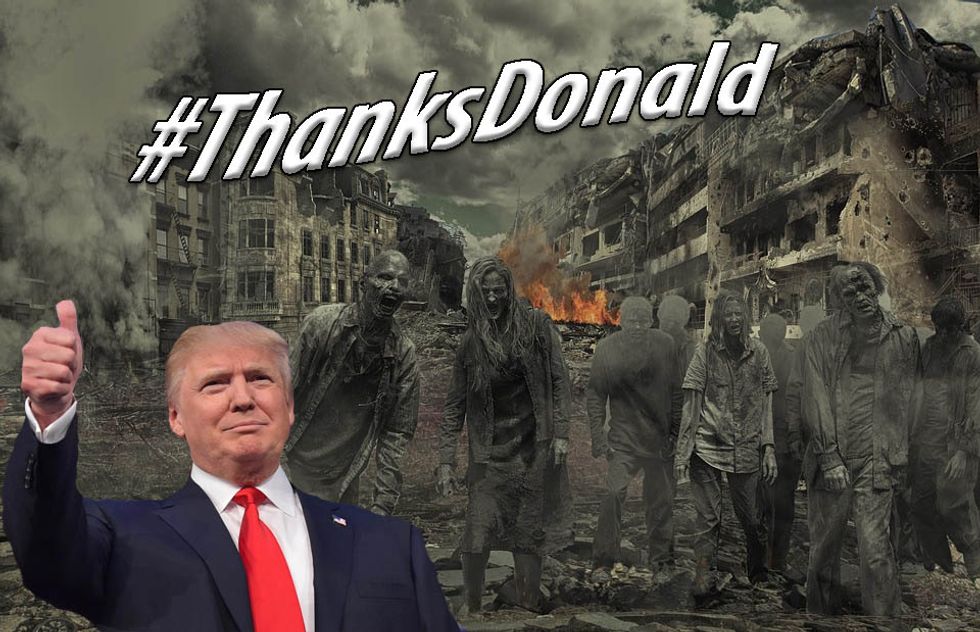 Always leave things better than you left them.
---
Obama's plan to punish Russia will be announced soon, and it's expected that he's going to send them straight to bed without dinner or teevee privileges, and give America's shitty step-dad a stern lecture. Parents just don't understand!
When the U.S. Consumer Confidence Index announced it'd reached a 15 year high, Donald Trump decided that it was his fault, and thanked himself on Twitter for not doing anything to collapse the economy he had no control over.
Japanese Prime Minister Shinzo Abe went to Pearl Harbor where he only offered condolences for killing all our grandpas. SAD.
Lawyers are trying to figure out if Paul Ryan's ban on livestreaming the gun-control "sit-in" was constitutional, let alone worthy of punishment or a fine (which we already 'splainered here), because of a myriad of really old rules on decorum that no one has ever had to use.
A bomb scare over a bag of misfit toys at Trump Tower scared the crap out of a lot of people and prompted a brief Twitter war between NYC Mayor Bill de Blasio's office, and some Trump spox about who was going to pay the bill for the NYPD.
Harry Reid thinks that the Democratic party is full of too many damn olds, and they need some of that young blood to rejuvenate the party. Start your electoral engines, younglings!
The Trumps' trinket-hawking business will have some serious problems being made in America, especially Ivanka Trump, who manufactures her yuppie bourgeois socialite bullshit all over Not America. I guess it's just cheaper to make high-heels in cramped sweat shops than rundown suburbs.
U.S. Navy admirals are about to walk the plank for getting cozy with a military contractor from Singapore named "Fat Leonard." Fat Leonard is known for sexxxy parties and was screwing the Navy out of millions of Ameros, like over-charging for routine services from his "Elite Thai SEAL Team" of hookers. Really!
If you're like me, you've been making a list of all the high-end, top-rated talent that Trump's inauguration has been tapping to perform on January 20. So far, Trump has confirmed a reality T.V. reject, the Radio City Rockettes, and the Mormon Tabernacle Choir. It should be a spectacular affair for about two minutes, then people just change the channel.
GOOD NEWS! The Washington Post is hiring reporters ahead of Trump's presidency because they're expecting high-level leaks so they're buffing out their rapid-response investigation and breaking news teams, echoing a (cautious) trend in the news business.
And now your morning Nice Time, baby goats!
Dominic Gwinn
Dominic is a broke journalist in Chicago. You can find him in a dirty bar talking to weirdos, or in a gutter taking photos.